GOLF: Hannas win Parent-Child tournament in Washington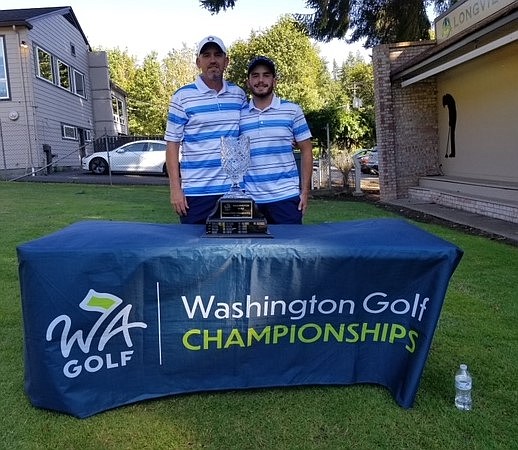 Courtesy photo The father-son team of Tony Hanna (left) and Brady Hanna won the 14th annual Washington Parent-Child Chapman Championship at Longview Country Club on Wednesday.
Tony and Brady Hanna of Rathdrum combined to shoot 1-over-par 72 to win the 14th Washington Parent-Child Chapman Championship, held Wednesay at Longview (Wash.) Country Club.
This is the first title in the championship for the father-son duo.
The Hannas won the title with a birdie on the first hole of a playoff with Josh and Chris Clogston of Mukilteo, Wash., who had also ended regulation play with a 72.
Both sides had bogeyed the 358-yard par-4 18th to finish at 1-over, ending up tied at the top of the leaderboard, leading to the playoff.
The Hannas were 4-over-par after 11 holes and were seemingly out of contention.
"We got off to a really slow start," Tony Hanna said. ""We were three over on the front side, and we said 'You know what, let's stick with it, just keep grinding, you never know.' And we played the back nine really well."
They birdied four of the next six holes to climb back to even-par, until their bogey on the 18th.
"We finished and saw we were leading, so we just followed everyone else's score just to see what everybody else was doing," Tony Hanna said.
"We played in this event last year at Lake Spanaway," Brady Hanna said. "We didn't do very well in that one, but obviously did a little better in this one, so that made it worth. Hopefully we'll make this event a tradition."
"We couldn't have had a better time," Tony Hanna said. "We made a trip of it. We came over from Idaho two days ago, stopped and played Apple Tree (in Yakima), and it's just been a great trip. To come away with a win is a bonus for us."
Winning the Net Division were the father-son team of Randal and Evan Groat of Olympia, Wash., who finished with a net score of 5-under par.
The 18-hole championship was played in a Chapman stroke play format, with two players playing as partners, each playing from the teeing ground and each player playing his or her partner's ball for the second shot. After the second shot, including par-3 holes, partners select the ball with which they wish to score and then played that ball alternately to complete the hole.
Recent Headlines
---