Wallace B. Betz, Sr., 88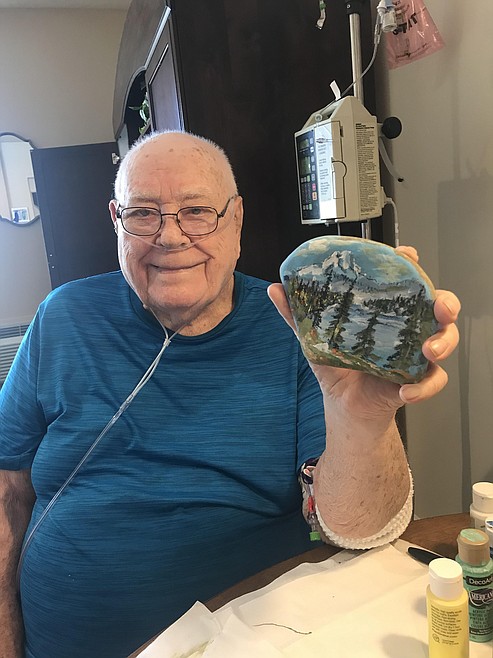 Wallace Benjamin Betz Sr. (Wally) 88 years old, passed away July 25, 2022, at the Schneidmiller Hospice House in Coeur d'Alene, Idaho. Wally was born Nov. 1, 1933, in Beulah, N.D. to Benjamin Betz and Bertha (Bentz) Betz.
Wally moved from North Dakota to Coeur d'Alene when he was 18 years old. He knew some people here and he came out here looking for a good job and to find love. He ended up being drafted into the Korean War instead. After his three-year stint in the Army was over, he found a good job at Kaiser Aluminum, and he worked there as a fireman until he retired at the age of 51. He met and fell in love with the love of his life, Joan Roberge. They were married for 58 years until Joan passed in 2016. They had two children, Wallace Benjamin Jr. (Benjy) and Vicki (Betz) Hart. Their whole lives were devoted to their children.
Wally and Joan became very young snowbirds at the age of 51 and 46, traveling south to Yuma, Ariz., every winter for 13 years. While in Yuma, Wally perfected his musical talents. He played with many bands down there and even had a song written about him called "The Harmonica Man." He also played the guitar, fiddle and mandolin. These were some of the best years of their lives.
Due to Joan's health they decided to forego their snowbirding. Wally continued his music, playing with the old-time fiddlers and various groups in the area. They attended many bluegrass festivals in the surrounding area. One of his favorite things to do was to play at the weekly jam sessions at the Silver Lake Mall on Friday nights. He would often receive a standing ovation for his train song. Music was his favorite hobby and he would pull out his harmonica at any time and play you a tune.
One of Wally and Joan's favorite things to do was take their grandkids camping, usually up to Kit Price or Bumblebee. Wally loved a good campfire like no other and there was always music involved. His grandkids were his pride and joy. His grandkids are: Jack Caughran (Post Falls), Lindsay Foxheart and Poppy (Tacoma, Wash.), Brett Caughran and Jenny (Scottsdale Ariz.), Nicholas Betz (Spokane), and Baylie Corpier and Zach (Spokane). Wally was lucky enough to have five great-grandchildren: Benjamin, Jacob and Theodore in Scottsdale Ariz., and Eva and Delilah in Spokane, Wash.
When Joan passed away, Wally started playing pinochle at the Senior Center in Coeur d'Alene, and this is where he met the second love of his life, Debbie Ferguson. They were together for five years and had a great time traveling, camping, playing cards and just enjoying life together.

Last summer while camping up on the River, Wally became intrigued with some friends decorating rocks with acrylic paints. After a little encouragement to start painting, Wally began stealing rocks out of his daughter's rock garden and began painting then. And he never stopped. He started out a bit rusty at first, saying, "I'm just practicing." But we could see that he had real talent. We bought him more paints and kept a plethora of rocks in front of him at all times. Whenever he got a little bored or was in pain, he would paint rocks and it took all of his worries away. His painting just got better and better.
One day his daughter posted his rocks on the #cda rocks page, where you paint and hide rocks for people to find as a random act of kindness. This post went viral, with over 5000 likes. Hayley from KHQ News contacted his daughter to do a news story about Wally and his rocks and his life. This interview was very well received by the community and he became infamous for his artwork on the rocks. It brought him so much happiness when people would find one of his rocks and post it on the #cda rocks page. He brought smiles to many people and it also brought joy to him as well.
Unfortunately, only five days after Wally's interview aired on KHQ News, Wally became hospitalized with a bacterial infection in his blood. He spent one month between the hospital and advanced health care trying to fight this serious infection. But the complications from the infection became too much for Wally's body to handle. Wally's medical team at the hospital, led by Dr. Brandon Greene, did everything possible to try to have a good outcome for Wally. Along the way Wally gifted many of his rocks to the doctors and nurses and CNA's etc. He also did quite a bit of entertaining with his harmonica when he felt up to it. Wally never gave up hope of getting out of the hospital and painting rocks again. So we imagine he is painting even more beautiful landscapes in heaven.
Wallace was preceded in death by the love of his life, Joan Roberge Betz; his sisters, Marjorie Betz and Lavonne Carpenter. He leaves behind one sister, Saundra Baldwin, in Blanchard, Idaho.
Wally had a very strong Christian faith and he is no doubt reunited and dancing in heaven with his sweet Joan. Here's to a life well-lived, DAD; all my love, your daughter, Vicki Lynn.
There will be a Celebration of Life and Jam Session for Wally on Sept. 10, 2022, at Q'emiln Park in Post Falls, Idaho. Music will start at 3:30 p.m. and dinner will be served at 4 p.m. There will be picnic tables but you may want to bring your own chair. This is the park by the city beach.
Please visit Wally's online memorial and sign his guestbook at www.yatesfuneralhomes.com.
Recent Headlines
---