Julia Angela Parmann, 66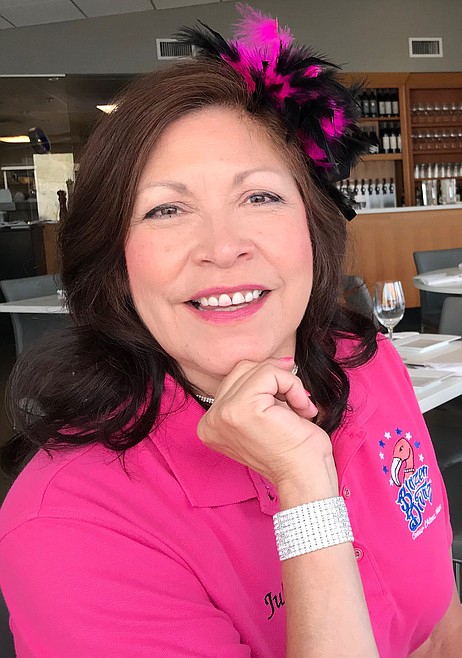 Julia Angela Parmann
10-13-1955 – 7-30-2022
Julia Angela Parmann passed away peacefully at Kootenai Medical Center on July 30, 2022. Julia was born in Los Angeles, Calif., on Oct. 13, 1955, to Emilia and Richard Gonzales. She was an only child and was raised solely by her mother and family.
During Julia's childhood she was stricken by scoliosis and, at the age of 5, was placed in a body cast. At this young age she had to walk herself through East Los Angeles to/from the hospital, where they would replace the cast as she grew older. Being a single parent, Emilia worked in a sweatshop to support Julia and somehow managed to provide her the necessities of life.
Julia went to Marguerita Elementary School, graduated from Alhambra High School and attended East LA College, where she studied architecture, which was a lifelong passion; however, while attending college, Julia discovered law enforcement and got a job as a Police Cadet for the Glendale Police Department. While there Julia was assigned to the crime lab, where she mastered many investigative skills. She was subsequently hired by the Beverly Hills Police Department and attended and successfully completed the Los Angeles Sheriff's Department Reserve Officer Academy.
While working for BHPD she met John Parmann. It was love at first sight and they were married March 18, 1978, in Las Vegas, Nev., at Circus-Circus on a coupon! At the time of her passing, they were married for over 44 years. Julia and John welcomed their first daughter, Jessica, in August 1979, at which time they moved to their first home in Newhall, Calif., where Julia gave birth to JoDee in October 1983.
John subsequently was hired by Glendale Police Department, while Julia worked for Avis Rent a Car at various locations. During this time Julia was excelling at Avis with many promotions over the years and moved into a computer/telephone technician position responsible for the Western United States.
Julia and John stayed in Newhall for a total of 20+ years when daughter Jessica gave birth to Taylor in August 1995. The family moved to Coeur d'Alene, Idaho, in 1999 and over the years Julia was blessed with 12 total grandchildren.
At the time of their move, Avis did not have a position available for Julia, so she was hired by the State of Idaho, Health and Welfare as a computer technician, where she worked for a little over a year when Avis Rent a Car called to offer her the Station Manager and subsequent position of Fleet Manager for Avis/Budget group, where she worked until her retirement in 2017. Julia was highly respected for her work ethic and was known for cultivating employee candidates for mentorships, often resulting in career-long employment for many.
During Julia's free time, she was a member of a performance group before it disbanded. At this time Julia and John were approached to put together a new drill/dance performance group of women who were primarily Moms, Grandmoms and Great Grandmoms called the Blazen Divaz. Under Julia's leadership, the Blazen Divaz performed in parades throughout the U.S. and Canada, winning many awards and dazzling the crowds.
Julia had the reputation of putting herself LAST in order to promote others. Her smile was legendary and her zest for life extraordinary. Along with Julia's many talents was ART, in many dimensions, she would push herself to perfect every detail of every work and enjoyed sharing her works with others.
A Celebration of Life will be held in the near future. In the interim and in lieu of flowers please make a donation to a charity of your choosing in Julia's name.
Please visit Julia's online memorial and sign her guestbook at www.yatesfuneralhomes.com
Recent Headlines
---