James Andrew Moore, 81
James Andrew Moore went to be with his Lord and Savior, Jesus Christ, on the evening of July 25, 2022, at the age of 81. He passed peacefully in his sleep at the Schneidmiller Hospice House after saying goodbye and telling his wife and family he loved them. His family was honored to be able to care for him at home until his very last day. He had finally been diagnosed with ALS in October, 2021.
He was born Nov. 15, 1940, in Taft, Calif., to Claude and Theresa Moore, the youngest of six children. He attended schools in Taft and graduated from Taft Union High School in 1959. He also attended Taft Junior College. He participated in all the high school and junior college sports, including football, baseball and basketball. He was the Student Body President and Captain of the high school football team his senior year.
He married his high school sweetheart, Iris (Holder), in January 1961, and they were still married at the time of his death, for 61-1/2 years. His main occupation was a preacher of the gospel of Jesus Christ. In his early years he pastored Missionary Baptist churches in Taft, Maricopa, Ventura and Fillmore, Calif. Jim and Iris and their two young daughters moved to Ventura, Calif., in April 1967. Jim started a church in Ventura for a few years in the 1970s called Grace Bible Church. Thereafter he taught Sunday School sometimes to adults and kids, but continued to preach the gospel to everyone he met. Jim believed in the doctrine of Sovereign Grace, that salvation is through faith alone, by grace alone (Eph. 2:8-9). In addition to pastoring he also always had other jobs, including John Hancock Insurance salesman and Arrowhead Water delivery salesman. Later he and Iris operated Moore's Daycare in their home in Ventura for several decades, until they closed it in 2019 in order to move to Hayden, Idaho, to be near their eldest daughter and her husband. Their younger daughter, son in law, and grandson soon followed them to Idaho.
He is survived by his wife, Iris; his eldest daughter and son-in-law, Melinda and Bret Uhlich, of Coeur d' Alene, Idaho; his younger daughter and son-in-law, Jennifer and Andres Escruceria, of Rathdrum, Idaho; his grandson, James Escruceria, of Rathdrum, Idaho; his granddaughter, Mea Escruceria, of Eureka, Calif.; his nephew Charles Gardner Jr, and his wife Jeanne, of Newcastle, Calif.; and his niece Patricia Richey, of Bakersfield, Calif.: and several other nephews and nieces.
He is predeceased by his parents, Claude and Theresa Moore, and his five older siblings, Sarah, Joe, Dorothy, Helen, and Ruth, and their spouses.
The family would like to thank Dr. Dustin Smyth, Neurologist; North Idaho Home Health; Hospice of North Idaho; and the staff at the Schniedmiller Hospice House.
The family would also like to thank the men from Hayden Bible Fellowship Church, who volunteered to be Jim's caretakers on Saturdays in order to give the family a respite day.
Jim truly lived out the joy of Phillipians 1:21, a verse he especially loved to share in his final days, "For me to live is Christ, and to die is gain." We will miss him, but rejoice that his suffering is ended, his race is finished, and his faith has now been made sight.
The viewing will be Thursday, Aug. 4, 2022, 3-6 p.m., at the English Funeral Chapel in Post Falls, Idaho. The graveside service will be Friday, Aug. 5, 2022, 11 a.m., at the Evergreen Cemetery in Post Falls, Idaho, officiated by Pastor Seth Clark of Hayden Bible Fellowship Church in Hayden, Idaho. There will be a lunch at the home of Jennifer and Andres Escruceria in Rathdrum, Idaho, after the graveside service.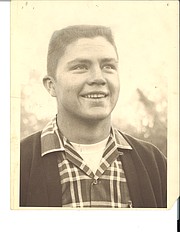 Recent Headlines
---