Historic log house finally returned to glory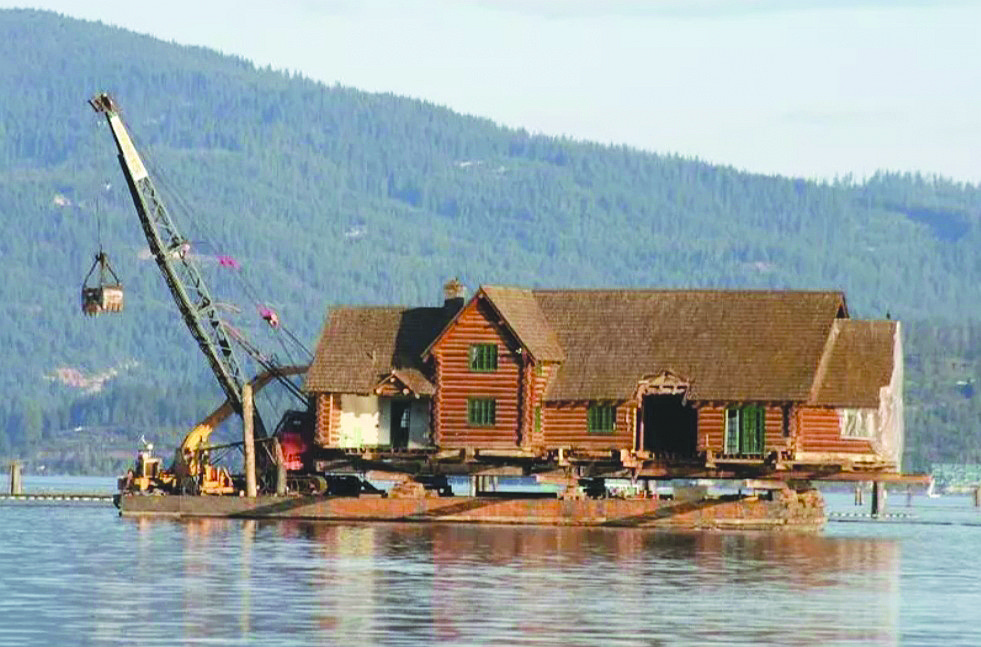 One section of house on a barge in Cougar Bay during 2008 move.
KERRI THORESON
In 2008 the log "cabin," built in 1932 and long owned by Duane Hagadone, was purchased by Rocky and Mary Watson, who should be credited for saving the historic structure from demolition. The caveat was that the Watsons had to move the home from Casco Bay to their lake-front property at Cougar Bay so the Hagadones could build a new lake house at Casco Bay. Enter John Condon of North Idaho Maritime who coordinated and executed the incredible move on barges for the two pieces of the house.
Then came the recession and the sale of the Watsons beautiful Rockford Bay home, which would have facilitated their move to Cougar Bay, stalled in a crashing real estate market. Five years later, after never spending a night in the log house, the Watsons put the historic house on five pristine Cougar Bay acres on the market.
I toured the house in 2013 and it brought back memories of being a guest back when the "cabin" belonged to the Hagadones. The house sold but the owners didn't do much to restore it and then once again it came on the market. Purchased by Jeff and Cara Anthony in 2018 they painstakingly began an extensive restoration to return the log house to its former glory.
A few weeks ago I experienced the final result of those efforts as a guest at a private birthday dinner for my friend, Katie Brodie. Cougar Bay Lodge is now a stunning owner-occupied bed and breakfast that specializes in day-of parties and special events for up to 25 people.
Even the upgrades stayed true to the history of the house and I sincerely imagine that Duane would be pleased at the care, respect and passion for elevated hospitality that the Anthonys have brought to place.
www.cougarbaylodge.com
• • •
I love the sounds of summer … the ice cream truck, kids playing, wind chimes on the patio, birds singing and chatting. Summer weather didn't start until later in July so there's a real appreciation and sense of a ticking clock on weeks left to enjoy the outdoors now that we're six weeks out from Labor Day.
This past week of 100+ degree temps has exposed my irritability. The sounds of summer have been the noise of fans and a window air conditioner in our home without central air. I'm on noise overload. It's also the time of year that people take on home improvement projects and our neighbors are no exception. A new roof for one and an exterior paint job for another. I never realized how loud staple guns can be until I heard them at 7 a.m. or how loud a pressure washing motor is while enjoying breakfast on the patio before the heat of the day sends us back inside.
I have empathy for anyone trying to complete those outdoor projects in the relentless heat. It was all I could do to handle the bare minimum responsibilities that didn't include power tools.
Posing the question to my Facebook village about noise overload during the scorching heat wave, I received answers beyond just air conditioners and fans. Seems neighbors' dogs barking incessantly and even racing dirt bikes early morning and late evening have gotten on a lot of people's last nerve. Usually I'd quote my village of responders by name but would like to preserve some peace in their neighborhoods.
My conclusion is that for those who enjoy quietly relaxing on their patios or porches, some patience may be required. For dog owners, please make sure you and your four-legged family members are being good neighbors.
The good news is that it looks like the air conditioner will be getting a rest this week and the lakes and rivers are at perfect swimming temperatures!
• • •
Purple Heart Day is observed on Aug. 7 and is a time for Americans to pause to remember and honor the brave men and women who were either wounded on the battlefield or paid the ultimate sacrifice with their lives in service to America.
• • •
Happy birthday today to Ronda Smithson, Jessica Hendricks and Steve Cox. Tomorrow Amy Evans, Jennifer Custer, Ben Fairfield, Jack Glinski, Sara McDrummand, Toni Caywood, Joel Bertsch, Michele Wood, Erin Delaney, Austin Viles and Amy Ford take another trip around the sun. On Friday Doris Weaver, Dave Holinka, Kristin Kilmer, Jonathan Thomas Burnett and Danna Ziegler celebrate. Tracey Fouché, George Evjen, Brenda Knight, Rick Marshall, James Fulton, Shirleen Jacobs, Christine Maiani, Kelli Aiken and Tom Wood will toast another year on Saturday. Bill Kinder, Cindi Wimmer, Greg Delavan, Bob Nonini, Billie Collins and Dan Dahl blow out the candles on Sunday. 8/8 birthdays will be celebrated by Roberta Larsen, Sara Meyer, Jodi Anderson, Eli Yates, Jeff Humphrey, Ken McMeans, Virginia Griggs, Jim Hollingsworth, Jennifer Bokma, Heidi Phillips-Allen and Patty Collins. On Tuesday Anne Anderson, Terry Morris, Jack Havens, Kyle Patterson and Christian Strailman celebrate the anniversary of their birth.
• • •
Kerri Rankin Thoreson is a member of the National Society of Newspaper Columnists and the former publisher of the Post Falls Tribune. Main Street appears every Wednesday in The Press and Kerri can be contacted on Facebook or via email mainstreet@cdapress.com. Follow her on Twitter @kerrithoreson.
Recent Headlines
---