Helping those who help us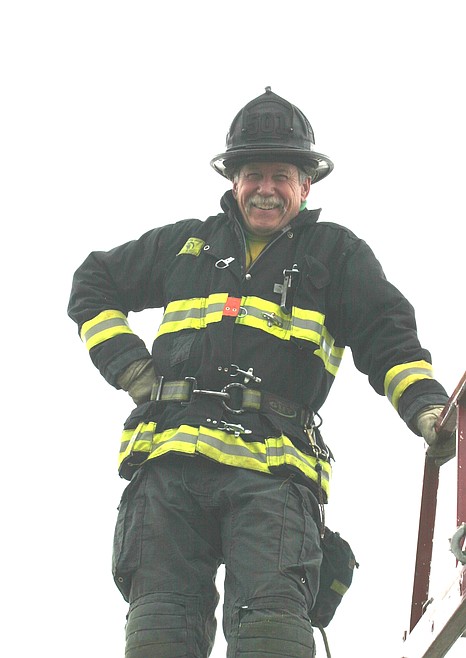 The late Northern Lakes Fire Chief Jeff Welch is seen here, beaming a smile while training in Sandpoint on the job he loved so much. The JW Memorial Foundation, created in his honor to help families of first responders, is having a kickoff event at the fairgrounds April 30.
Courtesy photo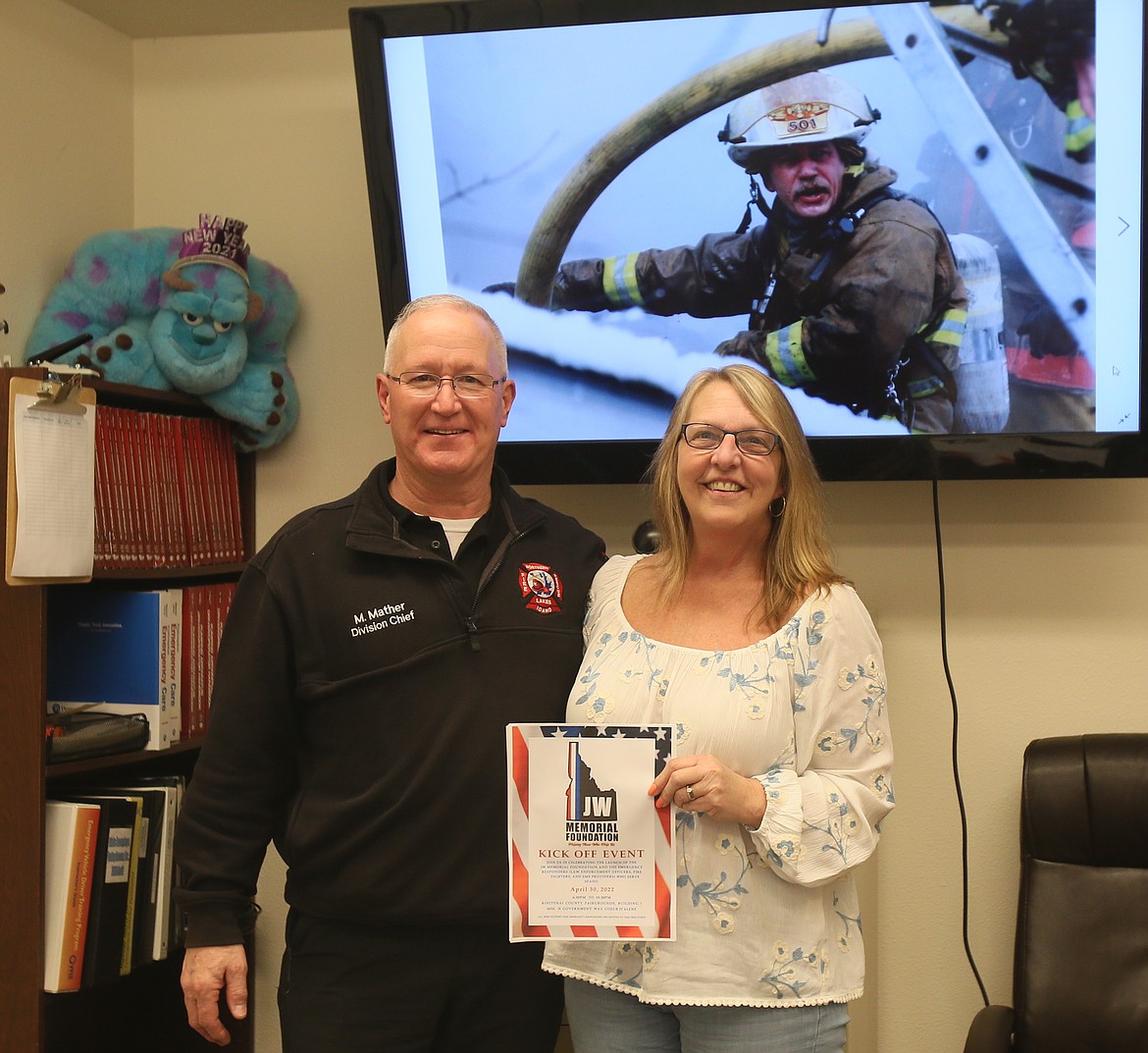 Northern Lakes Training Chief Mike Mather and Sue Welch, widow of late Fire Chief Jeff Welch, are two forces behind the launch of the JW Memorial Foundation. They're seen here at the Hayden station Thursday in front of a famous image of Jeff that landed on the cover of a firefighting training manual.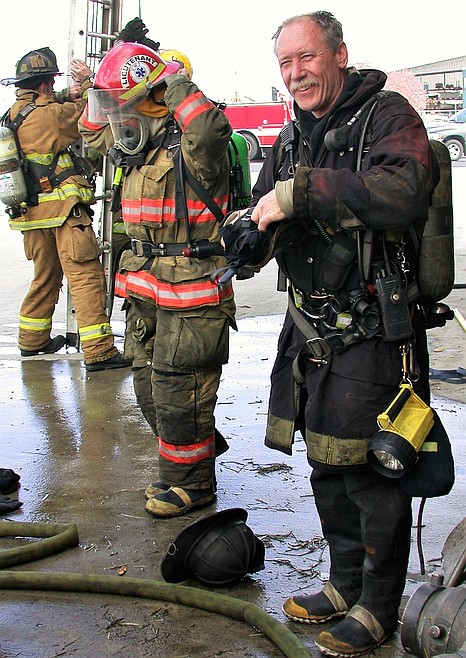 Late Fire Chief Jeff Welch, right, is all smiles in a dirty turnout jacket during a training day in Spokane Valley. The JW Memorial Foundation has been created to honor his wish to help the families of fallen and severely injured first responders. The kickoff event is April 30.
Previous
Next
One thing the late Northern Lakes Fire Chief Jeff Welch loved more than being a firefighter was serving as a mentor to other firefighters.
"I have stories I could tell you," Northern Lakes Fire Training Chief Mike Mather said Thursday. "He'd be in here ready to go home, and we're doing rope training off the ceiling, he's like, 'Hey, let me show you guys something.'"
His wife of 38 years, Sue, would call the station to ask if he was on his way home.
"It's like, 'Chief, your wife wants to know if you're coming home,' and he'd say, 'Half an hour, I'll be home in half an hour,'" Mather reminisced. "He would stay. That's why this guy was awesome. This was a fireman's chief."
Jeff's heart was even bigger than his quintessential fireman's mustache. One of his goals was to create a foundation to provide support for the families of first responders when their heroes are injured or killed in the line of duty. He was quite fond of first responders — Sue is a former law enforcement officer and son Jesse is a Coeur d'Alene Police officer, not to mention the countless friends and brothers he made in his firefighting career.
"He was very impacted by 9/11, lost some good friends," Sue said. "He had ridden with the fire department and made some friends at the station right across from the Twin Towers, which of course was gone. That changed the way he looked at everything."
The dream began forming in 2016 after Jeff was diagnosed with a rare form of lymphoma, although lymphoma is common among those who rush into burning buildings to save lives.
After his diagnosis, a friend started a fundraising account to help pay for a stem cell transplant, a long and expensive process. However, Jeff never reached remission to have the procedure, so the funds were never used.
"One day he said, 'I think I know what I want to do with that money,'" Sue said. "He said, 'I want to start this organization.'"
Jeff died in June 2019 before his goal was complete. But the dream did not die with him.
"He made me promise I would get it started. I'm a little mad at him," Sue said with a laugh.
With help from some of Jeff's firefighter brothers, and using the stem cell funds, Sue launched the JW Memorial Foundation in April 2021 to show appreciation for emergency responders and fulfill Jeff's vision.
A big kickoff event — delayed a year because of COVID — will be held from 6 to 10 p.m. April 30 at the Kootenai County Fairgrounds. Seasons of Coeur d'Alene is donating the food. The event is free and open to all who, like Jeff, have a heart for helping those who help others.
"Sometimes you just hit people who have a soft spot for emergency responders," Sue said. "That's who we're looking for, those people.
The nonprofit foundation will support first responders across Idaho, especially volunteers who have little or no safety net if they're killed or catastrophically injured on the job.
"Many of our fire service are volunteers, and some law enforcement too," Sue said. "It's the volunteers who are already volunteering, and that really was close to his heart. He did a lot of training with volunteers."
Mather said Jeff's dedication to firefighting earned the respect of the community, "not just here but all over the state."
The foundation board comprises firefighters, law enforcement personnel and civilians. It has already provided benefits to a North Idaho family that suffered a tragedy.
"This board is so awesome," Sue said. "They all feel the need and emotional connection."
The foundation is still examining the different ways to help first responders as its pool of funding grows, such as scholarship programming.
"Nothing is in stone right now," Mather said.
He said he feels Jeff would be overwhelmed by how far his dream has come and extremely proud of his wife for what she has accomplished.
"He was the first chief I got to know that was my mentor," Mather said. "It even makes me emotional."
Info: www.jwmfidaho.com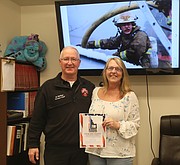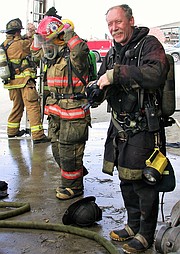 Recent Headlines
---