Growing green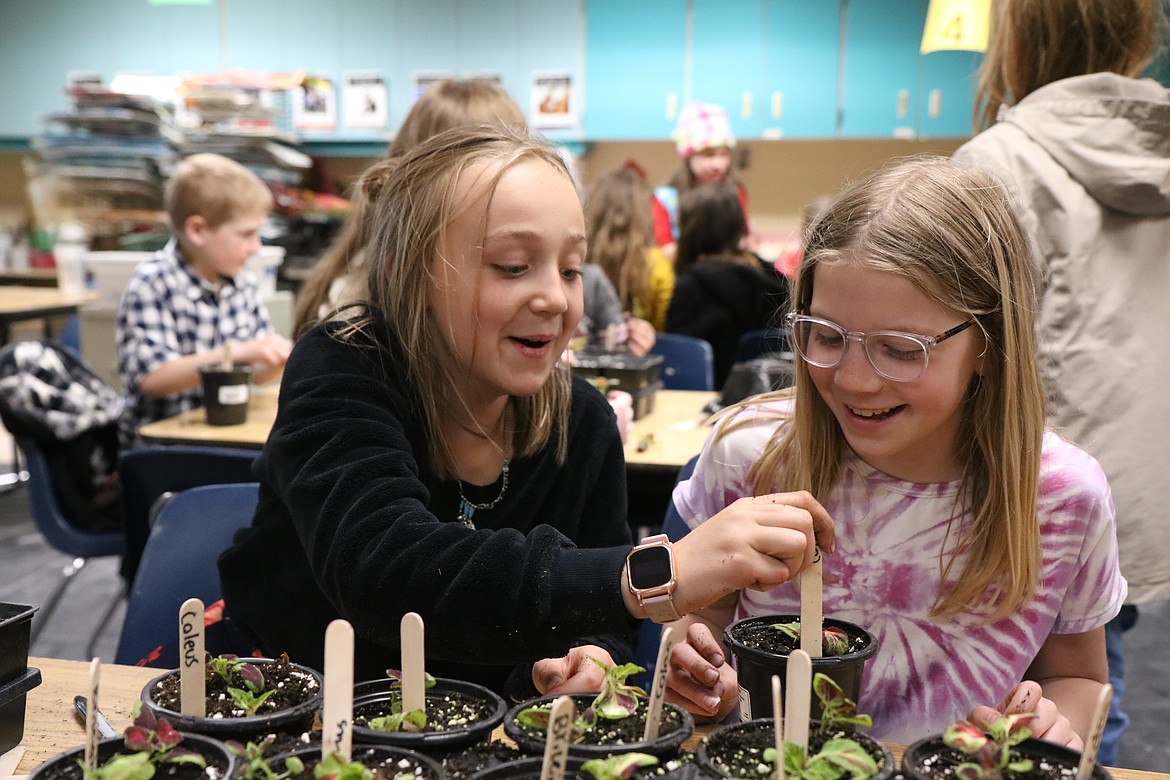 Third graders Andi Barnhouse (left) and Alexa Jensen label new plants at Hayden Meadows Elementary School before bringing them to the school greenhouse on Friday. HANNAH NEFF/Press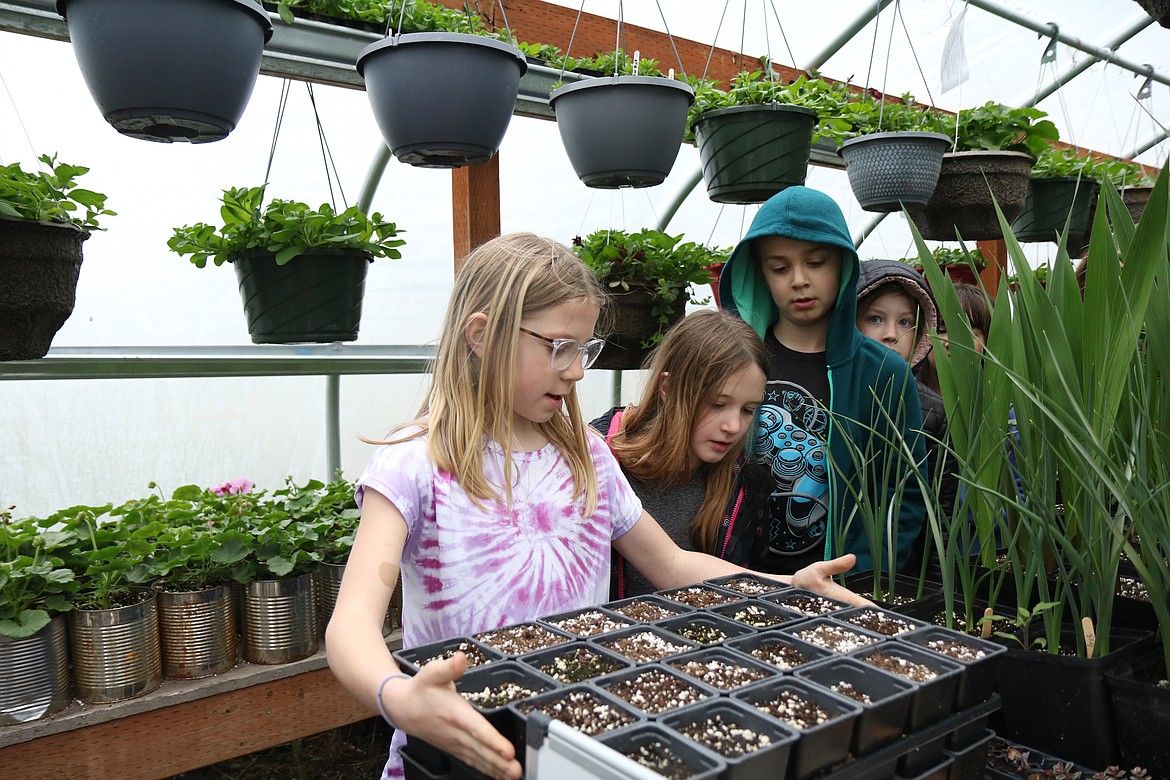 Third grader Alexa Jensen lifts a tray of pots and dirt to bring from the school greenhouse to classroom to prepare for planting on Friday at Hayden Meadows Elementary School. HANNAH NEFF/Press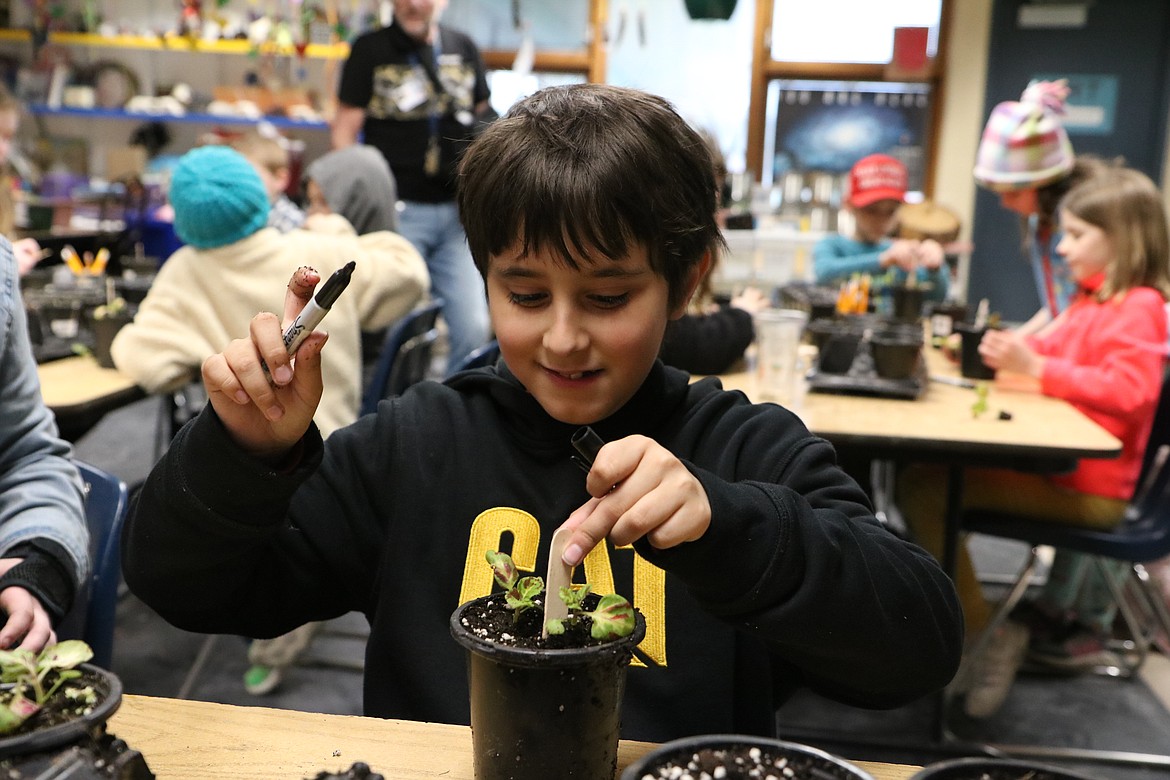 Hayden Meadows Elementary School third grader Gabe Vargas labels a plant to prepare it to be placed in the school greenhouse on Friday. HANNAH NEFF/Press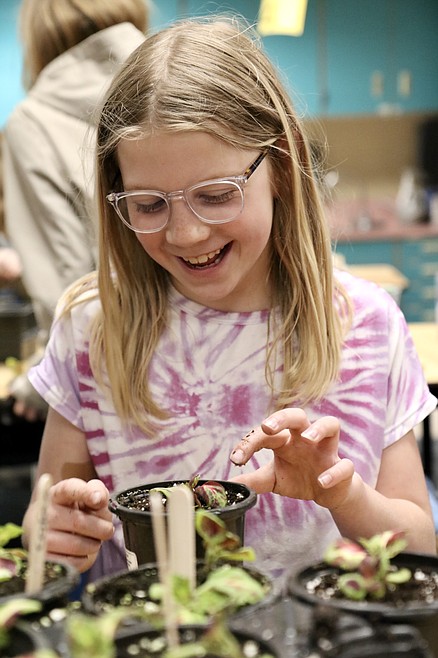 Hayden Meadows Elementary School third grader Alexa Jensen works to prepare plants for the school greenhouse on Friday. HANNAH NEFF/Press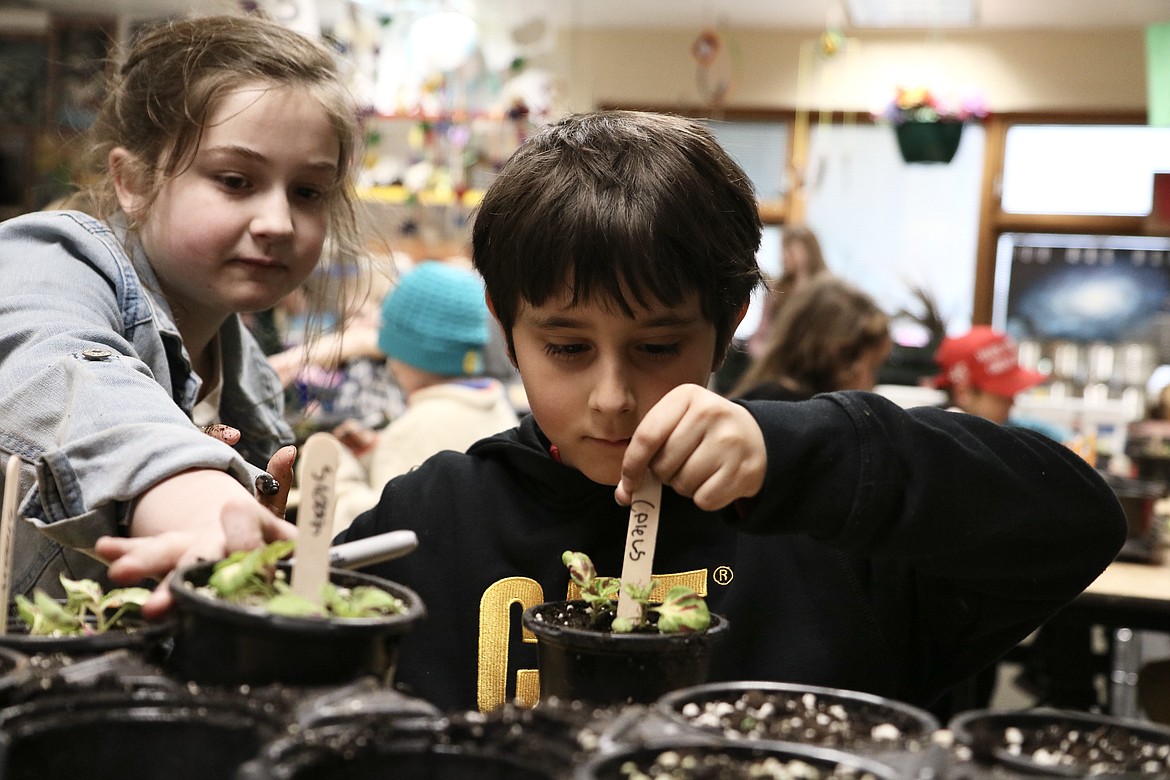 From left, Hayden Meadows Elementary School third graders Sloan Walker and Gabe Vargas label plants for the school greenhouse on Friday. HANNAH NEFF/Press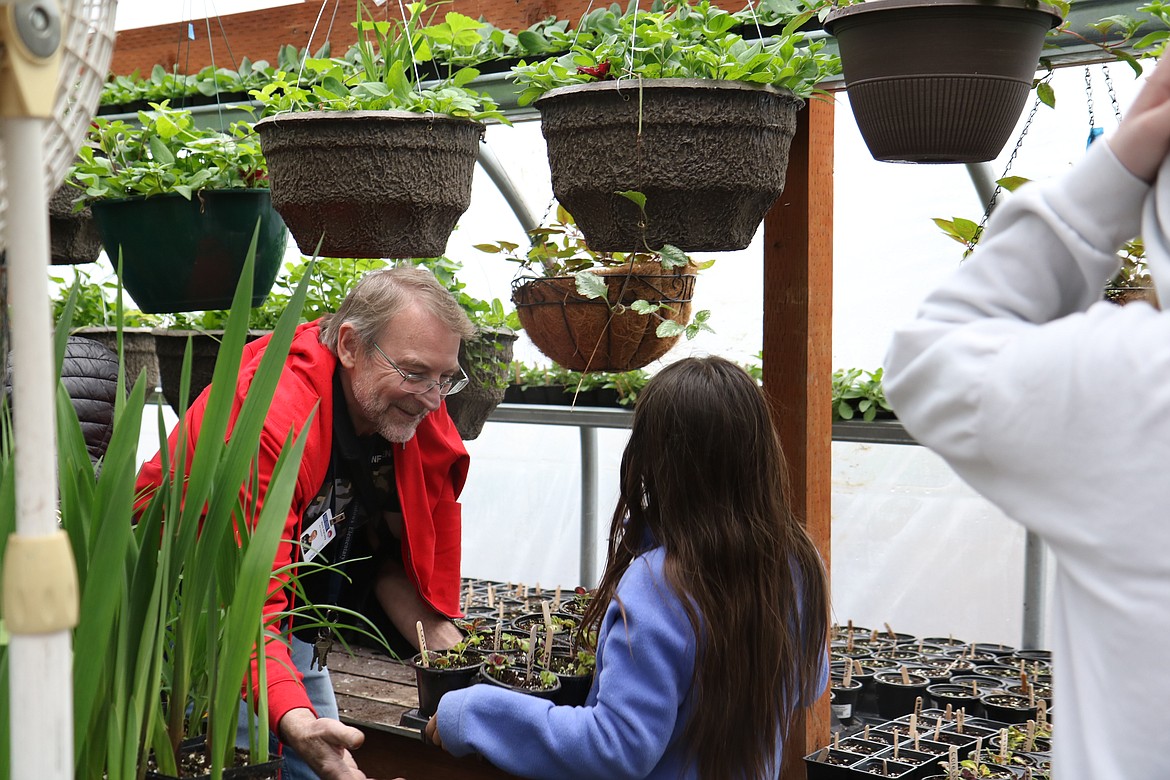 Vern Harvey, an art teacher at Hayden Meadows Elementary School, takes a tray of plants from a student to set on the shelf of the school greenhouse on Friday. Harvey started the school greenhouse which has been adding to the school's learning environment for the last 15 years. HANNAH NEFF/Press
Previous
Next
by
HANNAH NEFF
Staff Writer
|
April 13, 2022 1:00 AM
HAYDEN — Students at Hayden Meadows Elementary School are honing their gardening skills.
For the past 15 years, the school greenhouse has been a place of magic for kindergarten through fifth graders.
"They're just incredibly excited about going in," said Vern Harvey, an art teacher at the elementary school. "They absolutely love it."
On Friday, the kids added new seeds and seedlings to the greenhouse which hosts about 150 hanging baskets, patio baskets, vegetables, 900 geraniums, 3,000 petunias, 1,000 million bells, and more.
"It was cool," said third-grader Gabe Vargas.
Gabe helped bring the new plants to the greenhouse and said he thought the wide variety of plants was interesting.
"They're all just different and none of them are like the same," Gabe said.
Third-grader Alexa Jensen said she loved to visit the greenhouse because she liked smelling the plants.
"I love planting," Alexa said. "I just love nature and think it's fun to get your hands all messy."
Harvey, a teacher at Hayden Meadows Elementary for 18 years, started the greenhouse with a grant and fundraisers.
"It's self-sustaining," Harvey said. "That was a deal I made with maintenance, it wouldn't be a burden on the district."
Every year, the greenhouse boots up in February with its first plants, 900 geraniums. Then throughout the year students add and care for plants, recycling over 1,000 cans from school kitchens for planting pots.
The Saturday after Mother's Day, the kids all help the greenhouse sale, learning to run the cash box and more, and raising enough money to support the next year's gardening experience.
"There's a lot of character development involved with the greenhouse," Harvey said. "We just use it as a laboratory for kids to get their hands dirty, to grow some plants and see the results of that."
Harvey said the kids learn to discipline themselves with labor and work through taking care of the plants. In fall, the students work to prepare the greenhouse for spring planting.

The growing laboratory has also been incorporated into art, poetry and science classes.
"They just think it's a magical place," Harvey said. "You walk in and they're oohing and ahhing, 'Oh it smells so good in here.'"
The greenhouse has also been involved with many acts of kindness over the years, including forcing tulips for an assisted living residence in February, providing geraniums for the Fallen Heroes monument, planting and donating flowers at Hayden City Hall and growing vegetables for the local senior center and food bank.
The greenhouse has been supported by EXCEL, the Hayden Rotary, Camera Corral, Coeur d'Alene Garden Club and numerous community volunteers, parents and teachers.
"Part of our identity at Hayden Meadows is the greenhouse because every kid here is somehow connected to it," Harvey said. "The kids are excited about just filling pots with dirt and getting their hands dirty."
Recent Headlines
---