Milestone Announcements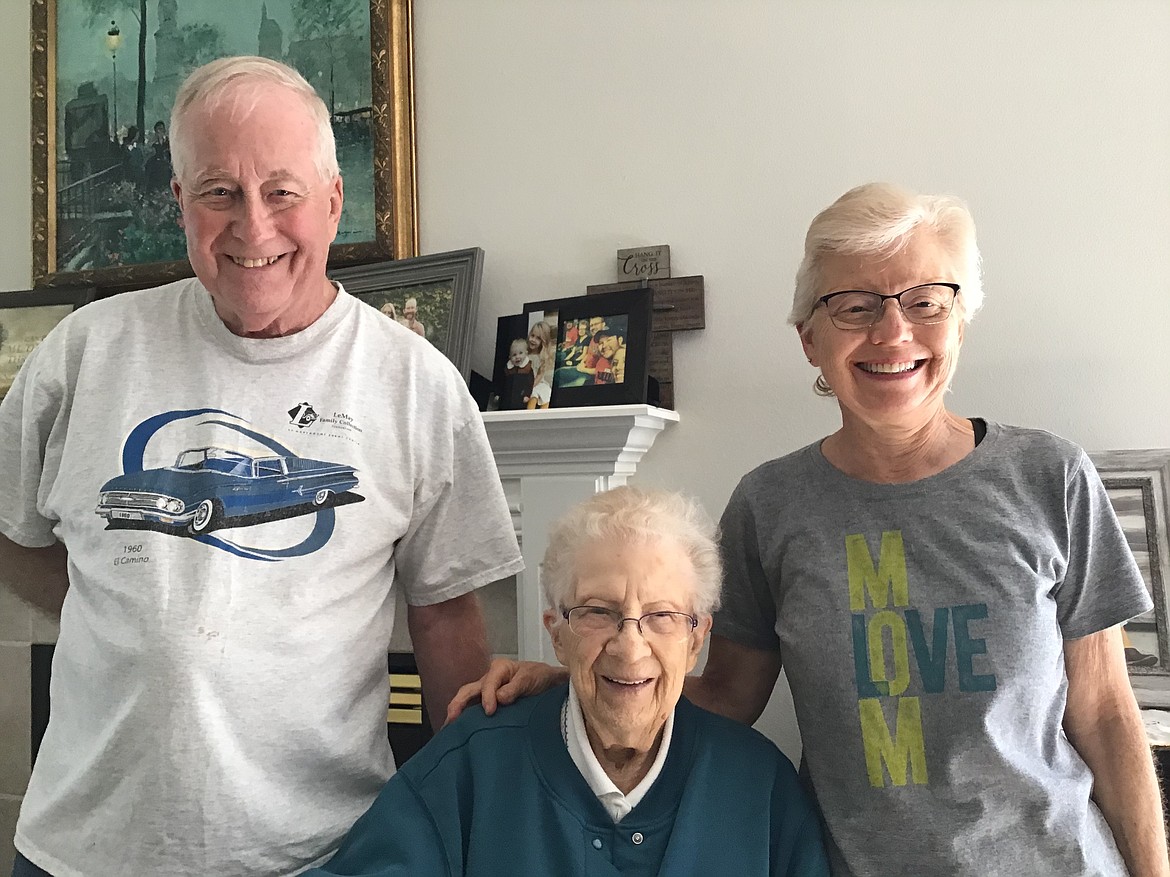 Amelia Curnow Thomas with her son, John Thomas and daughter Kathy Solum.
|
September 26, 2021 1:00 AM
ENGAGEMENT
Wise-Pierson
Craig Wise of Dalton Gardens and Margie Wise of Coeur d'Alene are pleased to announce the engagement of their daughter, Emily Louise Wise to Nicholas Martin Pierson. Nicholas is the son of Jim and Gigi Pierson of Hayden.
The couple will be united in marriage at 4 p.m. Saturday, Oct. 2, 2021, at The Ridge at Greenbluff in Colbert, Wash. Pastor Heather Seman will officiate the ceremony. The bride will be given in marriage by her father, Craig.
MILESTONE BIRTHDAY
Amelia Curnow Thomas
100th Birthday
Amelia Curnow Thomas turns 100 on Oct. 2, 2021.
Amelia came to the United States in 1923 with her parents and three siblings from Canada. The family settled in Wardner, Idaho. Another child joined the family in 1928. She remained in the Silver Valley for 87 years.
Amelia graduated from Kellogg High School in 1939 and worked at such jobs as grocery store, physician's office and bank until marrying John Thomas in 1942.
John and Amelia had two children, John and Kathryn who went on to college and life outside from the valley.
Amelia moved to Rathdrum in 2008 and remains with her daughter and son-in-law, Kathryn and Bill Solum, now in Coeur d'Alene.
She has besides her two children, four grandchildren, three great-grandchildren, two stepsons and two step great-grandchildren. She is the surviving matriarch of the Thomas-Curnow families, which include Hoffman's, Elliotts and Galloways.
If she were asked the reason for her longevity, she would not have much wisdom except clean living, attention to doctor's suggestions and TLC from her family.
• • •
Submit your milestones to hmain@cdapress.com or in person at the Coeur d'Alene Press, 215 Second St., Coeur d'Alene, ID 83814.
Listings include:
• Wedding anniversaries for couples married 25 years and every fifth year thereafter (2 photos accepted)
• Engagement announcements (1 photo accepted)
• Wedding announcements (1 photo accepted)
• Births (1 photo accepted)
• Milestone birthdays at age 70 and every fifth year thereafter or every year after age 90 (1 photo accepted)
• Generations (1 photo accepted)
• Academic honors and higher education accomplishments (1 photo accepted)
• Military announcements (1 photo accepted)
Deadline is 3 p.m. Tuesdays.
---