Red alert: Coeur d'Alene impressive again after third straight win in four games — all away from home against stiff competition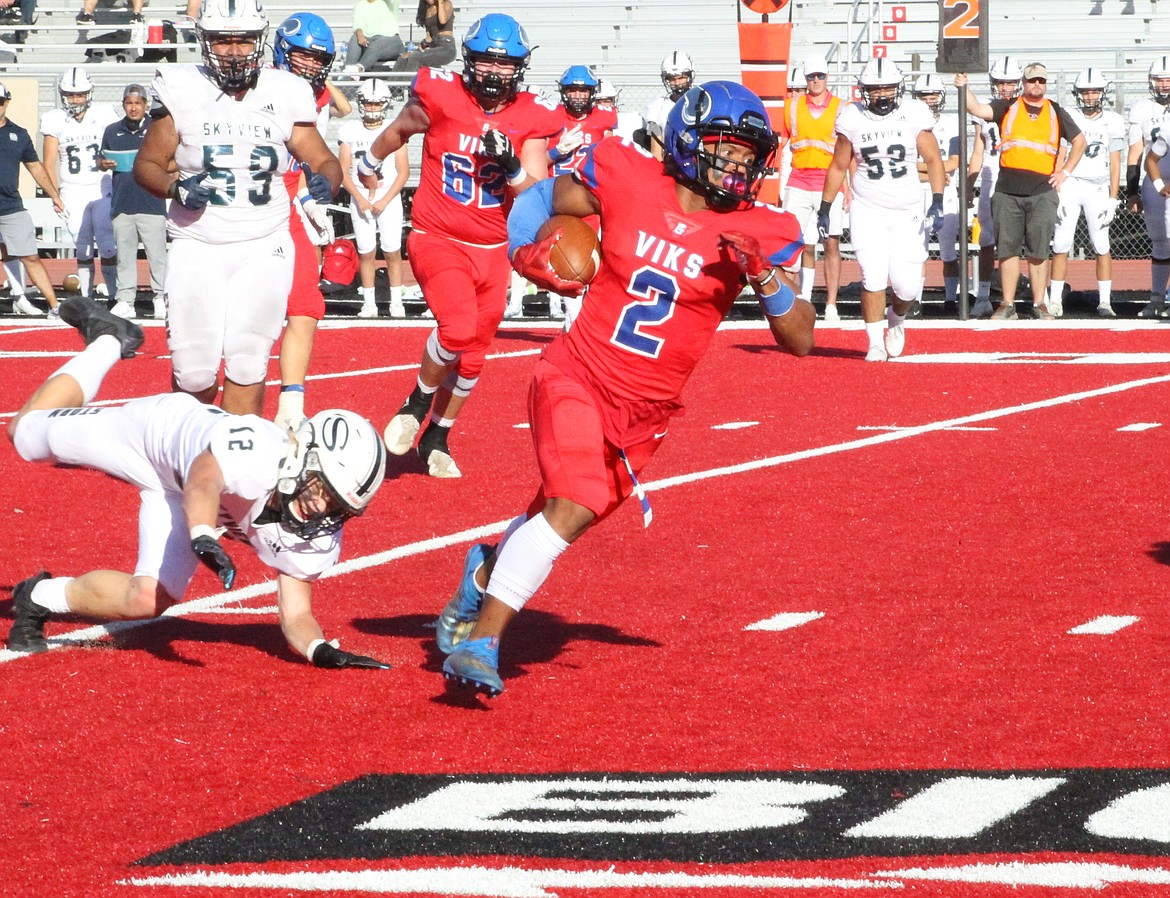 MARK NELKE/Press Isaiah Griffin (2) of Coeur d'Alene avoids a tackle attempt by Jerrid Secor (12) of Skyview on a 29-yard catch-and-run play in the first quarter Saturday at Roos Field in Cheney.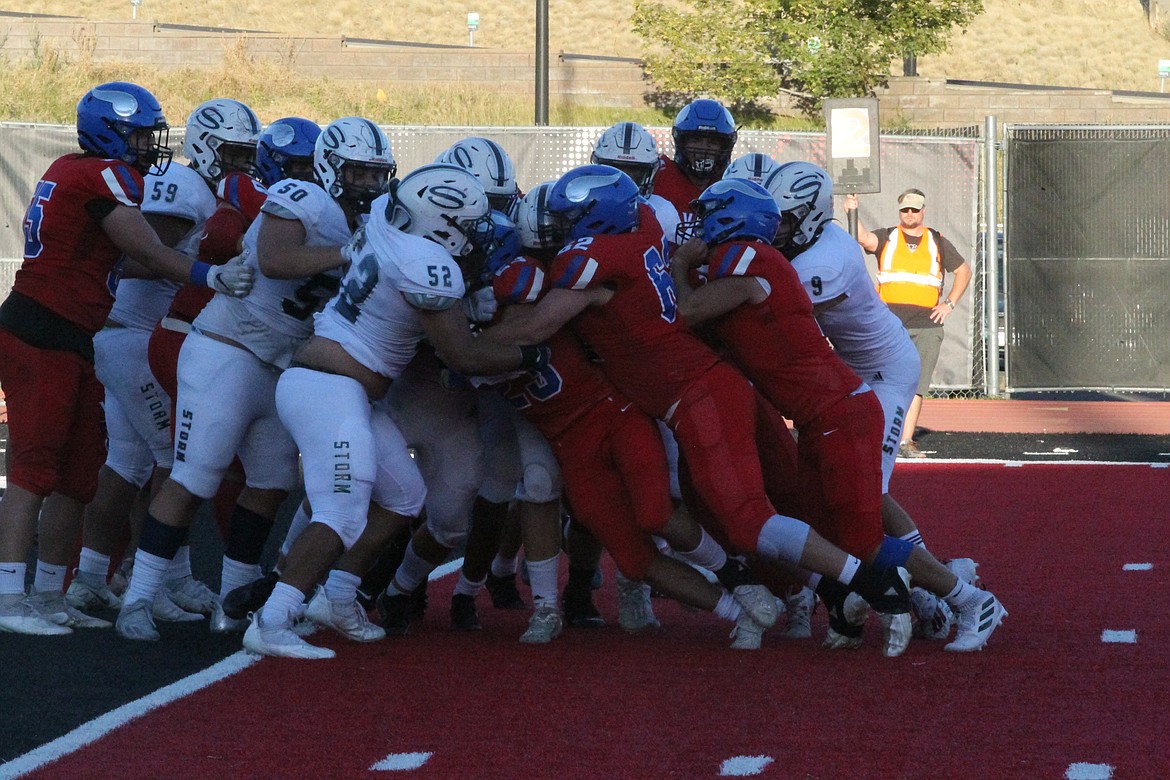 MARK NELKE/Press Gunner Giulio, center, of Coeur d'Alene is seemingly stopped at the line of scrimmage by Skyview defenders in the third quarter Saturday at Roos Field in Cheney. But, moments later, Giulio — and the pile — wound up in the end zone.
Previous
Next
|
September 26, 2021 1:25 AM
By MARK NELKE
Sports editor
CHENEY — As the sun set behind him early Saturday evening, Shawn Amos stood on the home sideline at Eastern Washington University's Roos Field, sounding like a proud father.
Which he is — when he's not working as head football coach at Coeur d'Alene High.
"So proud of these guys," Amos said after the Vikings completed a taxing stretch of four straight games away from their home field with a hard-fought 27-17 victory over the Skyview Storm of Vancouver, Wash. "Four straight road trips, a couple of them six-plus hours. They kept battling. We beat two really good football teams back to back. This group, if we can go on the road four straight times and play like that against good teams, it's impressive."
The Pacific Northwest odyssey for Coeur d'Alene (3-1) began Aug. 28 with a 33-7 loss to Lehi (Utah) at the Rocky Mountain Rumble in Rexburg. The next week was a relatively short trip up to Sandpoint, where the Vikings survived, 21-19.
After an unexpected bye when two teams canceled on the Vikings for COVID-19 reasons, Coeur d'Alene traveled to Bothell, Wash., and beat North Creek 43-42 in overtime.
And on Saturday, Coeur d'Alene and Skyview met on a college campus, and the Vikings handed the Storm (3-1) their first loss.
Total round-trip distance for the four games — roughly 1,770 miles.
"After our Lehi game, and how upset we were on the way we performed, we just didn't want to feel like that," said Coeur d'Alene running back/linebacker Gunner Giulio, who ran for two touchdowns on Saturday, and had one of the Vikings' two fourth-quarter interceptions. "So the next week, going back into practice, we were pissed off; we were ready to compete."
Senior quarterback Brayden Bengtson was efficient operating Coeur d'Alene's short-passing offense, completing 22 of 27 passes — to eight different receivers — for 197 yards. He also helped his team pick up several first downs by drawing Skyview defenders offside — a good half-dozen times — with his hard count.
"Some people don't understand the types of teams we're playing," Amos said. "It's going to be a hard-fought game; you're not going to score 47 points every time. The way they battled, we need to be in these situations."
The teams traded points for much of the game, before Coeur d'Alene took over the game in the fourth quarter — largely with its defense.
Coeur d'Alene took the opening kickoff and drove 91 yards in 10 plays. Giulio scored from 5 yards out, one play after a 29-yard catch-and-run from Bengtson to Isaiah Griffin.
Skyview needed to drive just 35 yards to answer, following a good kickoff return and a penalty on the Vikings.
On third-and-four from the 19, running back Gabe Martin took a screen pass from Niko Arriola and dashed up the middle into the end zone for a 7-6 lead.
After Coeur d'Alene turned the ball over on downs at the Skyview 40, the Storm drove to a 27-yard field goal and a 10-6 lead.
Coeur d'Alene answered with a 10-play, 59-yard drive, capped by Wyatt Potter's 1-yard run out of the wildcat formation for a 13-10 halftime lead.
Skyview took a 17-13 lead midway through the third quarter on Martin's 5-yard run.
Coeur d'Alene came back with an 80-yard, nine-play drive, capped by Giulio's 1-yard run in which the senior ran into a crowd at the line of scrimmage, then basically moved the pile into the end zone.
The key play of the drive came on third-and-5 from their own 25, when Bengston scrambled, got blasted while throwing but connected with Sam Entzi for 34 yards. Bengtson missed just one play.
In the fourth quarter, Entzi picked off Arriola in Viking territory, and returned it to the Skyview 35.
The Storm stopped Coeur d'Alene on downs four plays later, then went for it on fourth and 8 on their own 28, but Potter, Cameren Cope and Cade Prado teamed to sack Arriola.
"On all cylinders, our team was just flying around making plays," Giulio said. "We have sophomores up to seniors out there just killin' it; it's amazing."
Coeur d'Alene scored in three plays — all runs by Robert Collier Jr., the final one a 7-yarder around right end where he powered into the end zone.
Giulio intercepted Arriola two plays later, when he rolled left and threw back over the middle.
"Four weeks in a row, getting on the bus and traveling like that," Amos said. "The mental toughness of this group; they've been in tough games and found a way to finish them, three times. We have good character on this team; we have a chance to be pretty good."
Coeur d'Alene finally plays its first game at home on Friday, vs. Ferris of Spokane.
Skyview 7 3 7 0 — 17
Coeur d'Alene 6 7 7 7 — 27
First quarter
Cd'A — Gunner Giulio 5 run (run failed), 7:03
Sky — Jaydin Knapp 19 pass from Niko Arriola (Fedya Henrichs-Tarasenkov kick), 4:43
Second quarter
Sky — FG Henrichs-Tarasenkov 27, 7:25
Cd'A — Wyatt Potter 1 run (Brayden Bengtson kick), 2:52
Third quarter
Sky — Gabe Martin 5 run (Henrichs-Tarasenkov kick), 6:23
Cd'A — Giuliio 1 run (Bengtson kick), 2:23
Fourth quarter
Cd'A — Robert Collier Jr. 7 run (Bengtson kick), 3:37
INDIVIDUAL STATISTICS
RUSHING — Sky, Martin 15-37, Knapp 7-52, Arriola 1-(minus 5). Cd'A, Giulio 18-65, Collier 10-61, Bengtson 4-(minus 3), Potter 1-1.
PASSING — Sky, Arriola 11-28-2-205. Cd'A, Bengtson 22-27-0-197.
RECEIVING — Sky, Beaver 5-67, Artis 2-25, Stromberg 2-52, Knapp 1-19, Beaman 1-12. Cd'A, Wuolle 4-45, Griffin 4-36, Short 4-28, Collier 3-22, Elliott 2-17, Cope 2-9, Giulio 2-6, Entzi 1-34.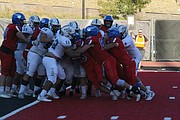 Recent Headlines
---