Weaver, Lake City pick on Moscow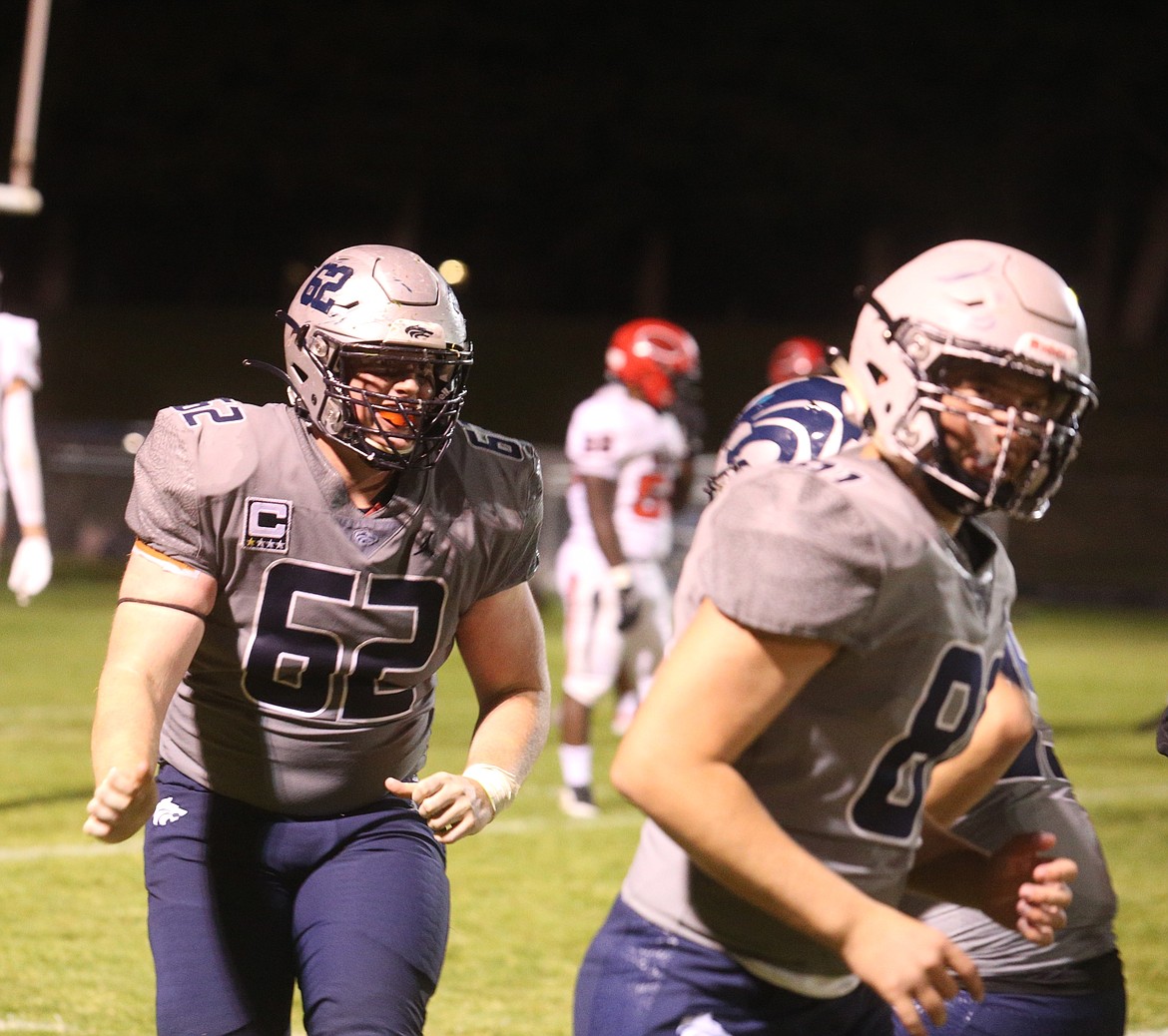 JASON ELLIOTT/Press Lake City High senior defensive tackle Xavier Johnson returns to the sideline after intercepting a screen pass in the third quarter of the Timberwolves 26-12 win over the Moscow Bears on Friday at Lake City High.
|
September 25, 2021 1:25 AM
By JASON ELLIOTT
Sports writer
COEUR d'ALENE — Offensively, as a quarterback, it was up to Lake City senior Josiah Weaver to know where and when to deliver the ball to keep the offense moving.
Defensively, Weaver — the free safety — was responsible for putting the brakes on the Moscow offense at all the right times.
Weaver intercepted two passes for the Timberwolves, who forced five turnovers in all in a 26-12 win over the Moscow Bears in a nonleague game at Lake City High on Friday.
"If I'm back there, I know that it might look open, but I can get back there and make a play," said Weaver, an all-league free safety last year who started the first two games at quarterback this year before switching back to defense. "It definitely helps playing quarterback because I kind of know what to expect back there."
Weaver's first interception of the night came in the second quarter, setting up the Timberwolves' first score with five seconds remaining in the half to take a 7-6 lead.
Lake City senior defensive lineman Xavier Johnson had an interception to set up another score in the third quarter.
"We've been moving some guys around trying to find that recipe," Lake City coach Brian Fulp said. "Josiah's a great free safety and had two of those big plays for us. We had a pick by a D-lineman on a screen, and our defense played their hearts out tonight. We got a fumble recovery on a punt, and we just played well in that phase."
In addition to the fumbled punt return, Moscow threw four interceptions for five total turnovers.
"They pin their ears back defensively and we just couldn't get going," Moscow coach Phil Helbling said. "We just couldn't get going. And they played pretty well. The turnovers really hurt us, especially in the first half, that was a big one. We had opportunities and just fell a little short. We've just got to respond and get better."
Brayden Ross ran for 139 yards for Lake City (2-2), which plays at Sandpoint next Friday.
"He's a little lightning body," Fulp said. "He's tough to catch and made some great plays in the hole and then hit the burners down the sidelines."
Lake City limited Moscow to 264 total yards.
"We just started doing our jobs and doing a good job of locking them down," Weaver said. "Defensively, we played great tonight."
Moscow (3-2) travels to Lewiston next Friday.
Moscow 0 6 0 6 — 12
Lake City 0 7 7 12 — 26
Second quarter
Mos — Dylan Decker 8 pass from Leon Hutton (kick failed), 5:02
LC — Zach Johnson 11 pass from Jackson Pettit (Kyrus Condon), :05
Third quarter
LC — Trevor Cogley 7 pass from Pettit (kick failed), 8:00
Fourth quarter
LC — Cogley 22 pass from Pettit (kick failed), 8:42
LC — Gavin McMeekan 9 pass from Pettit (kick failed), 3:11
Mos — Decker 19 pass from Hutton (pass failed), 1:29
INDIVIDUAL STATISTICS
RUSHING — Mos, Hutton 5-31, Murphy 13-60, Blaker 1-3. LC, Ross 18-139, Pettit 7-19, Condon 4-9.
PASSING — Mos, Hutton, 18-33-4-169. LC, Pettit, 15-25-1-162.
RECEIVING — Mos, Elliss 4-11, Frie 1-0, Isakson 2-41, Decker 8-114, Murphy 3-29. LC, Johnson 6-78, Ross 4-43, Adkinson 1-0, Cogley 3-37, McMeekan 1-9.
Recent Headlines
---