THE FRONT ROW WITH JASON ELLIOTT: A good start for NIC, but still hope it keeps going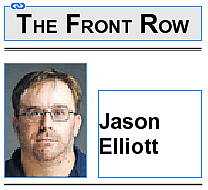 |
September 25, 2021 1:10 AM
If any of those North Idaho College fall sports teams found themselves off to a slow start in the first month, it might have been understandable.
But that hasn't been the case in volleyball, men's soccer or women's soccer. Not even close.
Not only were they unable to play last fall due to the coronavirus pandemic pushing things to the spring, but practices just weren't the same.
And the games, which were intra-regional only, were more like scrimmages.
AS FAR as starts go, it has been a dream on the soccer field for both the Cardinal men's and women's teams.
"It's just fun to watch guys in foot races during sprints in practice," said NIC men's soccer coach Ken Thompson, whose team has a 7-1 record on the season, 3-1 in the Northwest Athletic Conference. "I feel good about the athleticism of the team."
In their eight matches, the Cardinal men have outscored their opponents 20-2.
"We are really deep on the back line," Thompson said. "We've got four guys at center back that could start for any other program in the conference. With this group, they've played a lot of soccer. We also have some guys that haven't played much in the last two years, but some just have that natural ability and have been connecting passes really well."
NIC fell 1-0 to Wenatchee Valley on Wednesday in Wenatchee.
"As we play more games, we're able to try new things," Thompson said. "All of the guys get along, compete and challenge the ball really well. They're fun to watch and to have here on campus. They like to have fun on the field, and play aggressively. And it's fun to have that in the program."
Likewise, the NIC women's soccer team is 7-1 overall, but the Cardinal women are 4-0 in conference heading into today's game against Columbia Basin College in Pasco, Wash.
"We're just looking forward to getting back to having a normal season," NIC coach Kellsi Parson said. "We just hope to be able to compete for an NWAC title at the end of the season."
NIC's women have won six straight since a 3-1 loss at Lower Columbia College in Longview, Wash.
Earlier this week, both programs were credited with wins from last Saturday's matches against Treasure Valley Community College, which were canceled due to a COVID-19 outbreak within the Chukars program. According to NWAC rules, if a team is unable to field a team, it is declared a no-contest and the team that could have played is awarded the win. Last spring, had the game been postponed due to COVID, neither team was penalized.
AFTER ONLY playing six matches in the spring, the NIC volleyball team has doubled that total already in the fall, playing its 12th match on Friday night at Wenatchee Valley.
The Cardinals have also benefited from seeing some teams from the NAIA and NJCAA levels already this fall.
"It's just been nice to get back in the gym and get after it," NIC volleyball coach Kelsey Stanley said. "We're just going back to our normal routine and hitting things like we normally do."
As of now, the only unusual thing that has happened is the site for the conference championship tournament Nov. 19-21 has still not been determined.
It is usually played at the Tacoma Convention Center.
"I know the conference is still trying to get a feel of what things are going to be like come November," Stanley said. "I'm crossing my fingers that there's still going to be a championship tournament. And right now, there is."
Which, for a team that has been looking for a return to normal, is all they need to hear to keep on the right path toward the finish line.
Jason Elliott is a sports writer for The Press. He can be reached by telephone at 208-664-8176, Ext. 2020 or via email at jelliott@cdapress.com. Follow him on Twitter @JECdAPress.
Recent Headlines
---