Candidate forums coming up; registration closes today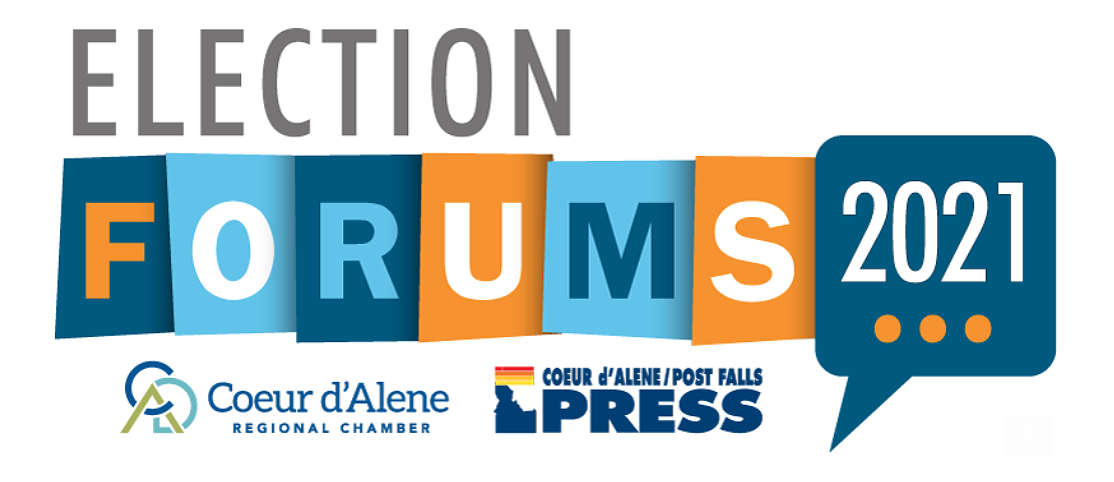 by
MADISON HARDY
Staff Writer
|
September 24, 2021 1:00 AM
Today is the last day for candidates in 2021 Election Forums to register with the Coeur d'Alene Regional Chamber of Commerce. 
Four days of candidate forums begin at 6:30 p.m. Tuesday, Sept. 28.
All forums are virtual. Viewers can watch them live on Zoom, on the Coeur d'Alene Press Facebook page or the Coeur d'Alene Regional Chamber of Commerce Facebook page.
The forums are a partnership effort by the Press and Coeur d'Alene Regional Chamber of Commerce to provide voters more information before election day, Nov. 2. 
Candidates will answer questions developed by Press staff and the public on hot local topics. Suggested questions can be submitted to Mike Patrick at mpatrick@cdapress.com.
Recordings of the forums will be available in the "Meet the Candidates" section of www.cdapress.com the following day. The Press will also be covering each forum for the daily paper. 
Candidates should register today by emailing brenda@cdachamber.com or calling 208-415-0110. 
The forum schedule:
Tuesday, Sept. 28
Coeur d'Alene City Council — eight candidates, three races 
Seat 2 — Amy Evans, Morgan Dixon, Roger Garlock
Seat 4 — Grayson L. Cross, JD Calridge, Woody McEvers
Seat 6 — Elaine Price, Kiki Miller 
Wednesday, Sept. 29
Hayden and Post Falls City Councils — 14 candidates, five races 
Hayden Seat 2 — Ed DePriest, Nicole Barnett, Richard 'Dick' Panabaker
Hayden Seat 4 — Jeri DeLange, Sandy White
Post Falls Seat 2 — Alan Wolfe, Josh Walker
Post Falls Seat 4 — Bob Flowers, Nathan L. Ziegler, Steve Anthony
Post Falls Seat 6 — Eric Klinkhammer, Kenny Shove, Linda Wilhelm, Tara Polley
Monday, Oct. 4
Coeur d'Alene and Post Falls Mayoral — five candidates, two races 
Coeur d'Alene — Jim Hammond, Joe Alfieri, Michael Lentz
Post Falls — Austin Hildebrand, Ronald G. Jacobson 
Wednesday, Oct. 6
Coeur d'Alene School District #271 board of trustees — six candidates, three races 
Zone 1 — Allie Anderton, Lisa May
Zone 4 — Leslie Bjerke, Lindsey Swingrover
Zone 5 — Glen Campbell, Rebecca Smith 
For more information on elections and polling, go to www.kcgov.us/31/Elections or call 208-446-1030.
A list of current candidates is posted at www.kcgov.us/31/Elections. 
VOTER REGISTRATION
The League of Women Voters of Kootenai County invites residents to vote Tuesday, Sept. 28 — National Voters Registration Day. 
Volunteers will be at the Coeur d'Alene, Hayden, and Post Falls libraries from 1-7 p.m. to help get Kootenai County signed up to participate in the November election. 
Voters must register by 5 p.m. Oct. 8 to participate in the November election. Virtual registration is available at voteidaho.gov. 
Same-day registration and voting are available on Election Day at your polling place. 
The LWVKC intends to boost local involvement through Vote411.org — a free, nonpartisan resource that includes candidate information and questionnaire responses. Individuals running for office this fall can contact the LWVKC to participate in Vote411.org at LisaSchaff1@hotmail.com. 
The Press and LWVKC are partnering to collect candidate questionnaires and contact information ahead of the Nov. 2 election. 
Candidates should contact Press reporter Madison Hardy for a candidate questionnaire. Email mhardy@cdapress.com or call 208-416-5109. 
Recent Headlines
---