Too far? Not far enough?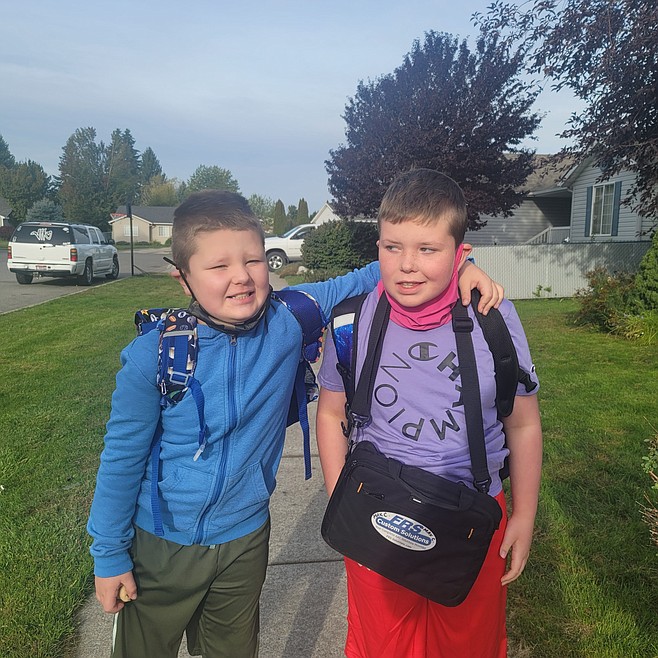 From left: Skyway students Ben and Max Christensen, 8 and 10, prepare for a day at school. Both boys have special needs and are highly susceptible to COVID. Their mother, Cait Christensen has taught them both to mask up for their vital protection despite no mask mandate in the Coeur d'Alene School District.
Photo courtesy of Cait Christensen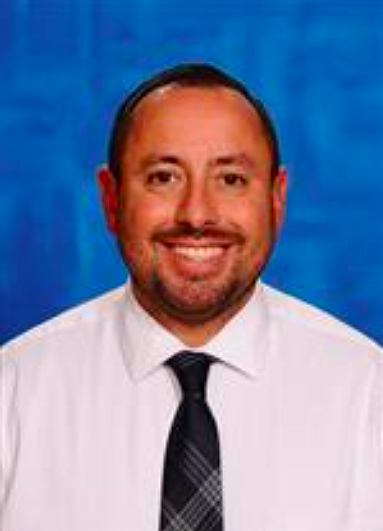 Coeur d'Alene School District Director of Special Education, Frank Maier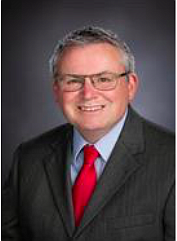 Coeur d'Alene School District Director of Communications, Scott Maben
Previous
Next
by
ELLI GOLDMAN HILBERT
Staff Writer
|
September 21, 2021 1:08 AM
COEUR d'ALENE — Anti-maskers and anti-vaxers have been expressing strong feelings about Coeur d'Alene School District possibly going too far.
But some parents — including those of special needs children — say the school district hasn't gone far enough in protecting their kids against COVID-19.
On a 3-2 vote Sept. 13, the board of trustees rejected a mask mandate for the district.
School district Communications Director Scott Maben said Monday the board is responsible for setting policy while the superintendent and district are obligated to carry out those directions. They cannot override school board decisions, he said.
"The school board voted not to require masks," Maben said. "That ends the debate."
A district-wide email sent late last week said there were 305 students and 20 staff members out for "COVID-related" reasons. At least 177 students and employees have tested positive for COVID, it said.
"We've literally just started school and it's just going to get worse from here," Cait Christensen, the mother of two special-needs students, told The Press.
Jamie Jonz's son Aidan, 12, has epilepsy and a heart defect that resulted in a stroke during heart surgery. Jonz pulled her son out of Atlas Elementary and enrolled him in the Idaho Digital Learning Alliance program offered online by the district.
Aidan's doctor said he can't safely attend school because he's so medically vulnerable, she said.
She called the situation for her son "extremely frustrating."
Aidan has an Individualized Education Plan to assist with learning.
"We had to fight really hard to get a teacher to come into our home for one hour a day to work with him," said Jonz, who took over his education while also working from home.
"The lack of support, and having to fight with them to get an education for my child, makes it hard to feel like my kid matters," she said.
"An IEP is extremely detailed, and intricate," said Christensen, vice president of Idaho Parents Unlimited and an IEP mentor. "This isn't just something you do from home."
Maben acknowledged that the digital program "isn't perfect."
"Students can't have the same access to real-time teachers, but it is a way to keep kids enrolled," he said. "It's an option."
"Distance learning is not meant for children with IEPs," Jonz said. "But there are no other options for us."
Christensen said her boys don't have the option of learning from home. Missing even a few weeks in the classroom will set them back by months, she said, adding that they experienced serious regression last year because of COVID closures.
Christensen's two eldest sons, Max, 10, and Ben, 8, attend Skyway Elementary. Both boys have sensory processing disorder and are autistic. Max is nonverbal and highly susceptible to pneumonia. The boys wear masks daily to protect themselves.
Sensory processing disorder makes it very difficult to wear the face coverings, Christensen said, but she worked with them to make them more comfortable.
"It just feels like they're having to pull all the weight and no one is protecting them, except for me and themselves," she said.
Christensen's children used to spend part of their school day with the general education population, but she's requested they be isolated within special education rooms. Almost no one in the general school population is wearing a mask, she said.
"Most para-pros and special needs teachers are masking up," Christensen said. Her sons' teacher at Skyway, Jill Goetz, "has been wonderful" in accommodating their needs and Christensen's requests.
But Christensen believes they're missing out on important parts of their educational plan. She said she doesn't know what other options exist.
Frank Maier, director of special education for the district, said district staff believe the best ways to prevent the spread of COVID in schools are masking and vaccines.
The district has also provided plexiglass barriers that speech and language pathologists and psychologists may use while working with students.
"We offer what we feel is free and appropriate education, and if a parent chooses something different, I suggest they talk with their IEP team," Maier said. "IEP teams will work all day long with that parent to come up with a solution, but at the end of the day it is the parent's choice."
Last year during mask mandates, Christensen said it was easier. There was a camaraderie among people. "We were all in this together, but this year it just fell off the map, like nobody cares," she said.
Christensen has been active at recent board meetings. Prior to the Sept. 13 meeting, she emailed all the trustees and Superintendent Shon Hocker. No response was received other than automated emails, she said.
"My kids have to try harder than the superintendents are trying," she said. "Where do we go from here to protect our children?"
Ben Stallings has three special-needs students in the district. Sixteen-year-old Cooper at Lake City High School is autistic. Emilia, 10, attends Ramsey Elementary and has cerebral palsy and blindness. Henry, 9, is also at Ramsey Elementary and has epilepsy. His children mask up to attend school.
Stallings spoke to the board Sept. 13. He said he also emailed board members and district staff and received no response.
"The school board is letting us down," Stallings said. "For students to have free and equal access to education, they need to be safe."
All children have different immune systems and different health needs, he said. "We need to protect them all," he said. "We can't just throw some into the fire."
Maben pointed out that the COVID vaccine is made readily available. Citing a Pfizer announcement Monday, he said that hopefully soon the 5-11-year-old demographic may be eligible for it as well.
The current district stance includes: a strong recommendation for every student, staff member, visitor and volunteer to mask up; free access to the vaccine for those 12 and up; encouragement for good hygiene and a recommendation to social distance.
The district has also installed an improved ventilation system and maintains a "heightened cleaning regimen," Maben said.
It is recommended that students stay home when symptoms are present or they have been exposed to COVID or have a positive COVID test. Maben said the district is relying on people to self-report if they test positive or have been exposed, but there's no way to verify this is done.
The school board voted to discontinue contact tracing and will only require quarantine for positive cases.
Maben said that last year, when the district attempted contact tracing, it resulted in students sometimes missing months of school because they had been in close proximity with someone who had tested positive, but personally never had.
The contact tracing process also took an "immense amount of staff time," he said.
"It is challenging to respond, but we are trying to listen to and work with all families bringing concerns," Maben said. "It is definitely an ongoing conversation, and school board trustees are hearing the conversation."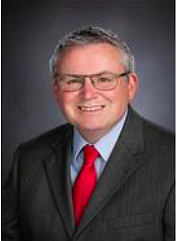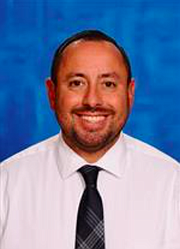 ---