'There's so much out there'
by
BILL BULEY
Staff Writer
|
September 15, 2021 1:07 AM
COEUR d'ALENE — For nearly the past decade, Marty and Barb Mueller have led explorations at Gizmo-CDA.
Now, they're off to do a bit of exploring on their own.
"I feel like right now it would be a great time for Marty and I to do those explorations we have not had time to do over the past eight years," Barb Mueller said.
The founders of the nonprofit makerspace housed at North Idaho College that has helped thousands make discoveries have stepped down and handing off their roles to Erin Lanigan.
It's the third time they tried to retire and at 73, they say it's the last.
"We want to explore the next thing. That's who we are," Barb Mueller said.
They're confident Lanigan, who has been with them two years, can spark new energy.
"Things will blossom more under another leadership," Barb Mueller said.
Lanigan said she is honored to carry on what the Muellers started in 2014. She plans to use her love of learning and making.
"I feel that's a beautiful combination," she said.
In 2017, Gizmo-CDA moved from 2,600 square feet on Fourth Street in Coeur d'Alene to nearly 10,000 square feet in the NIC Hedlund Building.
The Muellers say Gizmo-CDA provides an innovative learning environment equipped with creative technology and diverse tools and equipment.
A quick tour of their home leads from a maze of rooms big and small dedicated to an array of areas. There's welding, electronics, a clay studio, a laser cutter, robotics, an influx of blacksmithing tools, a wet lab, high-end computers, printers, virtual reality, game coding and and emerging media arts.
It is at the same time messy and orderly. Tools hang on walls, wires overflow from boxes, and motivational words like "Dream," "Think Boldly," and "Invent" hang from a banner tied to the ceiling.
Under the word "Welcome" on a white board a sentence reads, "What do you want for yourself and the team?"
Barb Mueller refers to it as "democratizing" of tools, bought and donated, so everyone has access to them.
But it's more.
"We really feel it's democratizing people because a makerspace is nothing without a community of people. And it's the interaction of that community to be able to have all kinds of knowledge to be transferred and invigorated," she said. "One person comes in with an idea, one has another. 'What about this?' "In the end, the process gives you an incredible outcome," she added
Barb Mueller speaks of a woman who made jewelry and came to Gizmo-CDA looking to improve the process.
"What used to take her three weeks takes three hours," Barb said. "That's the beauty of makerspace."
The goal is to have a place where people collaborate, share, create and learn – and find new careers. As Marty Mueller says, a place where vision extends beyond walls, where the only limit is in the mind.
He loves watching people fail, design, build, learn and grow — and try and try again.
"Where the learning curve shoots off the chart," he said.
The Muellers estimated they have worked with thousands of people, young and old, over the years. They've had around 6,000 visitors during the coronavirus pandemic.
"So many stories," Barb Mueller said.
The Mueller ran their own research and development company before founding Gizmo-CDA. They treated it as an open forum where all ideas counted.
"That's what the heart of makerspace is," Barb Mueller said. "It's about everybody having a voice and letting that input be heard."
Today, it has about 60 members, with fees bassed on access and time.
Lanigan loves it when kids ask questions about how something works, and why.
"There's so much out there," she said. "We have to keep pushing it. There's much more we could be learning."
Barb Mueller believes Gizmo-CDA has done a good job of modeling lifelong learning and the value of relationships.
Clients have come to understand, "There is always more to explore. There is always more to what you can do to help people around you succeed, empower them," she said.
Which is what Lanigan plans to do.
"I'm just going to keep the exploration happening around here," she said.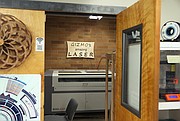 ---