PREP VOLLEYBALL: Coeur d'Alene comeback stuns Lake City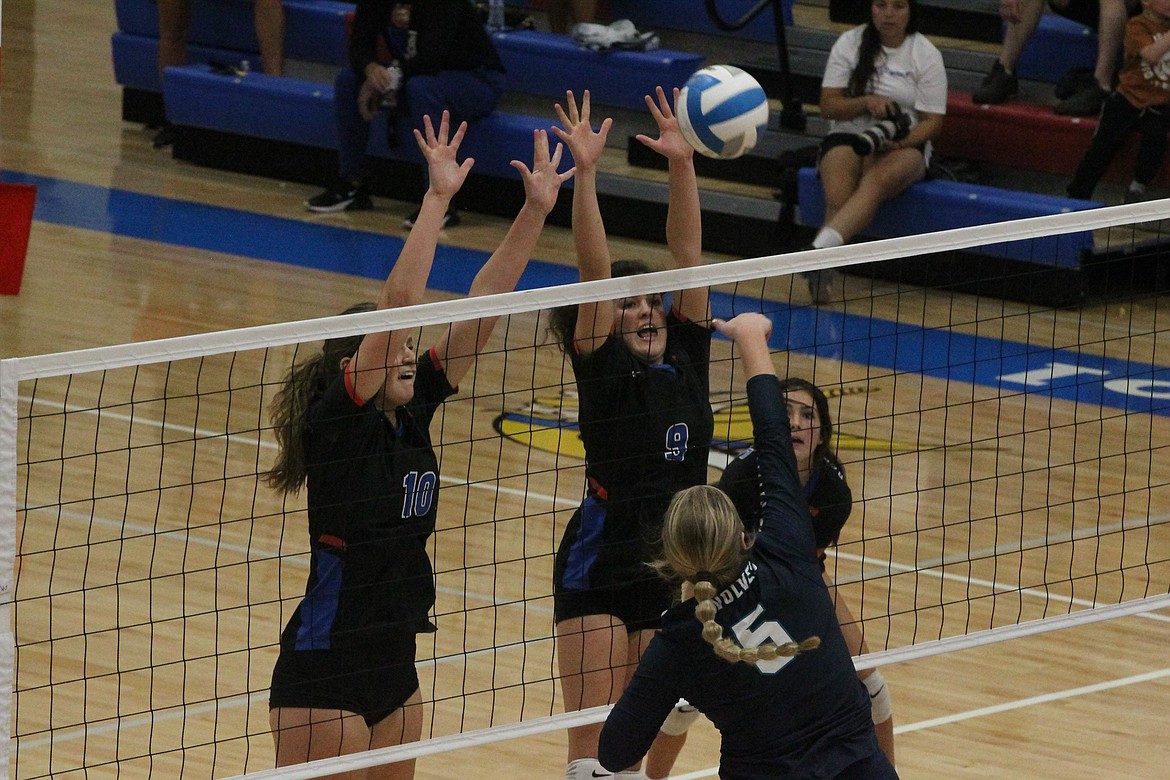 MARK NELKE/Press Lindsay Stubbs (10) and Skylar Burke (9) of Coeur d'Alene put up the block as Nellie Reese of Lake City hits on Tuesday night at Coeur d'Alene High's Viking Court.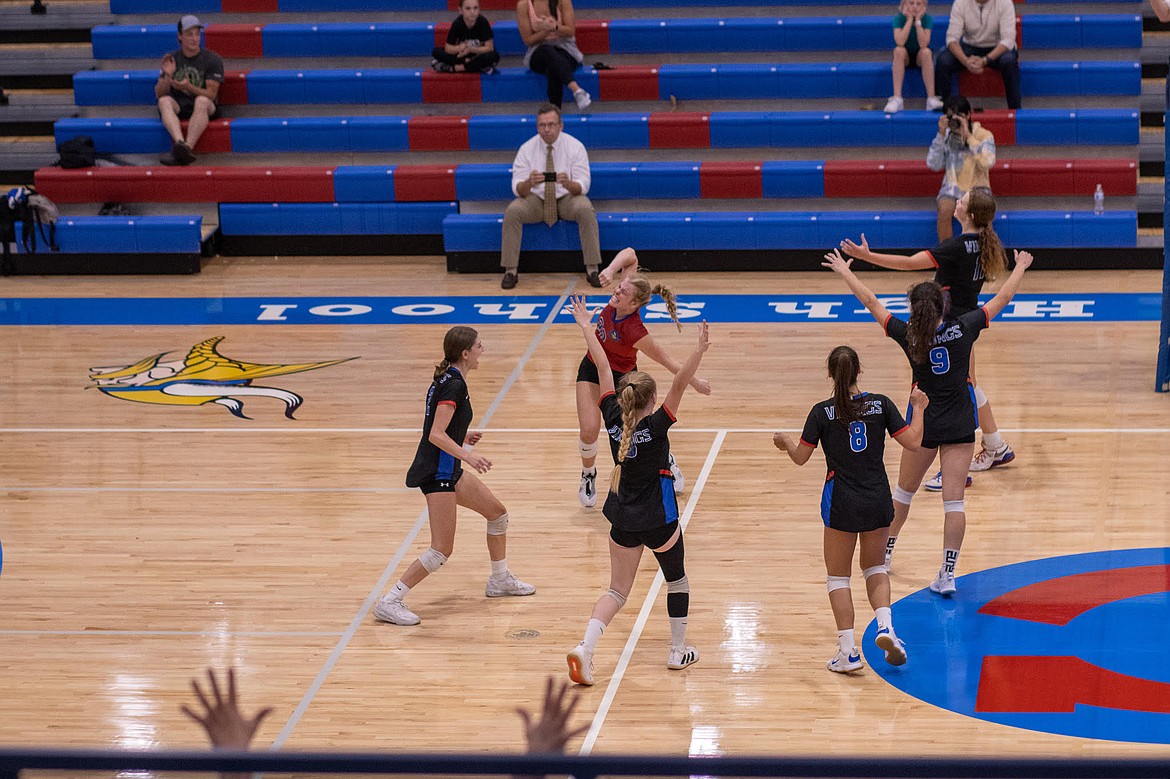 Photo by JERRY VICK Coeur d'Alene High players celebrate after beating Lake City on Tuesday night at Coeur d'Alene High's Viking Court.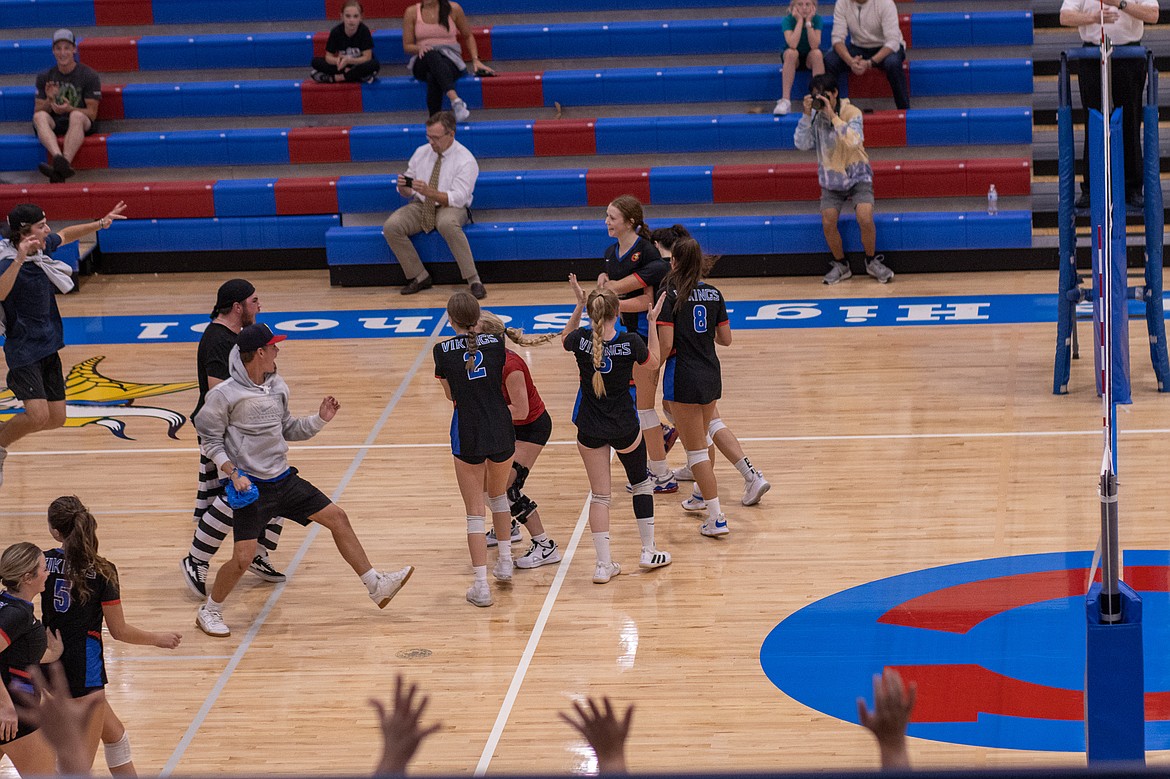 Photo by JERRY VICK Coeur d'Alene High students rush the court to celebrate with the players after Coeur d'Alene rallied from two sets down to beat Lake City on Tuesday night at Coeur d'Alene High's Viking Court.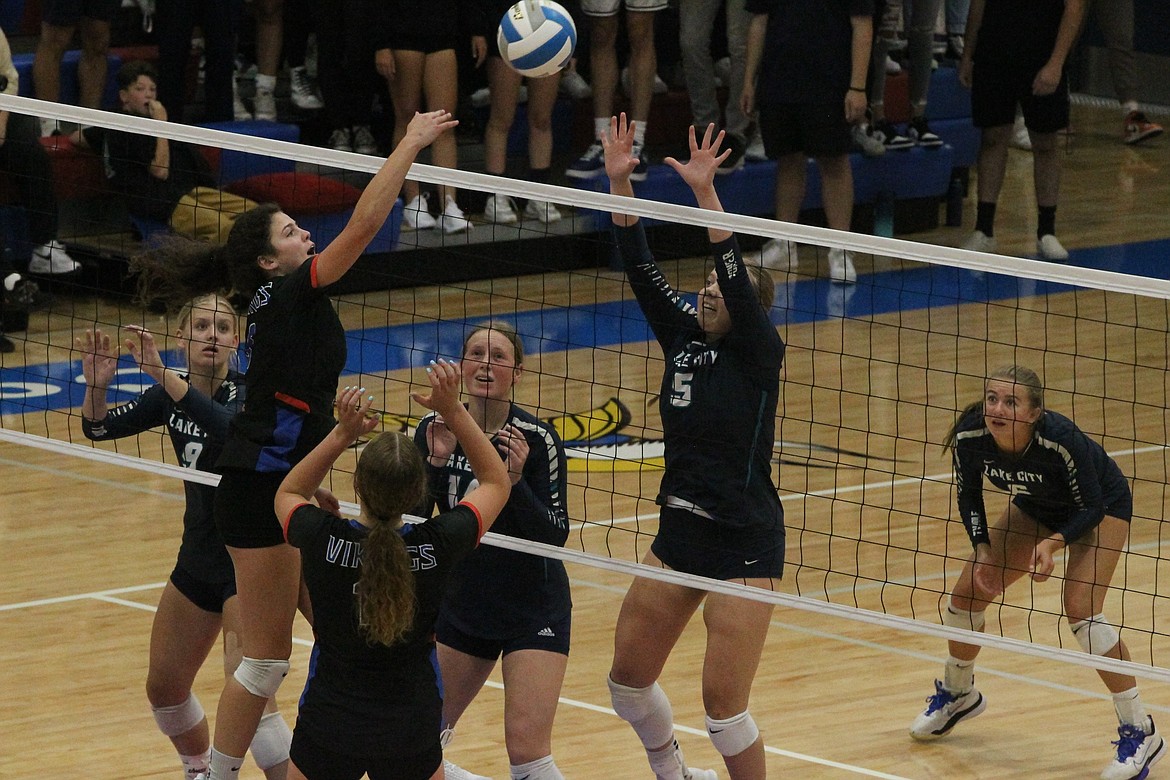 MARK NELKE/Press Skylar Burke of Coeur d'Alene hits as teammate Madi Symons covers against Lake City on Tuesday night. Defending for the Timberwolves are Olivia Liermann (9), Emberlyn Reynolds (14), Nellie Reese (5) and Ella Hosfeld (6).
Previous
Next
|
September 15, 2021 1:20 AM
COEUR d'ALENE — A court storming seemed unlikely after the first two sets Tuesday night.
But a lineup adjustment and some help from their fans helped the Coeur d'Alene Vikings rally to stun the visiting Lake City Timberwolves 10-25, 14-25, 25-22, 25-17, 15-13 in Inland Empire League volleyball at Viking Court.
"We just couldn't get anything going (in the first two sets)," Coeur d'Alene coach Carly Curtis said. "I switched to a 5-1, and was able to get Madi Symons more active in our offense, and she just took control — holy mackerel, her and Skylar Burke. Actually, everybody just played amazing the last three sets; it was great to see. We just played more aggressively."
Symons, normally one of the two setters in a 6-2 offense, switched exclusively to hitter and finished with 20 kills, including the final one on match point which sent the Viking students charging onto the court to celebrate with the Coeur d'Alene players.

"Oh my gosh, they were amazing tonight," Curtis said of the fans. "The energy they brought … I've never seen our fans like that. It was pretty impressive tonight. They kept us in the game tonight."
Burke added 13 kills for Coeur d'Alene (3-3, 2-2 IEL), which returned just two players from last year's team that placed third at state. Symons had 12 digs and six assists, Hailey Wuolle 28 assists, Macie Nelson 12 digs and two aces, Mia Carrico four aces, Olivia Naccarato and Madi Mitchell one block each.
Hanah Stoddard had 21 kills, nine digs and two aces for Lake City (8-2, 1-2). Nellie Reese had eight kills, 14 assists and three aces, Ella Hosfeld 14 assists and three kills, Avery Wright 10 digs.
"We just lost our momentum; we're having a hard time bouncing back from adversity," Lake City coach Michelle Kleinberg said. "Coeur d'Alene came back and played with a lot of heart those last three sets, and we didn't. We lost our mojo, and they played great defense. At the end of the day, they wanted it more than we did. They were playing aggressive, like they had nothing to lose, and we played scared to lose."
On Thursday, Lake City plays host to Lakeland, and Coeur d'Alene is home vs. Lewiston.
Post Falls d.
Lewiston
POST FALLS — Kylie Munday and Rylee Hartwig had nine kills each, Hanna Christensen six as the Trojans swept the Bengals 25-19, 26-24, 25-17 in IEL play at The Arena.
Munday also had 20 assists, three blocks and two aces for Post Falls, (9-2, 4-0 IEL). Hartwig and Christensen each had three blocks.
Kassie Gardiner had 22 assists for the Trojans, Claire Holding 13 digs and two aces, Sarah Rogne eight digs.
"We moved the ball in our offense, using all of our hitters," Post Falls coach Willow Hanna said. "We made adjustments with our block and defense when we needed to. I was proud of how we controlled our side."
Lewiston is 6-4, 0-3.
Post Falls plays host to Mt. Spokane tonight at 7.
Kellogg d.
Timberlake
SPIRIT LAKE — Sami Wilfong had 31 assists, 13 digs and three aces for the Tigers in a 25-21, 21-25, 20-25, 25-19, 15-8 loss to the Wildcats in the Intermountain League opener for both at Timberlake High.
Jaycie Pratt had 15 digs, 12 kills and four aces, Mckennah Kronenberg 10 digs, 10 kills and three blocks and Ashliana Thomas 13 digs, 10 kills and three blocks for Timberlake (0-4), which travels to Bonners Ferry on Thursday.
Hailey Cheney had 24 kills and five blocks, Grace Nearing 10 digs, 39 assists and three aces for Kellogg (2-4), which hosts St. Maries on Thursday.
Clark Fork d.
Lakeside
PLUMMER — Ariana Gorr had 11 kills for the Knights, who fell 23-25, 25-23, 25-16, 27-25 to the Wampus Cats at Ron Miller Court.
"The girls really came together as a team and played outstanding tonight," first-year Lakeside coach Kim Duncan said. "I'm looking forward to the rest of the season."
Martina Rivera had 19 assists and two aces and Shantel Luke six aces for Lakeside (1-3), which hosts Kootenai on Thursday.
Genesis Prep d.
Mullan
POST FALLS — Camryn Nichols had 10 kills and four digs for the host Jaguars in a 25-27, 25-16, 25-13, 25-17 win over the Tigers in nonleague play at The Courts at Real Life.
Shayla Hill had 19 digs for Genesis Prep (2-1). Bella Anderson added seven kills, six digs and two aces, and Camryn Duff had seven digs, three aces and three kills.
"We started the first set strong, but then gave away a pretty big lead," Genesis Prep coach Paula Thurston said. "We couldn't pull it together in time to win the first set, but I'm super proud of the girls for coming back the next three sets and playing our game. We played very scrappy tonight and made a lot of really great saves on defense. The girls on the net were aggressive, and put the ball away."
Mullan is 1-4.
Genesis Prep travels to Clark Fork on Thursday.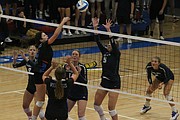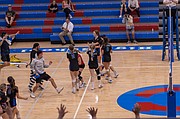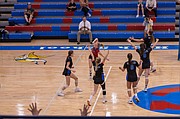 ---