North Idaho's Strongest competition returns to Rathdrum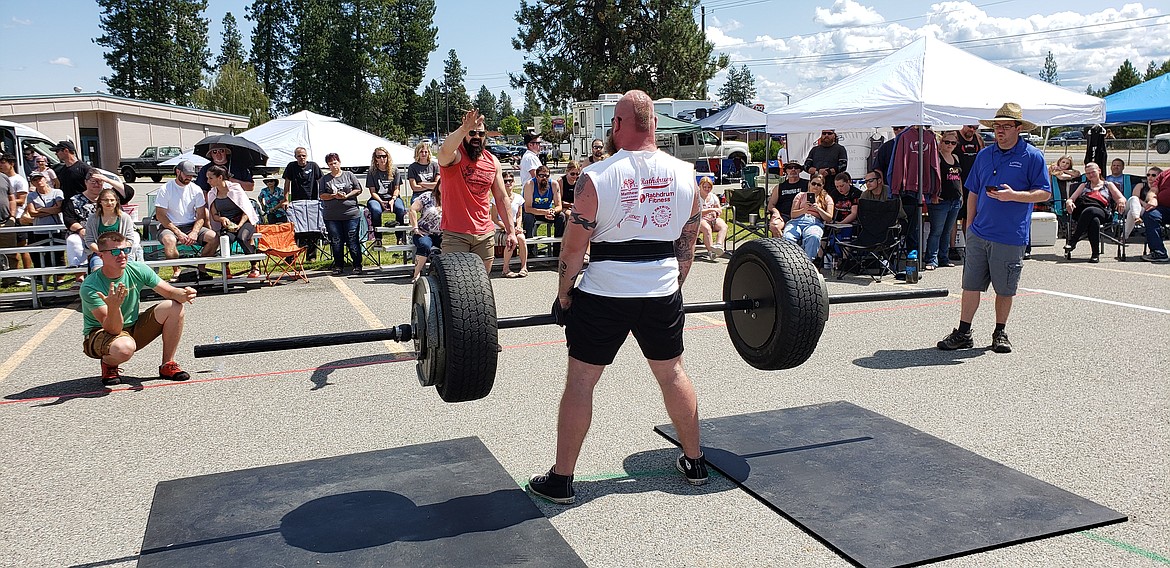 2019 competitors in the North Idaho's Strongest look on during the deadlift competition.
Photo courtesy of Rathdrum Parks & Recreation
by
ELLI GOLDMAN HILBERT
Staff Writer
|
September 15, 2021 1:05 AM
RATHDRUM — Call it the Battle of the Bulge.
North Idaho's Strongest, where competitors display their bulging muscles and test their strength in five different events, will take place Saturday from 9 a.m. to 4 p.m.
The event takes place at Majestic Park, 5400 W. Majestic Ave. in Rathdrum. Competitors must be at least 18 years old. The public is welcome to watch the athletes compete.
Contestants are divided according to gender and weight class and will compete in the Viking press, hammer hold, frame deadlift, Conan's wheel and a medley event that includes a farmer's carry, keg carry and a keg throw.
A dozen brawny individuals signed up to compete, but there's room for more.
"Everyone waits until the last minute," said Mickael Stevens, recreation supervisor for Rathdrum Parks and Recreation.
The largest event was in 2019, with 26 men and six women competing. This year they hope to have even more.
There will also be a novice division.
Event organizers invite competitors to sign up online at rathdrum.sportsites.com/player or at the Rathdrum Parks and Recreation office at 7851 Main St.
Registration is $30.
Competitor Derik Hudson, 42, of Spokane, won the open heavyweight division of North Idaho's Strongest in 2018 and 2019. Hudson began competing in strongman competitions in 2015 after meeting other athletes at a gym.
Hudson trains regularly for strongman competitions. He's preparing for for the Strongman Corp0ration nationals competition in Orlando.
"The great thing with (North Idaho's Strongest) contest is they try and put events together that we don't see all the time," he said.
Some events will be timed, while others count repetitions.
The Viking press uses an overhead leverage system and tests the strength of the arms, shoulders, triceps and deltoids.
The hammer hold requires the competitor to hold a giant hammer out at arm's length for as long as possible.
Conan's wheel is an event where the participant pushes a heavily weighted arm around a fixed point. Moving in a circular direction, they make as many revolutions as they can.
The equipment required for these events is loaned to the city.
"The strongman community is a really helpful community," Stevens said. "They are always willing to help out."
This is the sixth year in a row Rathdrum has hosted North Idaho's Strongest, though the event was canceled last year by COVID-19.
---