Knights of Columbus tourney most successful yet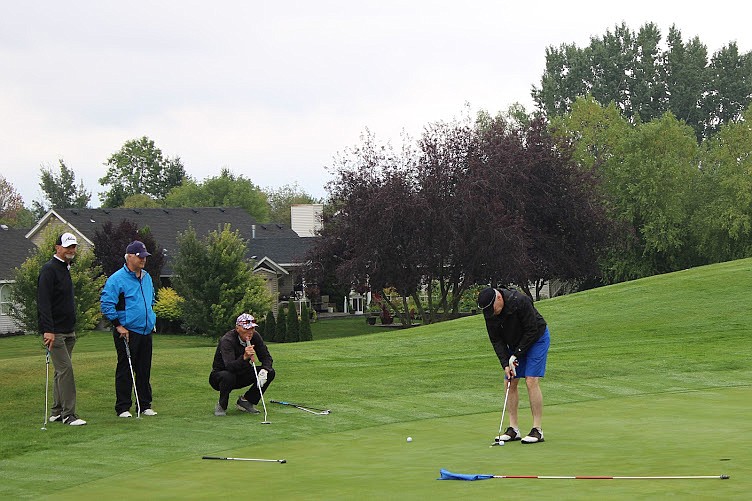 Father John Mosier attempts to sink a putt as fellow foursome members Post Falls Mayor Ron Jacobson, Gary Johnson and Tim Burns watch.
Courtesy photo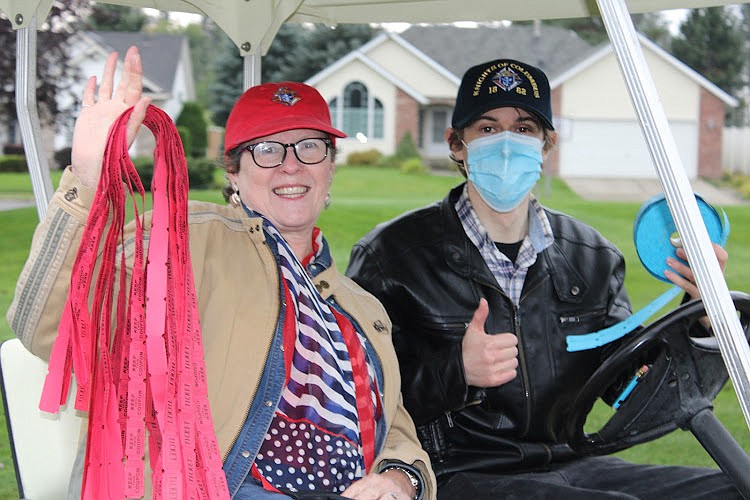 Volunteer Penni Stephens and Knight Zach Trevino sell raffle tickets along the course.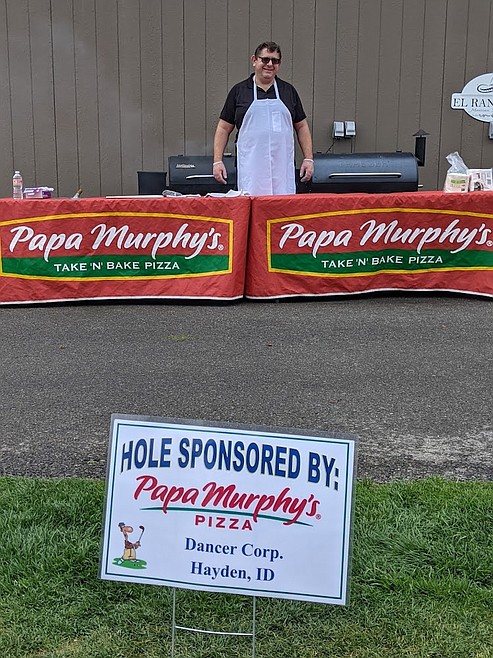 Ed Elliott with tournament sponsor Papa Murphy's prepares complimentary pizza for golfers.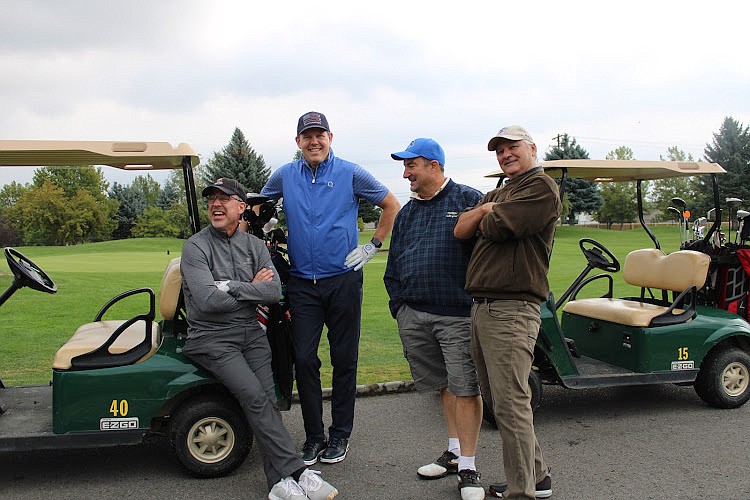 Foursome teammates Mark Brinkman, Scott Magnuson, John Chuday and Ross Kerns pose for a picture while taking a break from golfing.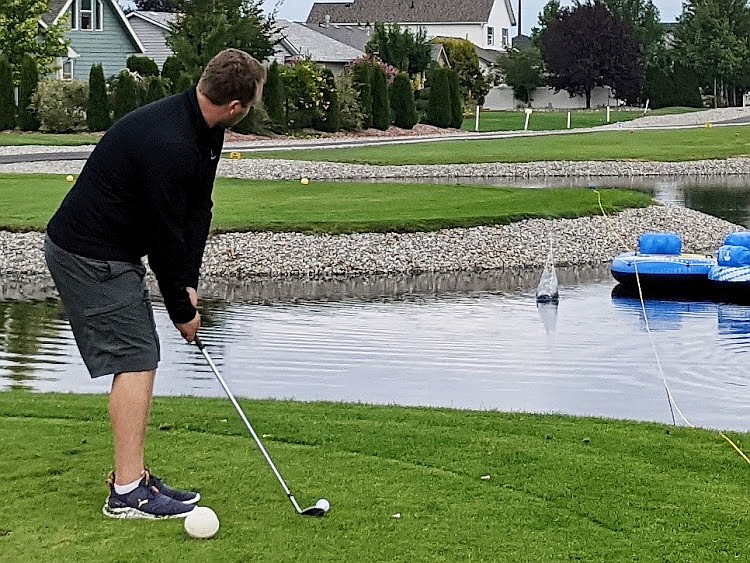 Golfer Drew Harris lines up in an attempt to chip a ball into floating boats during the Boat Shoot Competition.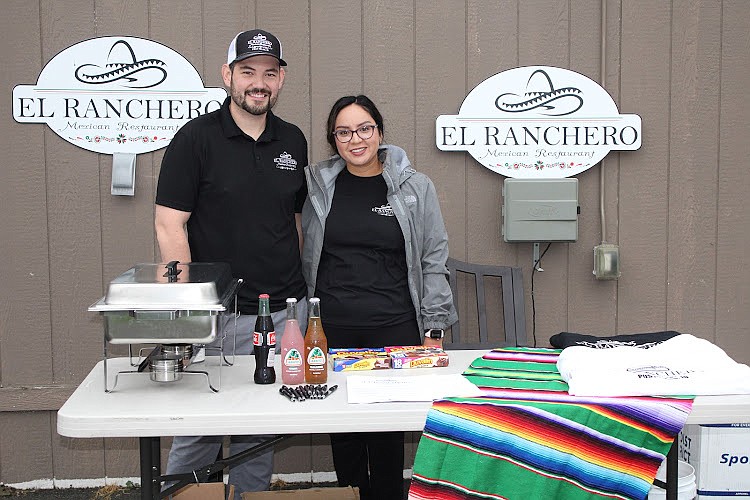 Owners of the El Ranchero Mexican Restaurant in Post Falls and tournament sponsor, Mr. and Mrs. Juan Hernandez hand out complimentary swag and food during the tournament.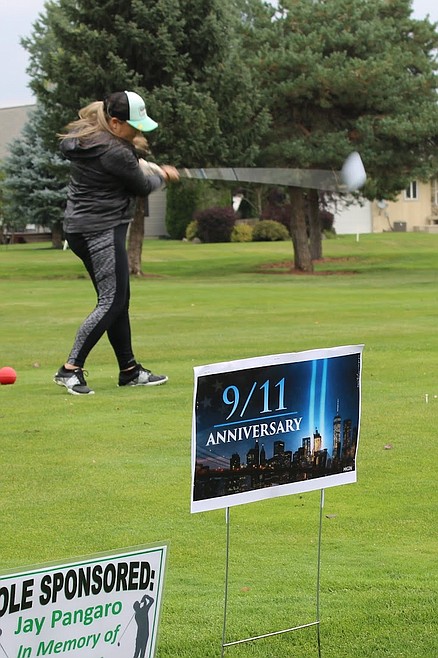 Golfer Corinna McDowell tees off.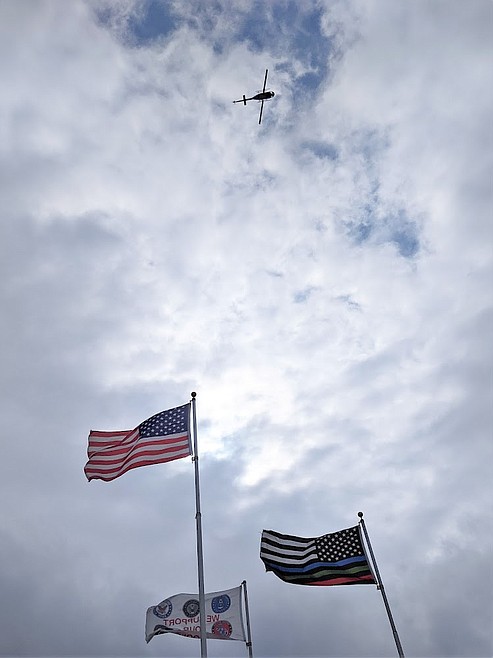 A Spokane County Sheriff's Department Search & Rescue helicopter does a flyby to commemorate the 20th anniversary of 9/11.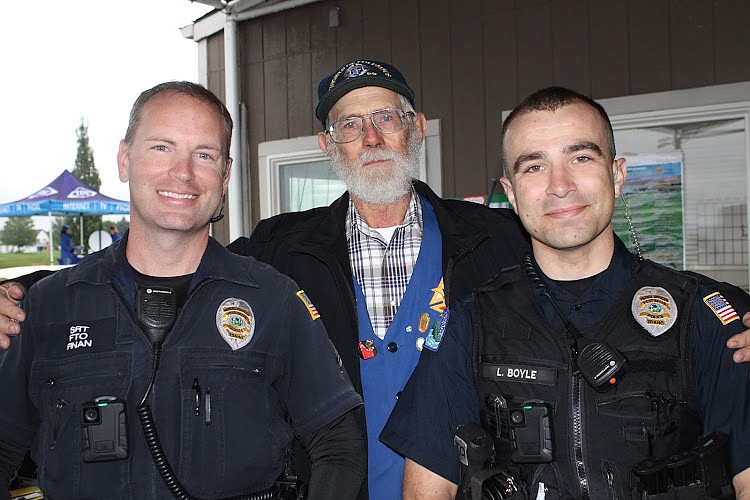 From left: Post Falls Police Officer Finan, Knight Don Beck and Police Officer Boyle.
Previous
Next
|
September 15, 2021 1:00 AM
Although the day started out cloudy and misty, that didn't dampen the enthusiasm of the 104 golfers who participated in the 2021 Knights of Columbus Golf Tournament held Saturday at the Prairie Falls Golf Course in Post Falls.
It was the sixth year in a row the tournament was held. This year, the tourney raised $27,405 for various Kootenai County area nonprofit organizations.
Several Post Falls police officers were on hand to help commemorate the 20th anniversary of 9/11. At 9 a.m., the police officers sounded their sirens to signal the players to start golfing.
At the Knights of Columbus' request, a Spokane County Sheriff's Department Search & Rescue helicopter conducted two low flybys to pay tribute to the 9/11 victims.
The Knights would like to thank their sponsors, donors and volunteers for making the tournament the most successful ever.
Including funds generated from this tournament, over the past six years the total amount of money donated to area nonprofits will exceed $85,000.
In 2020, $17,900 in funds from the Knights Golf Tournament was donated to groups including Special Needs Recreation of North Idaho, the Ronald McDonald House, Tesh, Inc., the St. Vincent DePaul Warming Center, the Christmas Baskets Program, Habitat for Humanity of North Idaho, Open Arms Pregnancy Support Center, Safe Start, the Union Gospel Mission Center For Women & Children, Children's Village, Safe Passage, the Holy Family School Success Campaign and the Knights of Columbus Coats For Kids Program.
---