What's on the ballot? Well, a lot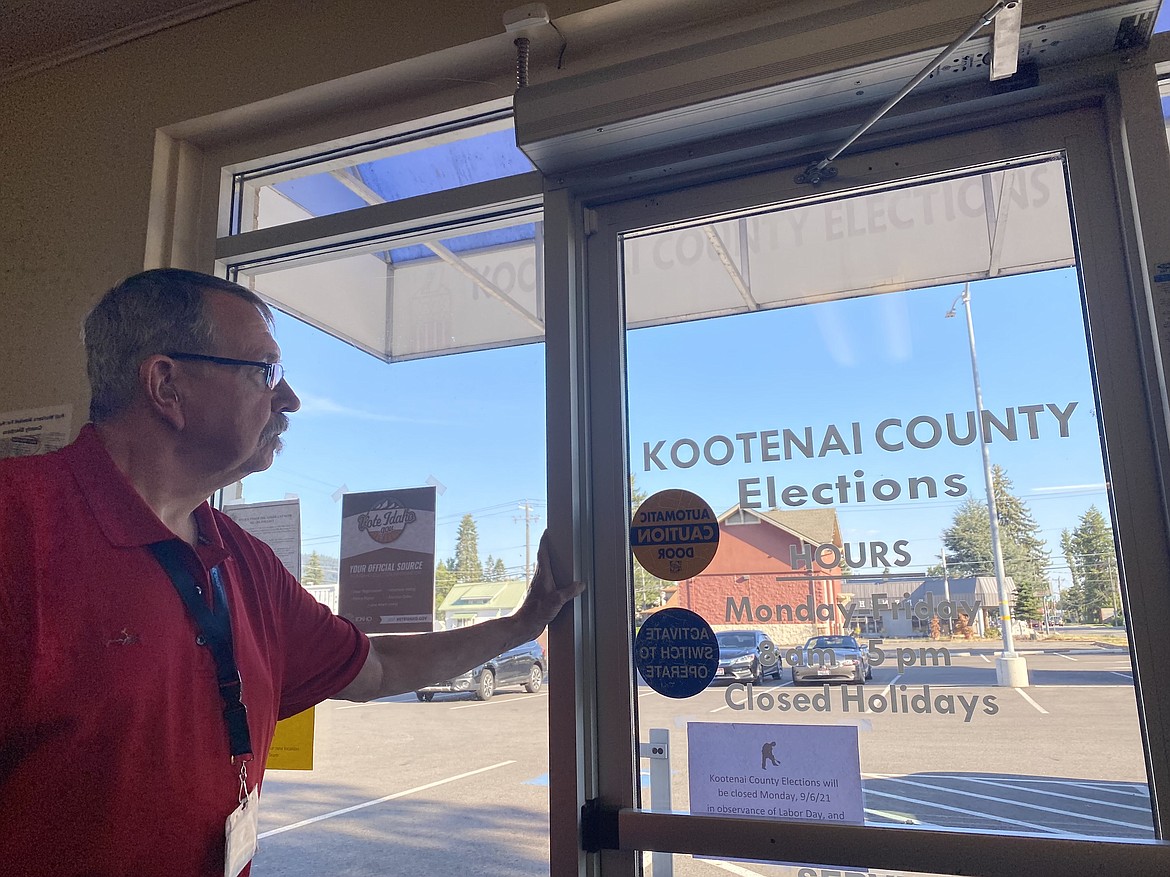 Kootenai County Clerk Jim Brannon and his team are gearing up for a busy election season this fall. (MADISON HARDY/Press)
by
MADISON HARDY
Staff Writer
|
September 14, 2021 1:07 AM
With 50 variations, the ballots Kootenai County voters cast in November's nonpartisan local election may look different from house to house.
To avoid confusion, The Press is breaking down what you can expect.
On the 2021 ballot are several city council, mayoral, school board and fire district races. However, registered voters won't participate in every one.
"If I live in Coeur d'Alene, I can't vote for someone who is running in Athol and Post Falls," Kootenai County Clerk Jim Brannon offered as one the more obvious examples.
But it gets trickier than that. A couple of factors at play:
• Whether the voter lives within an incorporated city or the unincorporated county
• Where an address falls within the dozens of elected taxing districts
• If a zone within the taxing district is up for election
The best way to determine who will be on your ballot, Brannon and Chief Deputy Clerk Jennifer Locke said Monday, is through the www.kcgov.us website.
In early October, Locke said, the Elections Office will post sample ballots on the site. The website will tell voters their polling place and provide a sample copy of their Nov. 2 ballot through an address-specific search engine.
For example, Locke has a Hayden address but technically lives in an unincorporated part of the county. Therefore she isn't able to vote for Hayden City Council.
Those living within incorporated cities will vote for all council and mayoral candidates in that city — regardless of what seat that officer represents. The same applies to fire district commissioners, Locke said.
"There are people not in Coeur d'Alene proper that may have a Coeur d'Alene address that will not vote for city council or mayor," Brannon said.
School board elections are a different game, he said. Residents can vote only for school district trustees within their defined zone boundaries.
Therefore, Coeur d'Alene residents may or may not see a trustee election on their ballot — and it could even be for schools in a neighboring city.
"Even though people may have a Coeur d'Alene address the way school district lines are drawn, they may actually be in the Post Falls School District," Brannon said.
City council and fire district officials are elected to two- or four-year terms. Mayors and school trustees are four-year seats.
Staggered elections are practiced by entities to allow a free flow of new ideas yet provide continuous institutional knowledge. Because Kootenai County uses staggered election cycles, only some zone representatives will be on the Nov. 2 ballot.
As always, the candidates who receive the most votes will win. Zone-specific candidates, like school trustees, will compete for the most votes in each subdistrict.
For city councils that don't elect by seat, available positions will go to the candidates who receive the most votes in all.
The last day for a candidate to withdraw is 5 p.m. Friday. A list of current candidates is posted at www.kcgov.us/31/Elections.
Voters must register by 5 p.m. Oct. 8 to participate in the November election. Virtual registration is available at voteidaho.gov.
Citizens can request an absentee ballot until Oct. 22 at voteidaho.gov or download the form at kcgov.us/301/Absentee-Voting. All mail-in submissions must be returned to the Elections Office by 8 p.m. on Election Day.
Early voting is available from from 8 a.m. to 5 p.m. Oct. 18-29 at the Coeur d'Alene Elections Office on Third Street. Polling places will be open from 8 a.m. to 8 p.m. on Election Day. To find your polling place, visit kcgov.us/321/Polling-Place-Look-Up.
Same-day registration and voting are available on Election Day at your polling place.
Meanwhile, candidates should contact Press reporter Madison Hardy for a candidate questionnaire. Email mhardy@cdapress.com or call 208-416-5109.
For more information on elections and polling, go to www.kcgov.us/31/Elections or call 208-446-1030.
---