THE FRONT ROW with MARK NELKE: Time for Seahawks to deliver, 49ers to stay healthy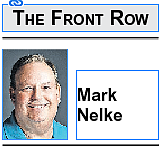 |
September 12, 2021 1:30 AM
Full disclosure: I'm old.
Growing up in Oregon, I became a fan of the San Francisco 49ers long before the Seattle Seahawks were even a thought.
Who knows, if the Seahawks were alive then, who my favorite team would have been.
Doesn't matter.
Though this is largely Seahawks country, it is not exclusively Seahawks country.
There are plenty of fans of other NFL teams — the Packers, the Steelers, the Broncos, the Rams, the Bears, the Cowboys, whatever team Tom Brady is playing for, etc. — around here.
These days, the NFC West is referred to as the NFL's toughest division, and this year appears to be a three-team race between the Seahawks, 49ers and Rams.
But for purposes of this exercise, we're going to focus on the two closest teams to here — Seattle and S.F.
Here's my look at the two teams heading into this season — obviously from a 49ers-fan point of view:
Seattle: The Seahawks aren't going to challenge for the Super Bowl every year. No one (except the Brady-Patriots) challenges for the Super Bowl every year.
But, after playing in back-to-back Super Bowls, not even reaching a conference title game the past six seasons should be "Inexcusable in Seattle" — especially for a team with an alleged Hall of Fame quarterback and an alleged genius coach.
But both somehow get a pass from the Seahawks fandom.
Seattle has one of the best, if not the best, one-two wide receiver bunch in the league. The Seahawks have a QB who can (usually) overcome shoddy blocking to find enough time to get them the ball. They have a serviceable running game, which is about all you need in today's NFL.
Even though he turns 33 in November, he is still healthy, still in his prime, and appears to have another 17 years or so of NFL play ahead of him.
Their defense is no longer the Legion of Boom — hasn't been for some time — but is formidable enough with a stud at linebacker and two more in the secondary.
The only thing that seems to hold the Seahawks back is, it seems, coaches holding them back. They have great athletes — use them.
(Of course, as a 49ers fan I'm saying keep playing conservatively!).
If the Seahawks can get out of their own way, they have the talent to be playing into February.
But that's a big "if."
San Francisco: Hopefully, no one pulled a hamstring during the typing of this sentence.
The 49ers lost their quarterback, top pass rusher and best receiver early in the season last year, and the rest of the season was largely exhibition games.
Since everybody wants the latest toy these days, there's clamor for rookie Trey Lance to start the season at quarterback.
I say there's no need to rush someone that we don't know is ready at the NFL level yet. Start the vet, give the rook a taste, and see what happens. Sometimes injuries make those decisions easier, anyway.
Jimmy G was a good enough quarterback to get the 49ers to the Super Bowl two years ago. Yes, it's fair to say if he could have completed another pass or two when it mattered, S.F. would have been Super Bowl champs. But it's also fair to say the defense could have done a little better job at the end of that game as well.
The 49ers have good skill players, but it's hard to tell how good because Kyle Shanahan does such a great job scheming his team in a position to succeed — example, he won games with Nick Mullens and C.J. Beathard at quarterback.
On defense, it's all about the pass rush. When the Niners pressure the quarterback, the DBs look good. When they don't, their secondary — almost any secondary — is susceptible.
Seattle's hard-hitting secondary seems to make opponents pay — even for completions — so the pass rush isn't quite as important there. But it was funny to see the Seahawks bring in a cornerback who was hot and cold in San Francisco, and think he might be the answer in Seattle — only to trade him away.
THE TEAMS, separated by some 840 miles, open today, some 287 miles away from each other — Seattle at Indianapolis, San Francisco at Detroit.
The Seahawks and 49ers meet Sunday, Oct. 3 in Santa Clara, and in a Sunday night game Dec. 5 in Seattle.
Seattle has had the better of S.F. in recent years, though the 49ers' win — by inches — in Seattle two years ago helped San Francisco ride home-field advantage all the way to the Super Bowl.
As for this year ...
Mark Nelke is sports editor of The Press. He can be reached at 664-8176, Ext. 2019, or via email at mnelke@cdapress.com. Follow him on Twitter @CdAPressSports.
---