Berg, Cripps, Sullivan help Trojans notch first victory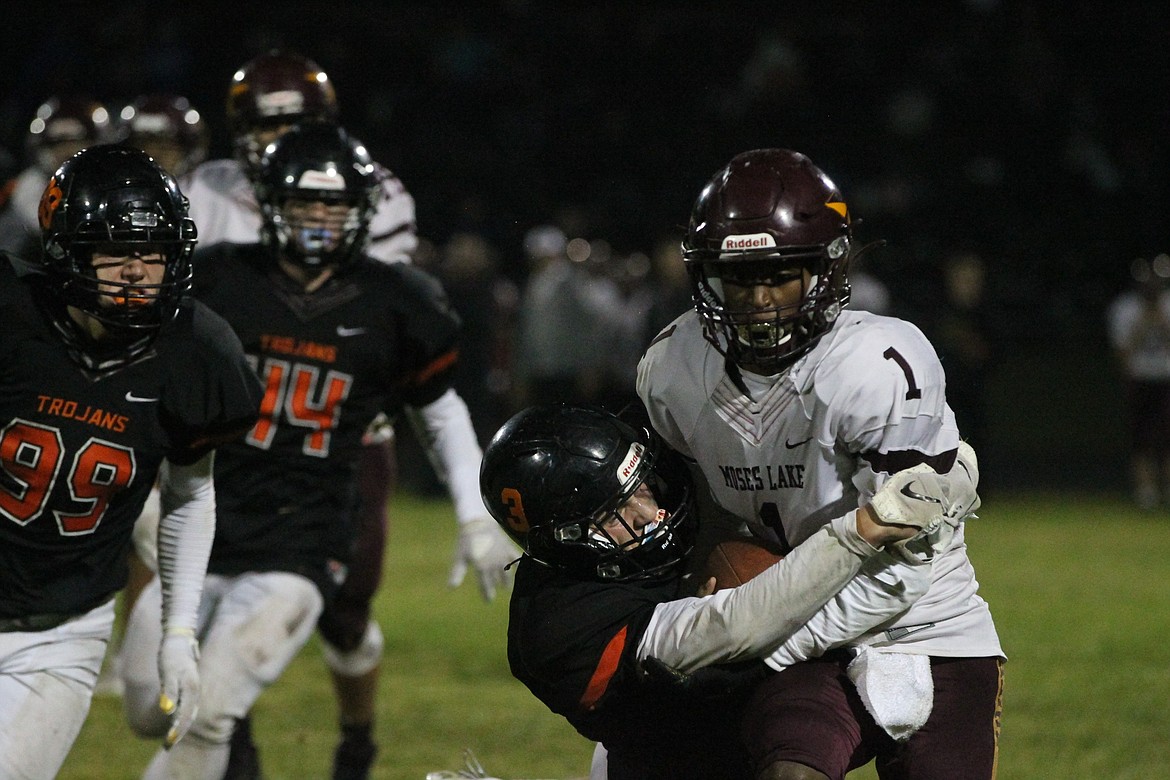 MARK NELKE/Press Chase Berg of Post Falls sacks Moses Lake quarterback Joel Middleton in the second half Friday night at Trojan Stadium, as Trojans Nick Brodwater (99) and Cole Cripps (44) pursue.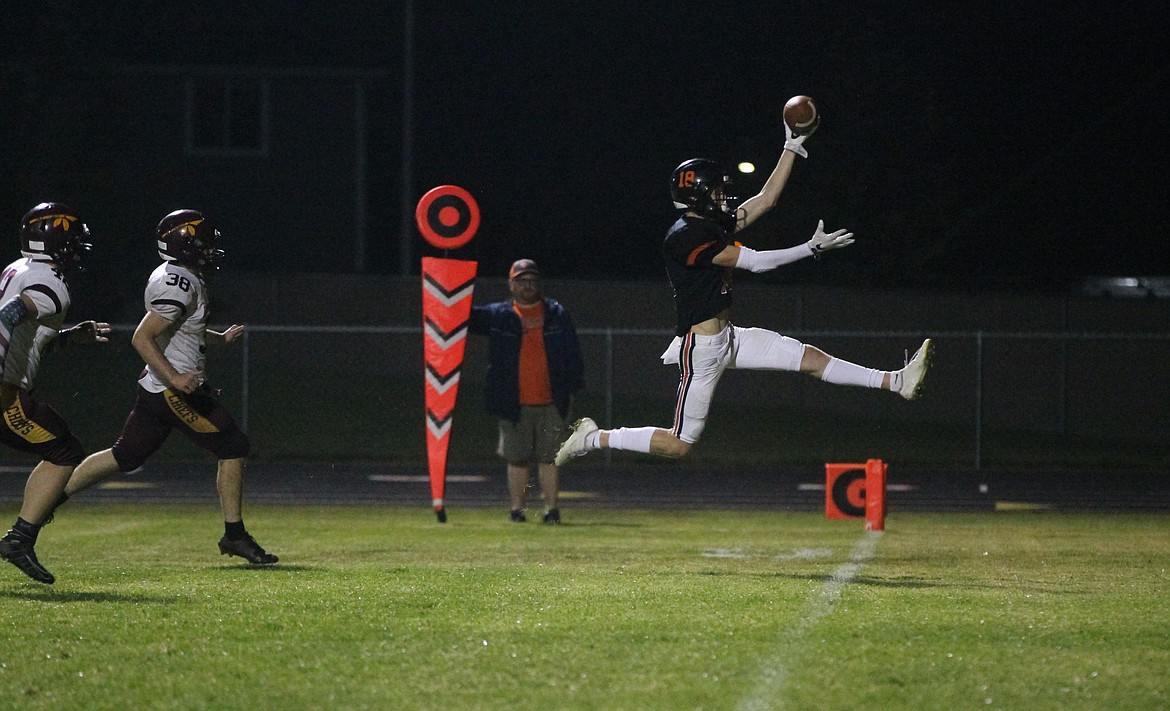 MARK NELKE/Press Carson Tucker (18) of Post Falls scores on a 17-yard run in the fourth quarter Friday night against Moses Lake.
Previous
Next
|
September 11, 2021 1:30 AM
By MARK NELKE
Sports editor
POST FALLS — After taking their lumps the first two weeks, the Post Falls Trojans learned their lessons.
And the Moses Lake Chiefs paid for it Friday night, as Post Falls pulled away in the fourth quarter for its first victory of the year, 42-26 at Trojan Stadium.
"It feels great," said senior outside linebacker Chase Berg, who had three sacks and whose blocked punt led to a first-quarter touchdown. "I'm glad we focused up, practiced, kept the energy up, just played our hearts out."
From those two losses ...
"We learned to make hits," said Berg, who played safety last year, and do our thing without thinking too much about it."

Senior Jacob Sullivan ran for 187 yards and three touchdowns on 33 carries for Post Falls (1-2), and junior linebacker Cole Cripps had two interceptions.
"I think we got better," Post Falls coach Blaine Bennett said. "After that first week, we got better. We went down to Rigby, we played better, we didn't score as many points but I think we got better. And this week, we got better overall. We've got a lot of young guys who haven't played a lot of varsity football. I thought we executed well, and made some plays when we needed to, in all three phases."
Post Falls took the opening kickoff and scored in 12 plays, capped by Sullivan's 4-yard run. Moses Lake answered with a 3-yard run by Sergio Guzman to cut it to 8-6
Late in the quarter, Berg broke through and blocked a punt, and Dylan Wolfe recovered at the Moses Lake 20. Two plays later, Anderson scampered 10 yards for a 14-6 lead.
Late in the half, on fourth and 8 for Moses Lake on its 40, Berg sacked Brock Clark for an 8-yard loss. Four runs later — all by Sullivan, the last from 5 yards out — and the Trojans led 21-6 at the half.
Moses Lake scored off the second-half kickoff. On the 14th play, a pass by sophomore backup QB Joel Middleton was deflected at the goal line and caught in the end zone by Kyson Thomas for an 11-yard score.
The Chiefs (0-2) forced a three-and-out, and on the next play Thomas got behind the Trojan secondary and hauled in a 75-yard TD pass from Middleton, bringing Moses Lake within 21-20.
Post Falls answered with a 72-yard, 15-play drive, capped by Anderson's 15-yard pass to Devin Myers to make it 28-20 with 10:34 remaining.
On the first play after the kickoff, Cripps intercepted Middleton and returned it to the Moses Lake 8. After a penalty, Sullivan ran 13 yards for a 35-20 lead.
Carson Tucker ran 17 yards around left end on a jet sweep to make it 42-20 with 3:29 left.
Moses Lake scored, then recovered the onside kick, but Cripps' second pick, in Post Falls territory, sealed the win.
Post Falls ran for 249 yards, and Bennett praised his offensive line, which includes three sophomores — Cannon Oliver, Brent Ludiker and Jackson George.
Clark and Middleton combined to pass for 300 yards, but were intercepted three times. Charlie Nowlan had a pick for the Trojans late in the first half.
"Tough night for us," first-year Moses Lake coach Brett Jay said. "44 (Cripps) made a couple great plays on their team; his pass-drop angle was perfect. We got it to 21-20, and we thought the momentum was right, and that 44 made a good play to change the momentum."
Post Falls senior quarterback Jaxon Anderson hobbled off the field midway through the second quarter with a strained right hamstring, and missed the rest of the half as backup Alex Bartlett took over. Anderson returned for the second half.
Post Falls is scheduled to play Mount Si next Friday at Moses Lake High.
Moses Lake 6 0 14 6 — 26
Post Falls 14 7 0 21 — 42
First quarter
PF — Jacob Sullivan 4 run (Devin Myers pass from Jaxon Anderson), 8:47
ML — Sergio Guzman 3 run (PAT failed), 4:30
PF — Anderson 10 run (kick failed), 2:05
Second quarter
PF — Sullivan 5 run (Andon Brandt kick), 1:08
Third quarter
ML — Kyson Thomas 11 pass from Joel Middleton (Iden Bone kick), 5:58
ML — Thomas 75 pass from Middleton (Bone kick), 3:50
Fourth quarter
PF — Myers 15 pass from Anderson (Brandt kick), 10:34
PF — Sullivan 13 run (Brandt kick), 10:09
PF — Carson Tucker 17 run (Brandt kick), 3:29
ML — Guzman 3 run (pass failed), 1:26
INDIVIDUAL STATISTICS
RUSHING — ML, Guzman 5-8, Clark 7-(minus 4), Gwinn 8-40, Middleton 7-27. PF, Sullivan 33-187,Anderson 5-32, Bartlett 1-(minus 3), Tucker 2-20, Howland-Martin 1-13.
PASSING — ML, Clark 6-15-0-142, Middleton 11-23-3-158, Guzman 0-1-0-0. PF, Anderson 11-21-1-106.
RECEIVING — ML, Lindgren 4-113, Throneberry 1-19, Guzman 4-13, Gwinn 2-22, Olson 1-16,Thomas 5-117. PF — Wild 6-51, Myers 2-16, Tucker 2-26, Sessions 1-13.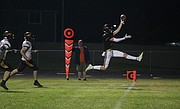 ---