NIC ATHLETICS: Lee leaves AD post for same duties at Mt. Spokane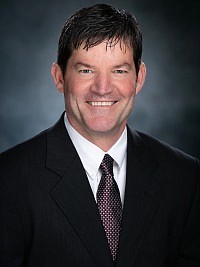 |
September 10, 2021 1:15 AM
By JASON ELLIOTT
Sports writer
Bobby Lee wasn't looking to move on from North Idaho College.
As he puts it, it kind of just happened.
Lee announced his resignation to NIC staff on Tuesday to take the AD role at Mt. Spokane High in Mead, north of Spokane.
"My daughters both went to Mead, which is in the same school district," Lee said. "I had some professional friends that said you should apply for this. I talked to them for a few days, and it's an amazing opportunity."
Lee's last day at NIC will be Friday, Sept. 17. Lee, who started at NIC in December 2019, replaced longtime NIC athletic director Al Williams, who retired in September of 2019.
"This is just in the best interest of my family," said Lee, who took over as athletic director at NIC in December of 2019. "I wasn't looking for another job, and just love the people here. This new job just kind of searched me out a little bit."
Lee — who had relocated to Coeur d'Alene from Spokane over the summer — was the athletic director at the Community Colleges of Spokane for 17 years before coming to Coeur d'Alene. His wife, Lisa, works at Gozzer Ranch.
"We're going to be looking to get a car with some good gas mileage for now and kind of figure out what happens from there," Lee said.
Lee replaces former Mt. Spokane AD Paul Kautzman, who was promoted to director of the district's virtual program.
Kautzman started the Timberlake boys basketball program in 1998, going 17-40 in three seasons.
Lee, who grew up in California, played baseball at Taft College a community college in Taft, Calif., Eastern Washington and Washington State, earning his bachelor's degree from Eastern Washington and master's degree from Azusa Pacific.
"Bobby was doing such a good job for us," NIC Vice President of Student Services Graydon Stanley said. "We're going to miss hin because he did a great job in just under two years here. He was stabilizing things with the sanctions and did a really good job of getting us back on track, and we'll miss him a lot."
Still, leaving was a tough decision to make for Lee.
"I talked to our staff first thing Tuesday," Lee said. "And they were awesome and supportive. I really had no intention of leaving and from a competitive standpoint, it's been a very difficult decision. This is a great place to work, with an awesome staff to work with. They've been remarkable to work with, so that was a difficult thing to leave."
Stanley, who served as interim AD between Williams' depature and Lee's arrival in 2019, added that he'll likely serve as interim athletic director until the search for a new one can be completed.
"We're beginning the process right away about what we're going to do," Stanley said.
"The timing is never good," Lee said. "But I'm so thankful for my time at NIC. They've just been awesome to me."
"The deal (at Mt. Spokane) was just too good for him and his family," Stanley said of Lee.
Recent Headlines
---