Movers & Shakers
|
September 9, 2021 1:00 AM
Krug receives 2021 Idaho Outstanding Adult Philanthropist award
Windermere Coeur d'Alene Realty would like to congratulate its broker, Pat Krug, on receiving the 2021 Idaho Outstanding Adult Philanthropist award from the Idaho Nonprofits Group.
Krug has led her life giving to and helping others. In an interview with "Portrait of a Town," Krug mentioned she is "inspired by helping others be more of whom they want to be." The staff at Windermere Coeur d'Alene Realty have all been impacted by Krug's ability to nurture growth and development in their personal and professional lives. Krug has a genuine and intentional spirit about her that naturally allows people to want to stay connected with her.
Krug is a member of the Women's Gift Alliance in Kootenai County, which helps "teach women about giving and developing skills as engaged and informed philanthropists" while providing essential financial support for many charities within our community. Krug cares so much about her community and helping people live better lives that she prepares and personally delivers more than 100 meals to local displaced citizens in Kootenai County every Monday morning.
Windermere Coeur d'Alene Realty staff has had the privilege of working with Krug on a huge annual project called the Senior Christmas Program, sponsored by the "Area Agency on Aging of North Idaho" organization. She works with this program to sponsor and help isolated and home-bound senior citizens in the community have a wonderful Christmas. She organizes a volunteer effort to donate food, supplies, necessities and wanted gifts; then collaborates with the team to process, wrap and deliver those gifts.
"Pat continues to lead her colleagues in humbleness, gratitude and service among our community and we are so proud to see her receive this recognition," according to a press release by Windermere Coeur d'Alene Realty staff.
• • •
STCU welcomes Idaho financial adviser
STCU has added a financial adviser to its North Idaho Investment Services team, provided by CUSO Financial Services, L.P.
Financial Adviser LaDonna Beaumont brings more than two decades of financial experience to STCU, where she helps members with long-term planning for retirement, college savings and other goals. Beaumont most recently worked for CUNA Mutual Group and Horizon Credit Union. She is a graduate of Saint Mary's College in Indiana.
• • •
U.S. Bank announces expanded leadership for Washington, North Idaho
U.S. Bank has appointed Washington native Linda Underwood to lead the community banking footprint in Washington and North Idaho.
Underwood will take on an expanded region president role, from overseeing community banking branches and business banking in Eastern Washington and North Idaho to include northwest Washington. As region president, Underwood will be responsible for driving growth and creating strategies to serve U.S. Bank customers and communities in Washington and North Idaho.
"I'm excited to lead the U.S. Bank community banking efforts in northwest Washington," Underwood said. "It's been an honor to make an impact in Eastern Washington and northern Idaho, and I'm looking forward to serving in this expanded role."
Underwood earned an MBA from Washington State University. She is a graduate of Leadership Spokane and the U.S. Bank Leadership Excellence program. She is deeply committed to the community serving on the boards of Greater Spokane Incorporated, Spokane Angel Alliance and Gonzaga University School of Leadership Studies Advisory Board. Underwood will continue to be based in Spokane reporting to Liesl Schmidt, community banking regional executive.
• • •
If you have a new, relocated or expanded business, or announcement of events, promotions or awards, The Press wants to let our readers know. Email the details to hmain@cdapress.com.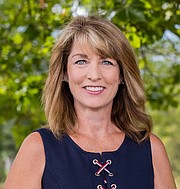 Recent Headlines
---