STATE VOLLEYBALL: Post Falls fourth for first trophy since 2011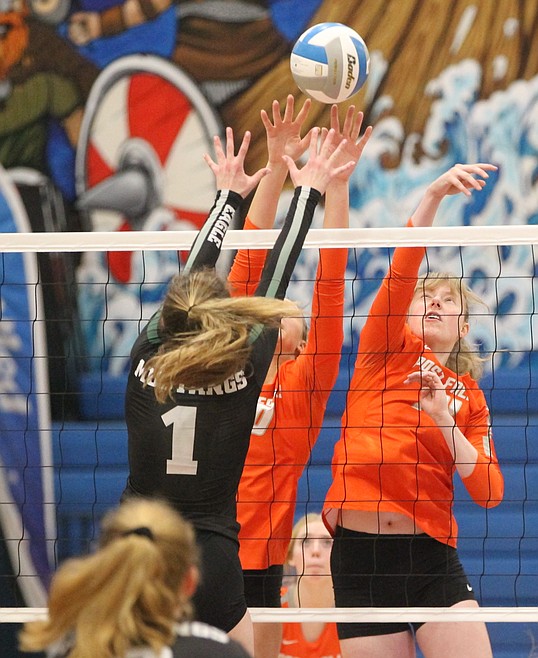 MARK NELKE/Press Hanna Christensen, right, and Kylee Munday of Post Falls vie for a ball at the net with Gabbi Roberts on Eagle on Saturday at the state 5A volleyball tournament at Coeur d'Alene High School. Post Falls lost in four sets to Eagle, and finished fourth.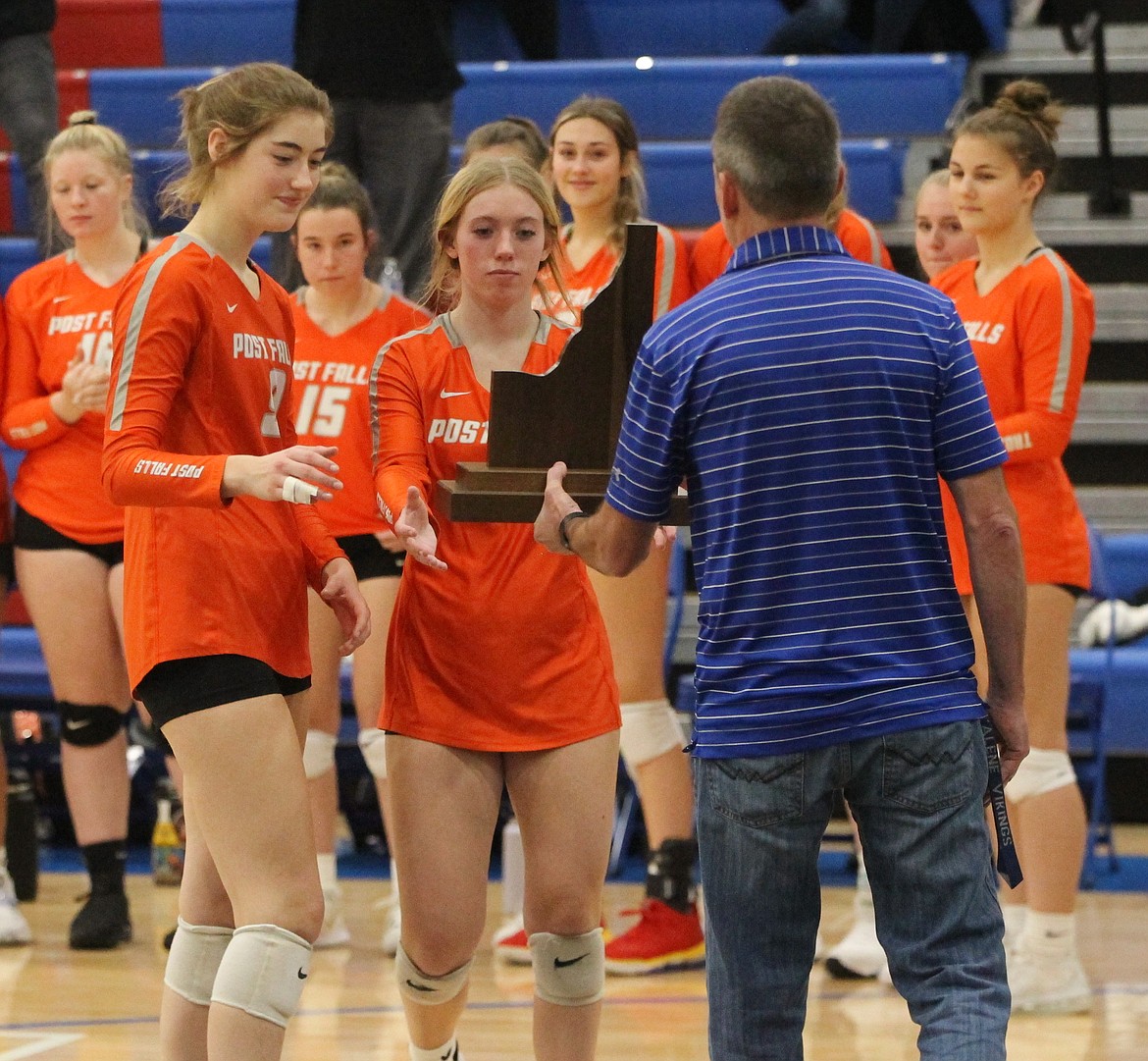 MARK NELKE/Press Rylee Hartwig, left, and Kassie Gardiner of Post Falls accept the fourth-place trophy from tournament director and Coeur d'Alene High athletic director Bill White on Saturday after losing to Eagle at the state 5A volleyball tournament at Coeur d'Alene High.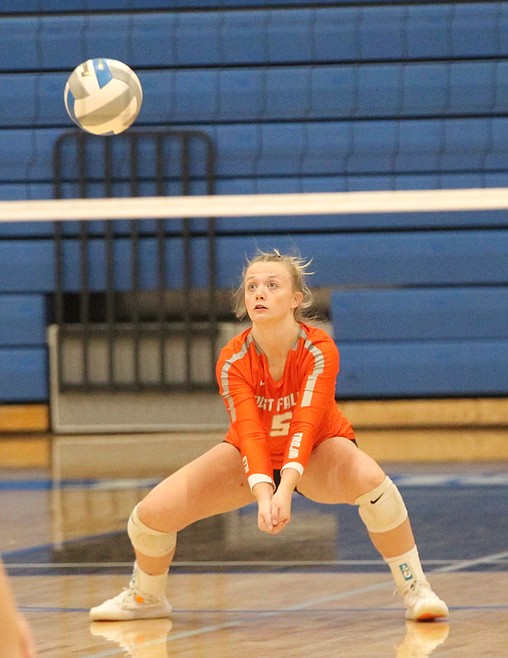 MARK NELKE/Press Post Falls senior Brooke Minden passes serve vs. Eagle in a losers bracket match at the state 5A volleyball tournament Saturday at Coeur d'Alene High.
Previous
Next
|
October 31, 2021 1:20 AM
By MARK NELKE
Sports writer
COEUR d'ALENE — Post Falls had visions of playing for a state volleyball championship this weekend, but though that didn't quite pan out, the Trojans still came home with their first trophy since 2011 on Saturday.
Post Falls, seeded No. 2 in the eight-team tournament, finished fourth following a 25-17, 21-25, 25-21, 25-21 loss to No. 4 seed Eagle on Saturday morning at the state 5A tourney at Coeur d'Alene High's Viking Court.
"I think it's really cool that we get to take some hardware home," Post Falls senior Sarah Rogne said. "And even though it's not exactly what we wanted, it's still a big accomplishment to be fourth in the state, and I'm just super proud of our team."
Sophomore Kylee Munday had 21 kills, eight assists, three blocks and two aces for Post Falls, which finished 27-8. Senior Rylee Hartwig added 12 kills, senior Kassie Gardiner 26 assists, senior Hanna Christensen three blocks, Rogne 16 digs and one ace, senior Claire Holding 14 digs, senior Brooke Minden one ace.
It was the first trip to state in volleyball for these Post Falls players, who won the Inland Empire League and Region 1 tournament this season. The Trojans last qualified for state in 2017.
"I am really happy for our players, and especially our seniors, to have ended our season playing in the state tournament," said Willow Hanna, who guided Post Falls to state four times in nine seasons in her first stint as coach, and got the Trojans back to state in the second year of her second stint as coach. "We were able to bring home a fourth-place trophy for our program, school and community. Our seniors have guided us with great leadership and poise throughout the season and will be missed."
Many of those eight seniors on this year's team were on last year's squad that won a league title, but fell short of qualifying for state after some key members were in quarantine due to COVID-19 issues.
"For me it was more like, 'This is our last game ever,' and just putting it all on the court," said Minden, a defensive specialist and three-year varsity player. "When that last point hit it was really hard."
Top-seeded Skyview (36-2) of Nampa won its second straight title, and fourth in six seasons, sweeping No. 3 seed Madison of Rexburg. Skyview dropped its first set all season to an Idaho school earlier Saturday, when Madison took the Hawks to four sets in the semifinal.
Skyview also won 4A titles in 2016 and '17.
4A: Third seed Twin Falls (22-12) beat 2019 champ and perennial volleyball heavyweight and No. 2 seed Bonneville of Idaho Falls in five sets at Post Falls High to win its first state title in school history.
Top-seeded Wood River (27-9), bidding for its first state title since 1978, finished third.
Moscow finished fourth for its first trophy since the Bears won the state title in 2005.
3A: Top-seeded Sugar-Salem made it a three-peat, sweeping fourth-seeded Parma for the title at Lake City High.
It was the Diggers' seventh straight appearance in the championship match, and their fifth title during that span.
Kellogg (13-4), which went two and out, won the sportsmanship award.
2A: Defending champion and top-seeded West Side swept No. 2 seed Melba at Lakeland High to capture its fifth state title since 1998.
1A Division I: Top-seeded Troy (23-1) swept No. 6 seed and defending champion Grace at Lewis-Clark State College in Lewiston to capture its third title in four years.
The Trojans of District II have won 13 state titles since 1983.
1A Division II: Top-seeded Horseshoe Bend (35-0) swept No. 4 Rockland at Lewiston High for its second state title in four years in Division II. The Mustangs won a Division I state title in 2017 before dropping down.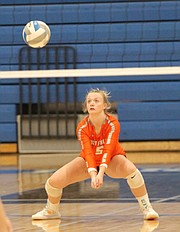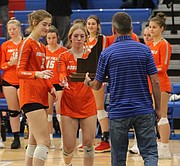 Recent Headlines
---