James Connell, 92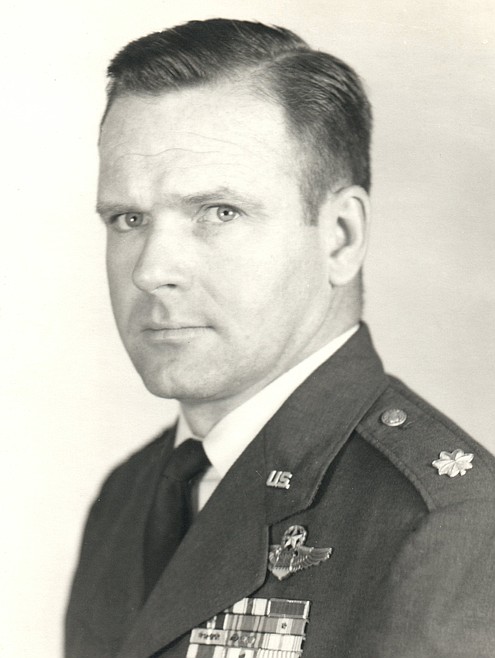 |
October 31, 2021 1:00 AM
Born in St. Louis, MO (1929), Major Jim Connell (USAF-Ret) went to heaven on Oct. 12, 2021. He was a son of Jim Connell, Esq (RIP 1964) and Mary Ritchie Connell (RIP 1972). The youngest of three children, he was preceded in death by his son, Paul Connell (June 29, 1975); his brother, Brian Connell (Aug. 1, 1991); his sister-in-law, Kathy Connell (May 22, 1994); his sister, Sr. Rosemary Connell CSJ (May 22, 2008); and his niece, Julie Connell (April 28, 1984).
Jim loved, honored and cherished his charming wife of 65 enchanting years, Patricia Reilly Connell. The couple gave roots and wings to Ann, Steve, Paul, Jeanne, Mike and Tim. He was their guiding light, their rock and their hero.
As a teenager, Jim became an Eagle Scout beginning his lifelong love of all things outdoors and his commitment to serving his country and local community as a responsible citizen. Jim was a combat veteran of the Korea and Vietnam conflicts and held key nuclear deterrence positions for many years through the Cold War (B-52 and B-36 aircraft).
The deceased took great pride in his wife, his sons and his daughters. He found great satisfaction in his service to the entire free world, during the Cold War. Since his active military service, he strived to increase awareness of the ongoing downfall of the Judeo-Christian heritage, and hence, the American culture. He was convinced that the domestic Marxist threat to human dignity was far greater since the Cold War than during that time.
Upon retirement from the military, he spent many years in marketing, sales, mediation and arbitration. Jim also taught for several years at Santa Rosa Junior College. He was an author, published in 41 countries, a former marathoner, a generous blood donor (he donated over 13 gallons of his blood over his lifetime) and a candidate for the Idaho State Senate in 2008. Jim served in several volunteer positions throughout his life including: Member of: Board of Directors of the North Idaho Pachyderm Club, City of Hayden Veterans Advisory Committee, Board of Directors (and Treasurer for several years) of the Lake City Senior Center; Ombudsman for the Hayden Chamber of Commerce; Chairman of the Board for Leisure Park Homeowners Assoc.; Club President for Toastmasters International; Chapter President for the Retired Officers Assoc.; Member of St Vincent de Paul Homeless Kitchen Staff; Eucharist Minister for over 40 years at several parishes, including St Pius X in Coeur d'Alene and the Washington State Prison in Airway Heights Washington; Lecter for over 50 years in several parishes, including St Pius X in Coeur d'Alene. He also worked hard to help the wives of the POW/MIA in the Vietnam War, bringing recognition to their situation and had trees planted in their honor in downtown Spokane.
Jim did extensive studies of the effects on mankind of the Holocaust, of the Reconstruction Period following our Civil War, of racial segregation, and of the destruction of the Native American culture throughout the west. He loved to pass on his perspective to those who expressed an interest. Discussions over Judeo-Christian culture, our Constitution, our families and our American culture dominated his heart and mind.
Those mourners who have accepted Jim's invitation to his 100th Birthday Party will still be welcome. The date remains, St Patrick's Day 2029. Jim will be present in spirit! His life motto: "Jaywalking, set to music". Those of you who encounter Jim in the hereafter can expect him to have remained politically incorrect.
He is survived by his wife of 65 years, Patricia Anne Connell; his children: Ann Lipkin (Ed Lipkin), Steve Connell (Carrie Connell Town), Jeanne Birch (Mike Birch), Mike Connell (Colleen Welter), Tim Connell (Charelle Young); eight grandchildren, 10 great-grandchildren; in addition to his nephew, James J. Connell.
Burial service with military honors will be held at 11:00 a.m. on Friday, Nov. 5, 2021, at the Washington State Veterans Cemetery in Medical Lake (processional line up). On Saturday, Nov. 6, there will be a Rosary at 10:30 a.m. and a Mass at 11 a.m., followed by a reception, at St Pius X Catholic Church in Coeur d'Alene, Idaho, 625 E Haycraft Ave. In lieu of flowers, consider donations to St Vincent de Paul of Coeur d'Alene.
Yates Funeral Home is entrusted with final arrangements. Please visit Jim's online memorial and sign his guestbook at www.yatesfuneralhomes.oom
Recent Headlines
---