Everett (Ed) Gossett, 80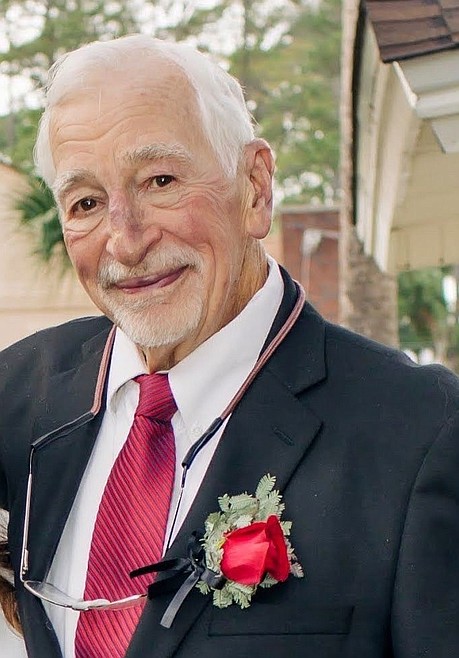 |
October 31, 2021 1:00 AM
Everett Andrew Gossett Jr.
Everett (Ed) Gossett, age 80, passed in Harrison on Oct. 20, 2021, of what appeared to be natural causes.
Ed was born in Charleston, SC., Oct. 6, 1941, to Everett Sr. and Flona D. (Frazier) (Gossett), Farley. He was the second of three children: one older sister, Delores, and one younger stepsister, Annette.
Ed enlisted in the Navy straight out of high school and was stationed on the USS Rochester in Long Beach, Calif., as an electronics technician. Ed married Arlene Campobasso in 1962 after completing his tour of duty in the Navy. The couple had four children, three boys and one girl. In October of 1963 he began his career with the Los Angeles Police Department, where he worked for 27 years. Ed was awarded the Los Angeles Police Silver Star for his bravery while working undercover as a narcotics detective. Before retiring from LAPD, Ed started his own Private Investigations Company, specializing in internal investigations and security consulting.
While working as an Officer with LAPD, he completed his education at East Los Angles College. In 1976, Ed and Arlene divorced, and in 1977 Ed married his second wife, Nancy Cameron. In 1979 Ed and Nancy divorced, and in 1989 Ed married Jane Litten. After retiring from the LAPD in 1990, Ed and Jane relocated from Southern California to Harrison, Idaho. Ed continued his private investigation company in Idaho, working for many national and international corporations. In 1993 Ed was elected to the board of directors for Kootenai Electric where he served for 21 years, 12 years as President. Ed also served on the board of directors for the Idaho Consumer Owned Utilities Association (ICUA) for five years including two years as president. Additionally, he served on the North West Public Power Association (NWPPA) board of directors for 11 years, including one year as president.
Ed joined the Eastside Fire Station as a volunteer Fire Fighter in 2000. He later became Captain of the Eastside Fire Station, finishing his 20-year fire fighter career in 2020. Ed was a licensed volunteer EMT with the Harrison Community Ambulance Association (HCAA), he also served on the board of directors for HCAA. Ed served on the Harrison Planning and zoning Commission for six-and-a-half years. Ed was a huge supporter of the Benewah County Humane Society which is known as Hopes Haven. Ed enjoyed hunting, fishing, playing poker, darts and being part of his community.
Ed is survived by his sisters Delores and Annette, his four children, Everett Gossett III, Alfred Gossett, Bruce Gossett, and Michele Smith, along with his 12 grandchildren and 18 great-grandchildren.
There will be a Rosary held at 1:30 p.m. on Thursday, Nov. 4, 2021, with the Memorial Service at 2 p.m. at English Funeral Chapel, 1133 N. Fourth St. Coeur d'Alene, Idaho, 83814.
To see Ed's online Memorial and to leave a message for the family please visit www.englishfuneralchapel.com
Donations can be made in Ed's name at:
Hopes Haven
PO Box 642, St Maries, Idaho, 83861
Recent Headlines
---