DRESSED TO SKILL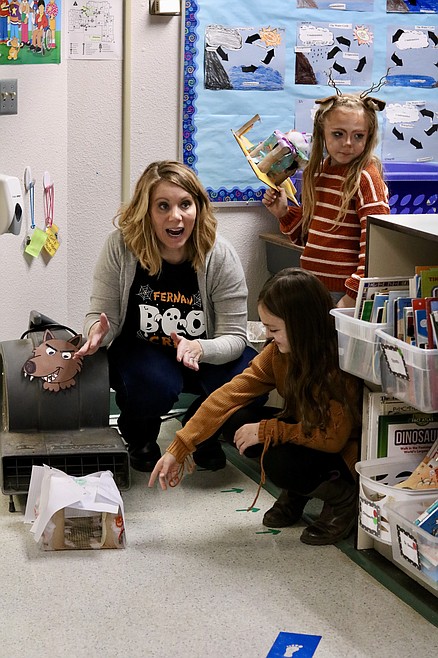 From left, second grade teacher Melody Lund operates the "wolf," a blower, to test the strength of students Hayden Hays and Hattie Bozeman's "pig houses" at Fernan STEM Academy, a Coeur d'Alene elementary school, on Friday. HANNAH NEFF/Press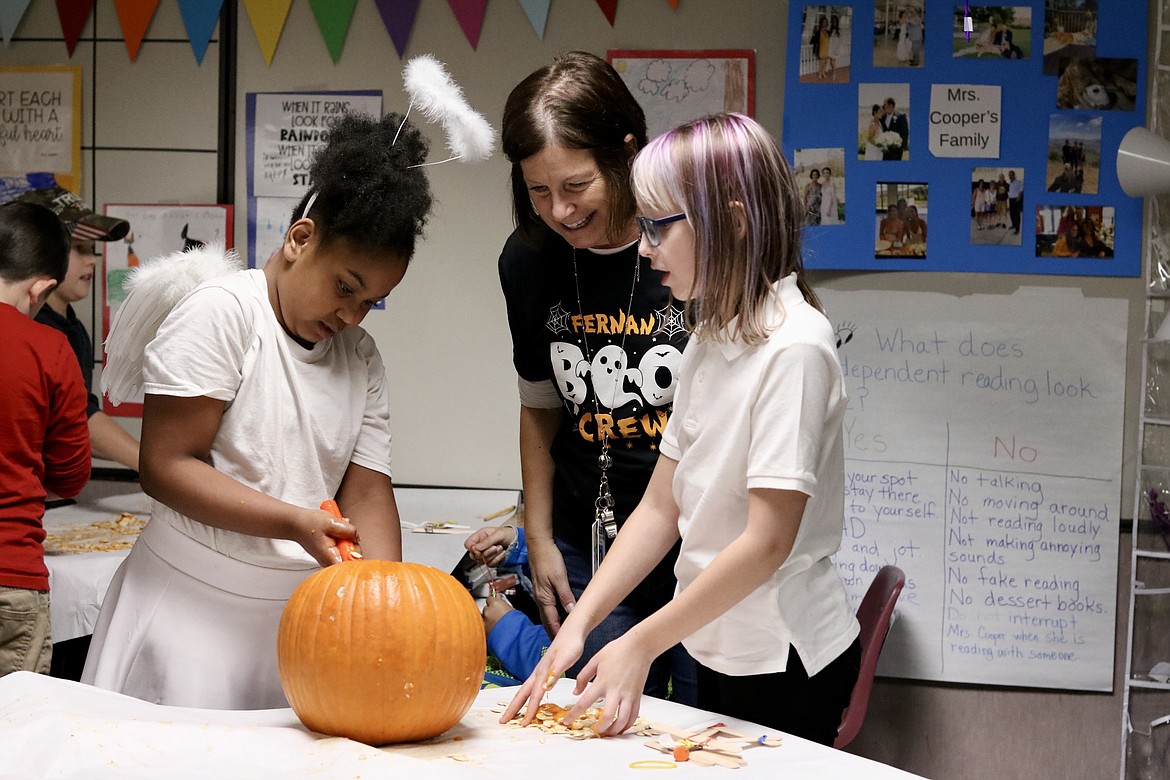 From left, fifth grader Deja Jones, teacher Julie Cooper, and fifth grader Sophia Prickett gut a pumpkin as part of the Halloween-themed STEM activities at Fernan STEM Academy in Coeur d'Alene on Friday. HANNAH NEFF/Press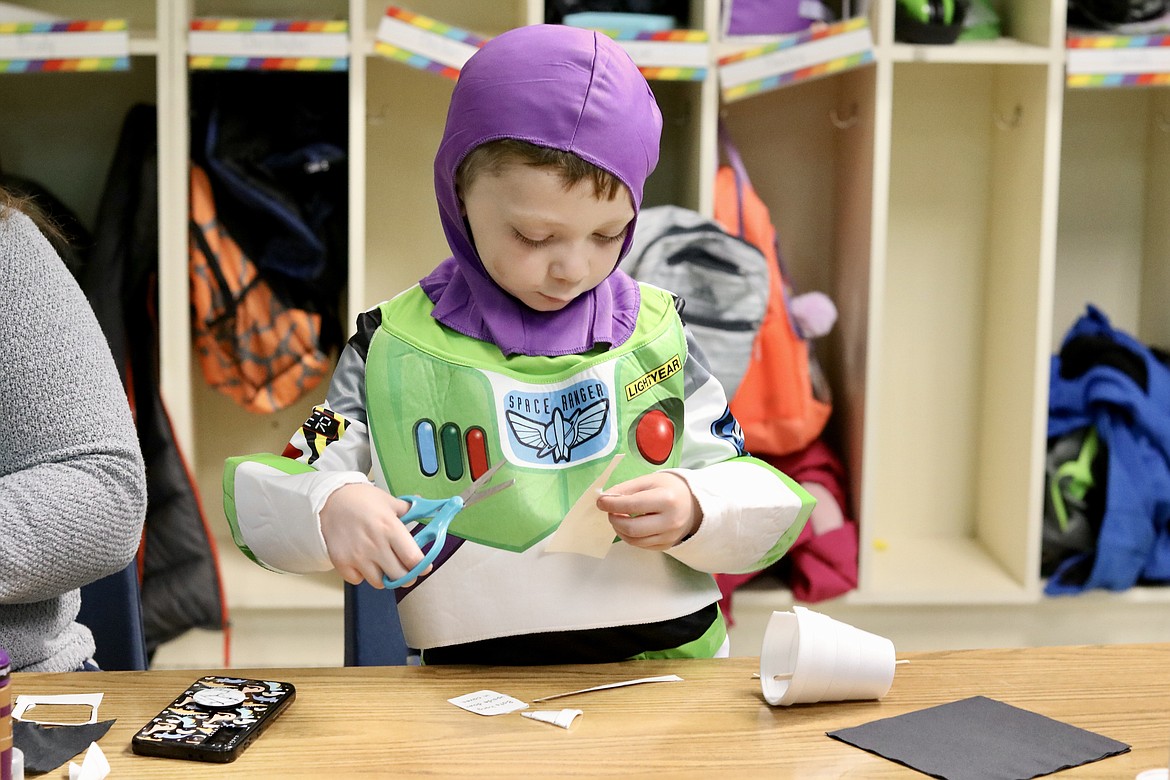 Six-year-old Charlie Young, dressed for Halloween as Buzz Lightyear, creates a bat cave as part of the Halloween-themed STEM activities at Fernan STEM Academy in Coeur d'Alene on Friday. HANNAH NEFF/Press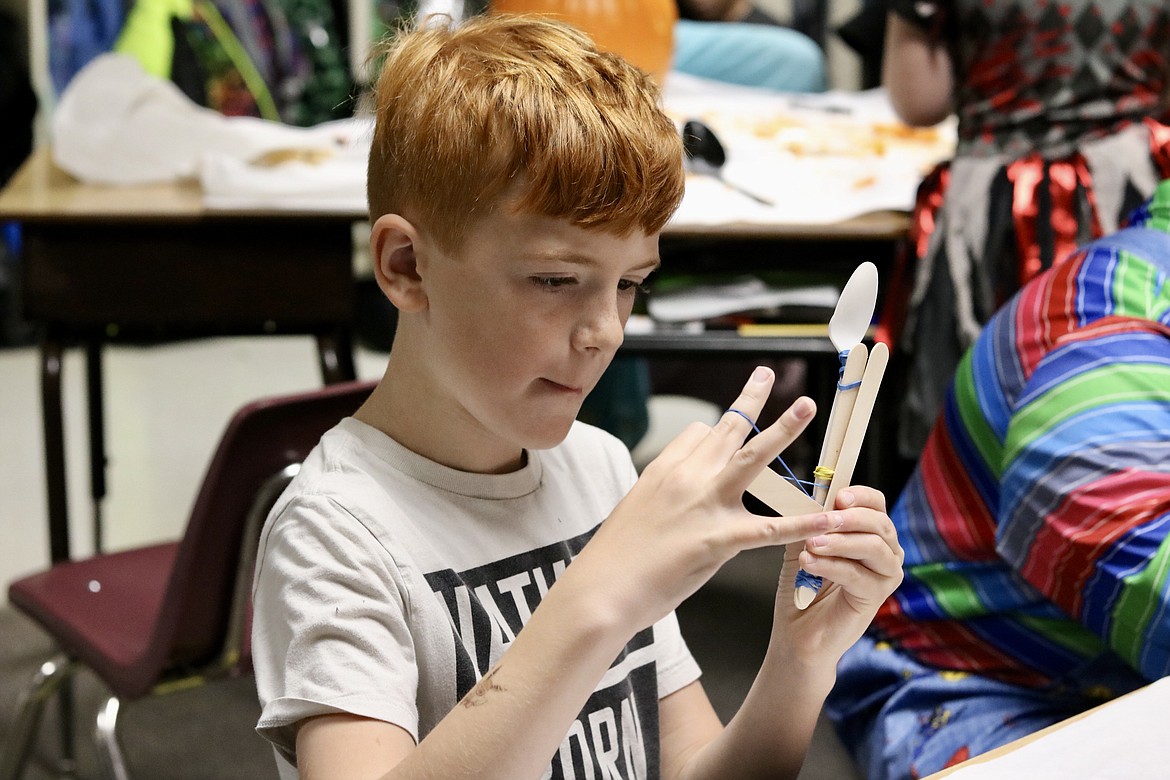 Fourth grader Hunter Schwieters creates a catapult as part of the Halloween-themed STEM activities at Fernan STEM Academy in Coeur d'Alene on Friday. HANNAH NEFF/Press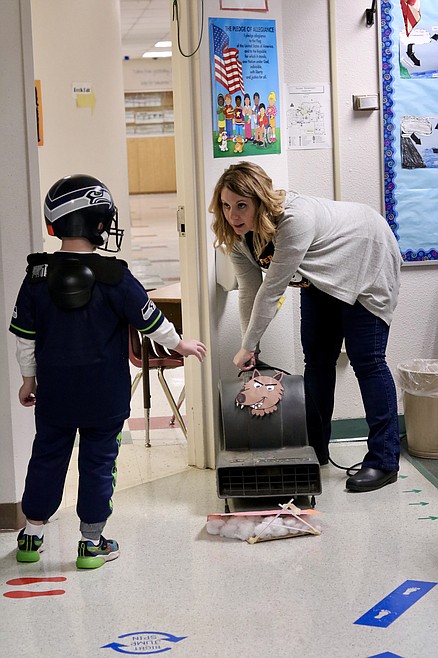 Second grade teacher Melody Lund tests the strength of Colby Saltness's "pig house" with the "wolf" blower at Fernan STEM Academy in Coeur d'Alene on Friday. HANNAH NEFF/Press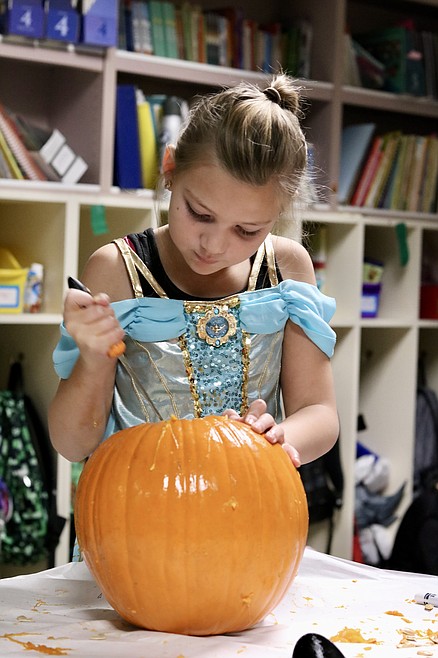 Dressed in a Princess Jasmine costume, fourth grader Bella Dirks guts a pumpkin at Fernan STEM Academy in Coeur d'Alene on Friday. HANNAH NEFF/Press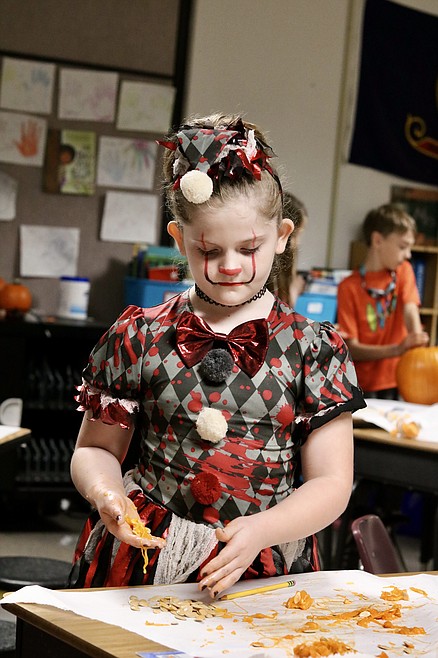 Fourth grader Monroe Nelson counts pumpkin seeds at Fernan STEM Academy, and elementary school in Coeur d'Alene, on Friday. HANNAH NEFF/Press
Previous
Next
by
HANNAH NEFF/Press
|
October 30, 2021 1:06 AM
COEUR d'ALENE - Fernan STEM Academy got the party started Friday.
Halloween means costumes and themed STEM activities throughout each classroom at the elementary school in Coeur d'Alene.
"We just really tried to make it STEM-focused," said Melody Lund, a second grade teacher. "All the teachers are doing amazing stuff."
Lund said the school used to host a spooky STEM family night, but haven't in the past couple years because of COVID-19, so teachers worked to integrate Halloween into their STEM activities.
"Really, the whole STEM thing, it's just total teamwork," Lund said. "We are really excited about getting the parents back in to help."
With assistance from parent volunteers, each teacher created a STEM activity for the class that correlated to the current area of study.
In Lund's class, the students read through the story of "The Three Little Pigs and the Big Bad Wolf." Lund said the class has been discussing science, math and literacy through the story.
For their STEM activity, Lund had the class create their own little house for a pig and then had them take turns bringing it to the "wolf" - a blower - to see if it would stay standing.
The class discussed how to create strong structures, and how hurricanes and other events can impact them.
"I'm trying to protect the pig with the wolf not blowing the house down," said second-grader Hayden Hays in a fawn costume.
Hayden said she taped paper all around her house built with tissue paper rolls so the pig wouldn't fly out when placed in front of the blower.
Second-grader Hattie Bozeman said she built a little house for her spider out of straws next to her pig's house.
Life Skills students created bat caves for their special STEM activity.
In fourth and fifth grade, teacher Julie Cooper had kids gutting pumpkins and estimating the number of seeds.
They also created catapults to launch mini toy pumpkins into the hollowed large ones.
"It's pretty hard," said fourth grader Bella Dirks as she gutted a pumpkin in her Princess Jasmine costume.
Hunter Schwieters, a fourth grader, worked on creating a catapult for his team.
"It's pretty complicated but it turns out being a lot of fun," Hunter said.
Cooper said the class discussed how to design the catapult and make predictions of the distance it would launch, then test and modify the design if needed.
Hunter used a plastic spoon, rubber bands and popsicle sticks to create the catapult.
"If it doesn't work I'm just going to destroy a little bit of it and try again," Hunter said.
Cooper said she was impressed with the teamwork the kids had in organizing different roles within their groups.
"This is a great group of kids," she said. "They really work well together."
Recent Headlines
---