STATE 5A VOLLEYBALL: Post Falls assured of trophy; Lake City out after long day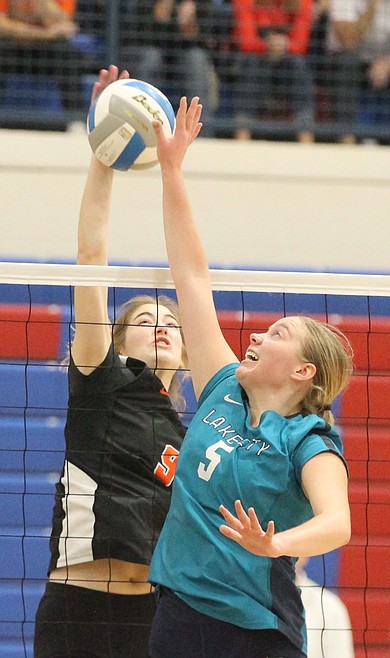 MARK NELKE/Press Rylee Hartwig (9) of Post Falls and Nellie Reese (5) of Lake City reach for a ball at the net during their first-round match at the state 5A volleyball tournament Friday at Coeur d'Alene High.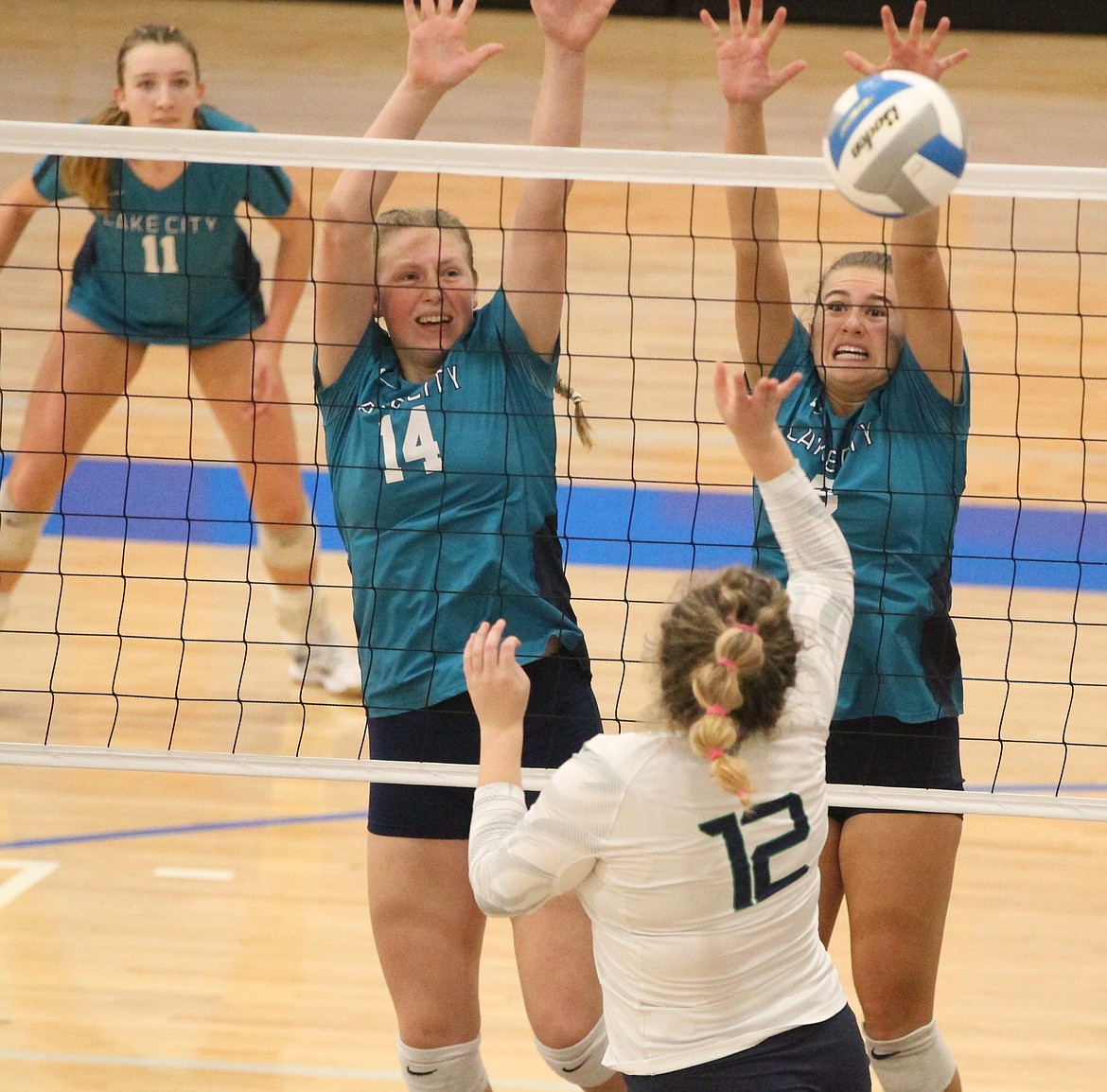 MARK NELKE/Press Emberlyn Reynolds (14) and Dorie Kiesbuy of Lake City put up a block against Riley Kaiser of Mountain View on Friday afternoon at the state 5A volleyball tournament at Coeur d'Alene High.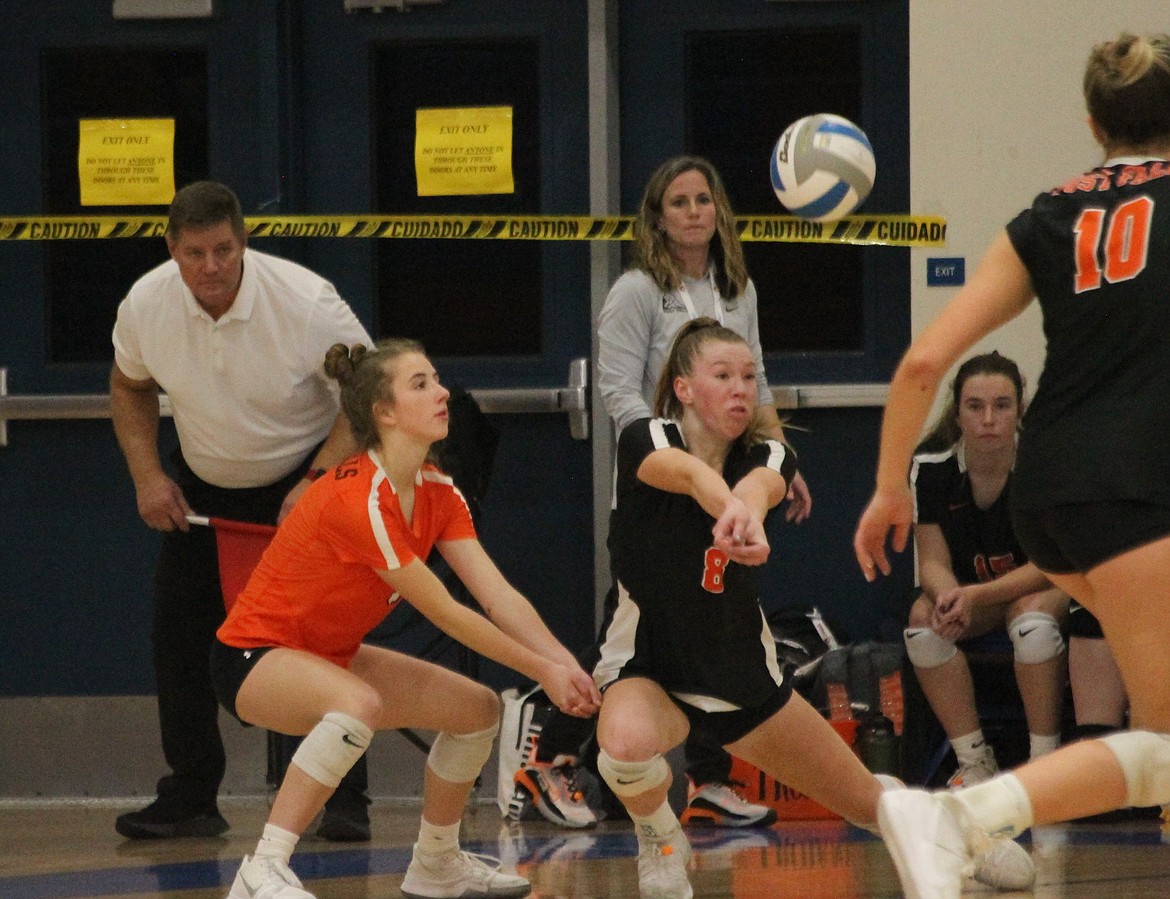 MARK NELKE/Press Claire Holding, left, and Sarah Rogne of Post Falls zero in on the pass during a match against Madison of Rexburg on Friday afternoon at the state 5A volleyball tournament at Coeur d'Alene High.
Previous
Next
|
October 30, 2021 1:30 AM
By MARK NELKE
Sports editor
COEUR d'ALENE — The emotions shown by the Post Falls Trojans on Friday night, after a long day of volleyball, were part joy, part relief ...
And all trophy.
Post Falls went 2-1 on the opening day of the state 5A volleyball tournament at Coeur d'Alene High's Viking Court. And with its 25-12, 25-23, 22-25, 25-22 victory over Thunder Ridge of Idaho Falls in its final match, the Trojans guaranteed themselves a trophy with a top-four finish.
"We've been playing so long together," Post Falls senior libero Claire Holding said, "and I'm so proud of us. We worked so hard and we pulled through and we fought to the end."
"It means a ton. It means a ton," Post Falls senior Emily Johnson said of the Trojans clinching a trophy. "We were tired (against Thunder Ridge), but we found it and we dug deep."
No. 2 seed Post Falls opened the day by beating 5A Inland Empire League foe and No. 7 seed Lake City 25-17, 25-21, 25-17.
In a quarterfinal match, Post Falls had Madison of Rexburg down two sets to one but couldn't finish the deal, and the third-seeded Bobcats won 13-25, 25-22, 21-25, 25-21, 15-10 to advance to today's 11 a.m. semifinal vs. top-seeded and defending champion Skyview of Nampa.
Post Falls came back to beat Thunder Ridge, the 2019 champions. The Trojans (27-7) the IEL and Region 1 champions, will play Eagle (33-8) today at 9 a.m. in a loser-out match.
"Tough loss to Madison in the second round," Post Falls coach Willow Hanna said. "I thought we responded well to start the Thunder Ridge match. We played smart and with some grit to win."
Post Falls will need to win twice to reach the championship round, and would need to win twice there to capture the state title.
Lake City came back after the Post Falls loss to beat Mountain View of Meridian 28-26-17-25, 20-25, 25-21, 15-12.
But Eagle was too much for the Timberwolves on Friday night, eliminating Lake City with a 27-25, 25-16, 25-23 victory.
The T-Wolves, who won a play-in game to advance to state. finished 18-8.
"We came out a little hesitant against Post Falls," said Lake City senior Hanah Stoddard, a Gonzaga commit. "But we played hard throughout the day. We took Mountain View, which was a big win for. Obviously we would have liked to play into tomorrow, but I'm pretty proud of my team today."
In the first match of the day, Post Falls and Lake City battled through the first two sets. Post Falls served its way to a big lead in the third set en route to the sweep.
Kylie Monday had 11 kills, six assists, two blocks and eight digs for Post Falls. Kassie Gardiner had 13 assists and four aces, Trinity Byrne five kills, Rylee Hartwig three blocks and four aces, Claire Holding six digs.
"Our kids are just really excited to play today," Hanna said. "I think we've had a lot of days of practice, and they were just ready. I think we had a really good week of preparation, and I think we're seeing some of the results of that."
Did it help to open against a team the Trojans already knew?
"That's a good question," Hanna said. "I think in our preparation, yes. Getting on the floor today, I don't know the answer to that. It's state; this is a big venue; something this group doesn't have a ton of experience with. I don't know; we just handled it very well."
Stoddard had 14 kills for Lake City, Nellie Reese 15 assists and six blocks, Ella Hosfeld seven assists, Allie Bowman six digs.
"I just think we came out a little stiff," Kleinberg said. "A little stage fright, and just had a hard time getting going. We were just having a hard time communicating (during Post Falls' serving run in the third set). It was really loud; we couldn't hear each other."
In the Madison match, Munday had 14 kills, 17 assists, six blocks, 20 digs and an ace for Post Falls. Byrne, a freshman, added 13 kills. Gardiner had 28 assists and an ace, Hartwig seven blocks, Holding 26 digs.
Against Thunder Ridge, Munday had 22 kills, 16 assists, and five blocks for Post Falls. Hartwig added 16 kills and seven blocks, Gardiner 20 assists and 14 digs, Holding 16 digs, Joely Gardiner one ace.
"Trinity had a really great day," Hanna said. "Proud of her as a freshman to step up the way she did."
After losing to Post Falls, Lake City won the final two sets to eliminate Mountain View. Stoddard had 26 kills and eight digs, Reese 11 kills and 22 assists, Hosfeld 17 assists and six kills, Bowman 13 digs.
"I think we just came out with a lot of heart and energy," Kleinberg said of that match. Down 2-1 in sets, "it was go time," she said.
Against Eagle, Stoddard had 18 kills and three digs for Lake City. Reese had 15 assists and five kills, Hosfeld 13 assists, Olivia Liermann three kills.
"I thought Eagle was tough; I knew they would be," Kleinberg said. "I thought we played well; I thought they were just a better team on the outside. Coming in (seeded) seventh and tying for fifth at state, we're pretty excited. It was good to end the season on a high note."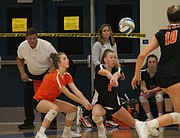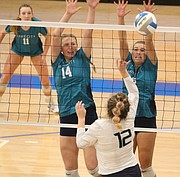 Recent Headlines
---