STATE 3A VOLLEYBALL: Tempo too much as gritty Timberlake bows out in two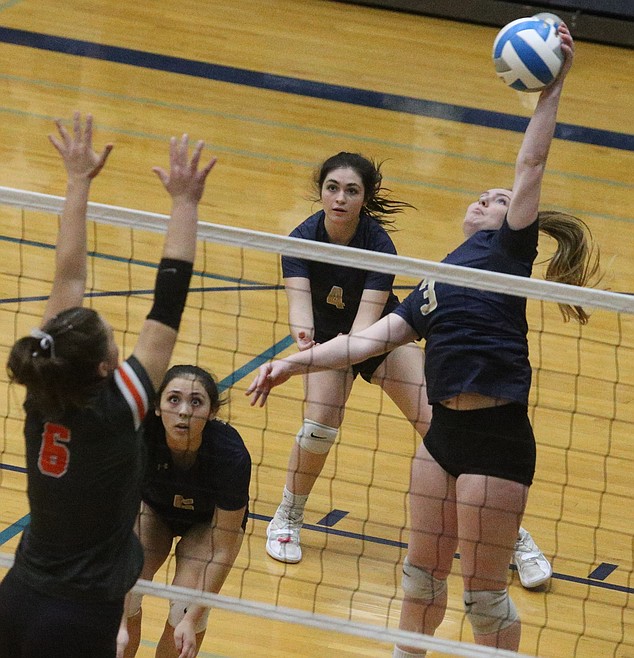 JASON ELLIOTT/Press Timberlake senior Jaycie Pratt extends for the kill as senior Emma Torr (5) and senior McKennah Kronenberg (4) watch the ball during the opening round of the state 3A volleyball tournament against Fruitland at Lake City High.
|
October 30, 2021 1:15 AM
By JASON ELLIOTT
Sports writer
COEUR d'ALENE — Sometimes, Timberlake's just outmatched.
Maybe in height, skill or ability.
But make no mistake, the Tigers are going to fight until that very last whistle.
"Timberlake has always been small, so we're going against teams that are bigger and, sometimes, more athletic," said Timberlake coach Michelle Garwood, who started the program in 1998. "Our girls, they just battle and they've got grit." They try to figure out what they need to do for a faster tempo offense, make the adjustment and battle. And I'm pleased with it."
Timberlake, seeded seventh at the state 3A tournament, fell to second seeded Fruitland 25-12, 25-16, 25-16 in its opener on Friday afternoon, then fell to sixth seeded Weiser 25-15, 25-11, 25-22 to conclude the season 12-9.
Against Fruitland, Timberlake fell behind 19-9 in the second set before battling back, eventually falling 25-16.
As for the speed of the game, it was something Garwood added the team doesn't get up north.
"That's all they see down south is that fast tempo," Garwood said. "We're lucky if we see it a couple of matches a year. Our seniors have seen it a little more, but not since last year at state. It takes them a little while to realize the ball is going to be faster coming at them. The girls just adjust and go at it."
Sami
Wilfong, a senior setter, had nine assists and five kills against Fruitland.
"We're not a very tall team, so their blocks are a lot higher," said Wilfong, who stands 5-foot-1. "We had to be a lot smarter about where we placed the ball."
Senior McKennah Kronenberg had five digs, two blocks and two kills, senior Emma Patrick four digs and one aces and senior Jaycie Pratt four kills for Timberlake against Fruitland.
"There were several points in the (Fruitland) match where the girls could have gave up and quit," Garwood said. "They just don't give up. They play the net hard and go after each ball. I'm just proud of them."
This year was the first year of the MaxPreps seeding for the state tournament, with Intermountain League champion Kellogg drawing the fifth seed, then going 0-2 after losses to Parma and Snake River to finish the season 13-4.
"I would have liked to been higher, but it's a fair system," Garwood said of the seeding. "We had to do something better to protect our top teams. Sometimes, especially in basketball, the top two teams get pitted against each other in the first round, and that's not the right system. I don't know that this is the right system, but it's a fair system. It makes your regular season all that more important."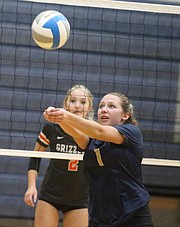 Recent Headlines
---