'Running out of time'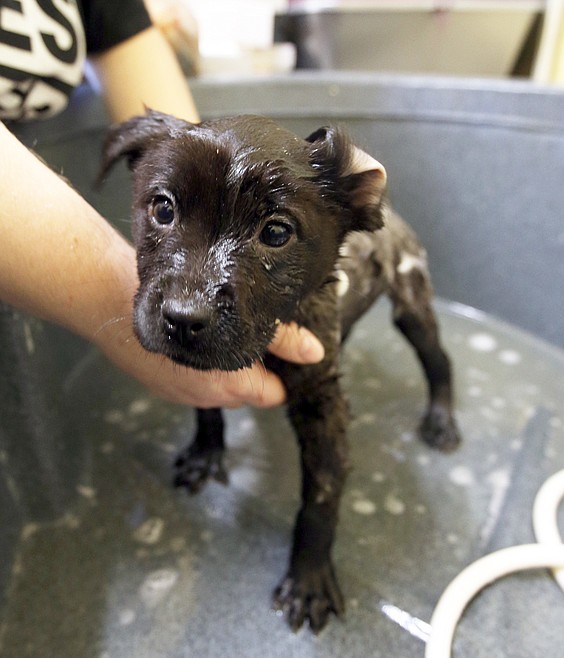 A puppy gets a bath at the Kootenai Humane Society earlier this year.
BILL BULEY/Press
by
BILL BULEY
Staff Writer
|
October 30, 2021 1:08 AM
COEUR d'ALENE — The Kootenai Humane Society board is considering new options to reach its capital campaign goal for a new home.
Vicky Nelson, KHS development director, said the board met Wednesday night to review finances. The original bid of $6.5 million to build a new shelter was four years ago. Since then, the estimated construction price tag has risen due to increases in material costs.
No matter what, though, KHS will be moving forward, Nelson said. It has no choice.
"We won't be able to stay here," she said, referring to planned expansion of the Coeur d'Alene Airport and planned extension of Ramsey Road. Both developments include the KHS property at the north end of Ramsey Road.
Nelson said the KHS board, which will meet again next week, will look at several possibilities. They include reducing the scope of the project, bank loans and ramping up fundraising even more.
She said the board is crunching numbers and expects to have more definitive costs to review next week.
The capital campaign has brought in $5.2 million, nearly 80% of its goal. Nelson made it clear that despite the latest developments, KHS will build a new shelter.
"We are going ahead," Nelson said. "We have to move eventually."
The shelter's current home is more than 40 years old. Officials say it's too small for the nonprofit's needs to care for the thousands of dogs and cats that pass through its doors each year.
So far this year it has adopted out 1,275 animals and has a 95% save rate, considered one of the highest in the nation for similar-sized shelters.
KHS, a no-kill shelter, has a heart to help animals of all shapes and sizes.
It's nearly filled to capacity now with dogs and cats in need of homes. Many are rescues from other shelters around the country, saved from being euthanized.
Earlier this year, it took in and found homes for more than 50 dogs that were rescued from a Kellogg hoarding situation.
It recently found homes for five pet rats that came to the shelter after being left in the book return at the Coeur d'Alene Public Library.
It hopes to do even more.
With the purchase of a 10-acre parcel west of the Coeur d'Alene Airport on Atlas Road, the new shelter will be 24,000 square feet and able to accommodate thousands of animals annually "who need medical care, rescued from life-threatening conditions, and help continue their journey in finding a loving home."
KHS now leases its land from the Coeur d'Alene Airport, which is looking at extending the runway and would need the land where the shelter sits for that to happen.
In the coming years, the city of Hayden plans to connect Ramsey Road to Lancaster Avenue, which will increase the traffic flow literally right next to the KHS shelter. Stakes marking out the extension have already been posted through the property.
"We're kind of running out of time," Nelson said.
Fundraisers, which stalled due to COVID, are picking up again.
The owners of Homestyles Lighting, longtime friends of Kootenai Humane Society, earlier this year held a "flocking docks" pink flamingo fundraiser for the capital campaign and brought in nearly $15,000. Homestyles Lighting also offered a $2,500 lighting package to benefit KHS.
The Silver Lake Mall is selling tickets at Black Sheep Knives and Optics for three themed Christmas trees — outdoors, home and pet — to benefit KHS, too. It will also be home to KHS's ninth annual Lights of Love, a holiday fundraiser, by selling tags on a decorated Christmas tree honoring pets.
Once construction begins on the new shelter, the project is expected to take at least a year to complete.
Nelson said yes, the board could consider building its new home with the $5.2 million on hand and do its best with those funds. But that would mean reducing the project and could end up costing KHS more in the long run as it might not have the space necessary to meet future needs.
"That original plan will work," Nelson said. "It's a matter of how much the community wants to support it."
Recent Headlines
---