Moving History Forward: Fred Murphy and the Flood of 1933
by
RICHARD SHELDON/Special to The Press
|
October 30, 2021 1:00 AM
It would have been impossible to live in Coeur d'Alene through the middle of the 20th century without knowing who Fred Murphy was. He died tragically by falling through the ice on a Sunday afternoon Jan. 12, 1986.
His impact on the local waterways was enormous and enduring. To give him the title of "King of the Lake" would be an underestimation of his influence. He started piloting steamboats in his teens and became a dock and marina builder.
In the book "Fred Murphy: A Legend of Coeur d'Alene Lake," written by his friend Tom Emerson, are many stories worth retelling. One of the stories concerns the disastrous December 1933 flood that was the worst flood on record. The epic flooding caught everyone by surprise.
Snowpack in the Bitterroot Mountains was deep so when a warm rain hit the western slopes, the melting was historic and deadly. Both the Coeur d'Alene and St. Joe rivers overflowed and carried away bridges, homes, buildings, sections of railroad track and livestock.
Compounding the danger were the thousands of cut timber logs in the rivers and lakes awaiting milling that were now on the move. The timber jammed up against structures that were fixed. It was only a matter of time before the increasing pressure of the rushing water and dislodged logs caused the structure to float away. Dead horses, cattle and pigs were everywhere.
After many days and nights of rescue work, Capt. Murphy had just safely docked at St. Maries when an Army officer approached and demanded Fred's boat. Fred refused the order. The officer explained that there were 500 young men stranded at a CCC camp in St. Joe City who were out of food and needed to be resupplied. Fred struck a deal with the officer that if his boss would allow him, he would personally use his boat, the Pinecat, to deliver the food.
Being December, the days were short, but this and the terrible weather conditions did not deter Fred from piloting the boat in darkness around uprooted trees, houses afloat, dead or near-dead animals while dodging enormous uncut fast-moving logs. He worked all night with the Army officer, who quickly found himself in awe of the skill and bravery of this local riverboat skipper.
They were successful in getting the food to the CCC camp. Perhaps the best reward for Fred was that he had made a lifelong friend of the officer.
• • •
The Museum of North Idaho has a wide variety of books available to purchase, including this wonderful biography of Fred Murphy by Tom Emerson. The book is now out of print, but museum executive director Britt Thurman says the museum's bookstore has a few left. Also, If you become a member of the museum, discounts are available.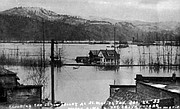 Recent Headlines
---