THE FRONT ROW WITH JASON ELLIOTT: Right at home on the mats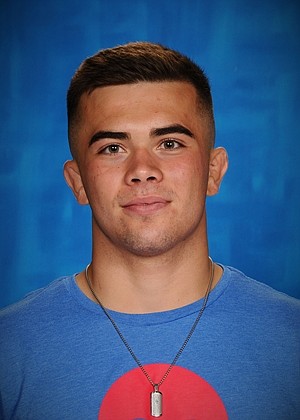 |
October 30, 2021 1:25 AM
As Coeur d'Alene High senior Rylan Rogers describes, the goal in participating in the Super 32 folkstyle wrestling tournament last Saturday and Sunday in Greensboro, N.C., was just to get out and get some time on the mat.
It turned out to be a good time indeed.
ROGERS WON the 195-pound bracket at the tournament, one of the tougher high school tournaments in the nation.
"He wanted to become a better wrestler," Coeur d'Alene coach Jeff Moffat said. "It's a really good accomplishment. That's one of the better tournaments in the country as far as offseason tournaments go."
"It's one of the toughest folkstyle tournaments in the country," Rogers said. "It was the first time I'd been to it. The last few years, I was at Blair Academy in New Jersey and didn't have a chance to make it because we always had a conflict."
Rogers beat Martin Cosgrove of New Jersey by a 3-2 decision in the championship match.
"I was excited," said Rogers, who last competed in July at nationals in Fargo, N.D. "It had been a while since I'd competed. I just thought it would be a good opportunity to wrestle some of the top kids in the country."
Rogers competed in freestyle at the Fargo Nationals, finishing third at 195. Folkstyle is the discipline used in high school wrestling. In folkstyle, you can only lock your hands during a pin or trying a takedown. In freestyle, wrestlers are allowed to use the legs to perform any action.
Rogers won four of his matches by decision, two by major decision.
"The goal for me wasn't to focus on winning," Rogers said. "Usually when I do that, I don't perform my best and put unnecessary pressure on myself. My goal was to wrestle to my full capability and worry about performing well. I just wrestled freely and tried to score as many points as I could."
"He did a good job at Fargo and then took some time off," Moffat said. "He's been training all fall and wrestling with some college guys from NIC that were D-1 guys and been working with them all along. When you're an elite wrestler like he is, he wanted to go test himself to see where he's at."
DUE TO the coronavirus pandemic, Rogers was left without a season at Blair last winter, with the state not holding practices or events until March 16.
"Although Blair is the No. 1 team in the country typically, the whole reason I went out there was to get better at wrestling," Rogers said. "And when you're not wrestling, and being that far away from my family not being able to compete, for me, I had to make the best decision and come back home to find the best training for me."
Rogers joined the Coeur d'Alene program in January, going 11-0 en route to a state 5A title at 195.
"I really think I jumped levels in my time at Blair," Rogers said. "Everything happens for a reason for me and it's all part of God's plan for me. I couldn't have told you I'd be back home right now, or would have left Blair. I think it's all part of the plan, and I'm grateful for it."
ROGERS WILL continue his wrestling career at the University of Michigan in 2022. Rogers also visited Ohio State, and had planned to visit Penn State, Oklahoma and Oregon State before committing to Ann Arbor.
"When they brought me out, I made a list of the 12 things I was looking for," Rogers said. "All of those other schools were missing one or two things. When I met my coach Shawn Bormet, I just knew he was going to put the time and effort in with me. After I stepped foot on campus at Michigan, I just knew it was a good fit.
"The Olympic program they have is great. My training partner just got third in the Summer Olympics in Tokyo (Miles Mead). My other training partner, and mentor, was Alex Derringer, a three-time All-American at Oklahoma State. And they're training there to chase their Olympic aspirations. It really just had everything I was looking for, and that was the turning point for me."
As far as this year's high school season, Rogers added he's looking forward to the experience of competing at the Tri-State Invitational Dec. 17-18 at North Idaho College.
"I grew up watching my cousins Chandler Rogers and Jordan Rogers (who wrestled at Mead High, then Oklahoma State)," Rogers said. "When I think about that tournament, it was kind of my childhood of wrestling and following them around wanting to be like them. I always thought it would be really cool to compete there because my cousins did that."
"Rylan's just a great kid," Moffat said. "He's a great teammate. For being a top recruit like he is, he really likes to help other kids and he's really supportive of the other guys on the team. He doesn't big-time anybody and will help the least experienced to the most experienced wrestler. He'll roll out mats, clean mats, and help pick up afterward. He'll do anything you ask him. He doesn't try to get away with anything and just does a great job in everything he does."
Jason Elliott is a sports writer for The Press. He can be reached by telephone (208) 664-8176, Ext. 2020 or via email at jelliott@cdapress.com. Follow him on Twitter @JECdAPress.
Recent Headlines
---