State high school volleyball tournaments: Lake City seeks a jolly good time at state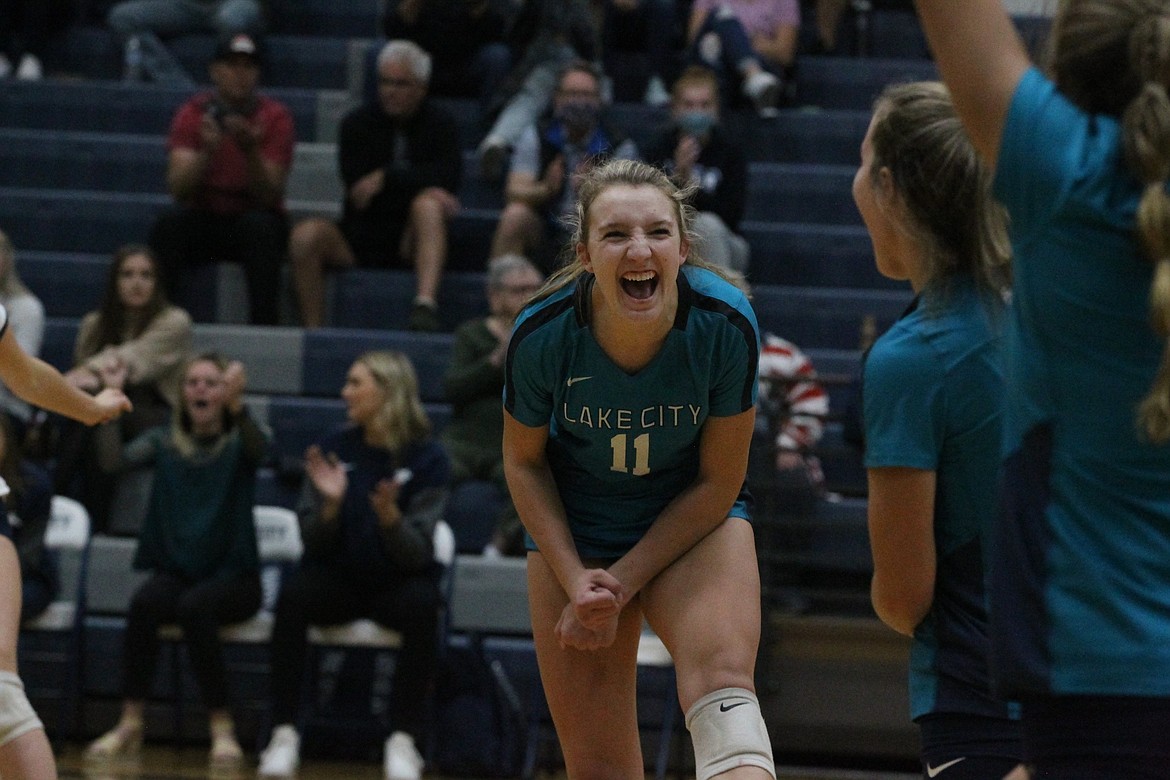 MARK NELKE/Press Led by senior Hanah Stoddard (11), Lake City is back in the state volleyball tournament for the fifth time in six seasons.
|
October 29, 2021 1:30 AM
By MARK NELKE
Sports editor
The British are coming.
OK, maybe not the actual British, but the Lake City Timberwolves — with a little bit of overseas flavor — are back in the state 5A volleyball tournament this week for the fifth time in six seasons.
This after being on the brink of elimination from the postseason following a first-round loss in the Region 1 tournament.
Lake City came back to beat Lewiston in a loser-out match. Then, after losing to Coeur d'Alene three times in three meetings, including the first round of regionals, the Timberwolves ousted the Vikings in the second-place match. That earned Lake City a berth in a state play-in match, where the T-Wolves swept Centennial of Boise.
That has earned No. 7 seed Lake City (17-6) a first-round matchup with No. 2 seed Post Falls (25-6), the Inland Empire League and Region 1 champion, today at 11 a.m. at Coeur d'Alene High.
"We have played our best volleyball the last three games," second-year Lake City head coach Michelle Kleinberg said.
How'd that happen?
"Honestly, the girls have gotten silly; the girls been speaking to each other in British accents," Kleinberg said. "It's the oddest thing, but it's working, and I'm rolling with it."
Hey, whatever works.
"I think they were taking it too seriously," Kleinberg said, "and they went back to why they love volleyball in the first place. They're having a good team."
Lake City has a handful of players remaining from its last trip to state two years ago, when the Timberwolves finished fourth at Post Falls.
Lake City is led by Hanah Stoddard, who has verbally committed to Gonzaga as a setter.
At the beginning of the season, Kleinberg toyed with having Stoddard set out of the back row as part of a 6-2 (two-setter) offense.
But with senior Nellie Reese and junior Ella Hosfeld capably able to handle the setting chores, Kleinberg was able to use Stoddard as a hitter all the way around, and she has emerged as one of the top hitters in the state as well.
"She's been a team player," Kleinberg said of Stoddard, "to give up what she does best, and did whatever it takes to get our team to state."
Like Lake City, Post Falls is seeking its first state title — the Trojans were runners-up in 2011. This is Post Falls' eighth trip to state since 1984, and fifth in 11 seasons under head coach Willow Hanna, in her second season in her second stint as coach of her alma mater.
Hanna was happy to see Post Falls end up on the other half of the bracket from top-seeded Skyview of Nampa, the defending champion with most of that firepower back, including 6-foot-3 outside hitter Eden Bower, who has verbally committed to BYU, and 6-2 sophomore outside hitter Alex Acevedo, who moved to Nampa from Bend, Ore., last spring and has already committed to Oregon.
Skyview was a 4A power before moving up to 5A, winning state 4A titles in 2016 and '17.
Madison of Rexburg, last year's consolation champs at state, is seeded third.
4A
Wood River — a blast from the past — is the top seed in the 4A tournament, which runs today and Saturday at Post Falls High.
Wood River last won a state title in 1978, when the Wolverines won back-to-back titles in Class A — there were only two divisions for the first five years of the tourney (1076-80), Class A and Class B.
Bonneville of Idaho Falls, third last year, is seeded third. The Bees won the state title in 2019, after winning back-to-back 5A titles in 2016 and '17, beating Lake City in '17.
Century of Pocatello, the No. 6 seed, won state titles from 2010-15, and in 2018.
Moscow, which upset Lakeland for the Region 1 title, is at state for only the third time since 2005, when the Bears won the 4A title for their last trophy at state.
3A
Timberlake is back at state for the seventh straight year, and 12th time in school history.
The seventh-seeded Tigers (12-7) open today vs. No. 2 Fruitland (28-6) at 11 a.m. at Lake City High.
"Our season has been up and down, but like our girls do, we are coming together at the end," said Michelle Garwood, who started the Timberlake program in 1998. "We have a group of great kids who work hard all the time. Our seniors have really stepped up as leaders."
For the third straight season, Timberlake earned District 1's second berth to state, after three-time Intermountain League and district champion Kellogg (13-2).
"I think as usual, the southern teams bring a game we don't get to experience much up here at our level," Garwood said. "We have to search out that competition and it's just not readily available to us at the 3A level up here.
"I think we (Timberlake and Kellogg) can compete, but it is going to take good defense and grit to do so. Sugar-Salem comes in strong, returning nearly all of the players on their state championship team, so I look for them to be strong again."
Sugar-Salem, the two-time defending champions, has won four of the last five titles, and eight all told since 2003.
Garwood is well-versed in the way the Idaho High School Activities Association has seeded state tournaments for years — district champs from this area vs. second- or third-place teams from another area, with no adjustments for upsets at districts.
Plus, there are five district champions in 3A in Idaho, so two of them would always meet in the first round — and sometimes, through the luck of the draw, those would be the two best teams in the state.
Garwood said she likes what she's seen so far in this year's seeding, which is done by using MaxPreps rankings at the end of the regular season. That means if a league champ is upset at district, and qualifies as a runner-up or through a play-in match, their seed at state would be the same as if they had won the district title.
"We have seen on numerous occasions, who should be the top two teams in the state paired against each other (in the first round), and in the end, do we really get the best two teams competing for the title?" Garwood said. "When you look at the MaxPreps seedings, most of the top eight teams made it to state, so at this point, it seems pretty accurate."
2A
Defending champion West Side is the No. 1 seed for the tourney at Hawk Court in Rathdrum. Orofino, the District 1-2 champ, is the No. 4 seed.
1A Division I
Defending champion Grace is the top seed for the tourney at Lewis-Clark State College in Lewiston.
District 1 champion Wallace lost in a state play-in match.
1A Division II
Horseshoe Bend (31-0), third last year, is the top seed for the tourney at Lewiston High.
District I champ Clark Fork lost in a state play-in match.
Recent Headlines
---