Food bank needs a few good volunteers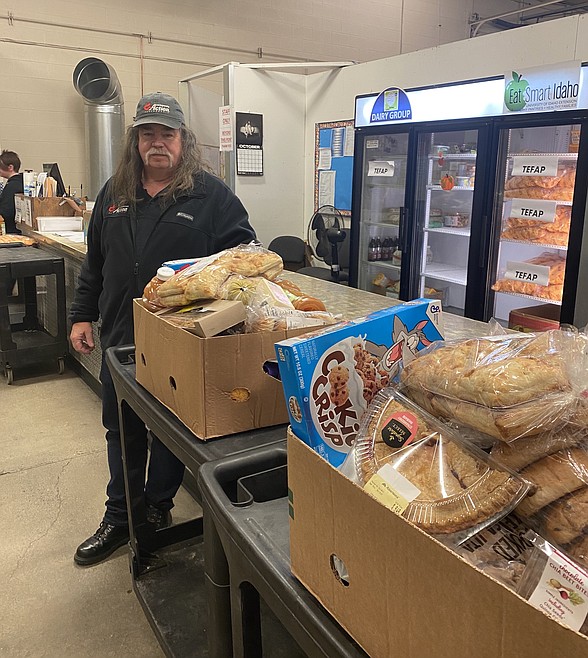 Community Action Partnership manager Darrell Rickard stands in the warehouse next to several food boxes for families to pick up curbside. The nonprofit is looking for a few good volunteers to keep the service going strong.
ELLI GOLDMAN HILBERT/Press
by
ELLI GOLDMAN HILBERT
Staff Writer
|
October 29, 2021 1:00 AM
COEUR d'ALENE—It's not a lot to ask: three or four hours once a week from at least four committed volunteers.
Darrell Rickard, manager of the Community Action Partnership for Kootenai County, said that's the minimum it will take to get operations running smoothly again.
Open Monday through Friday, 9 a.m.- 4 p.m., the charitable organization serves about 50 households per day with its food bank program.
Pre-COVID, the center had an ample number of volunteers, Rickard said.
"We had a nice set of volunteers that came every scheduled day," he told The Press. "Then we lost probably 90 percent of them."
With fewer people helping carry the load, current volunteers are buckling under the weight.
"Right now we are short two drivers and two helpers," said George Silva, a volunteer with CAP for the past eight years. "It is much easier on the driver if he has a helper to load."
Typically two people are sent out on what Rickard calls "grocery rescues" each morning. Traveling to participating stores, food is picked up and brought back for processing and quality inspection at the warehouse.
Rickard is astounded at the civic generosity.
"The Coeur d'Alene and Hayden stores are just wonderful," he said. "This community is the most amazing community."
On site, everything is organized, sorted and prepared in boxes for families to pick up curbside. Pre-COVID, clients came inside and "shopped" from organized shelves filled with produce, pantry staples and bread products.
Although eager to get back to standard operations, Rickard said the organization is being very cautious with COVID.
Drivers and most volunteers work a three- to four-hour shift once a week, but Rickard said they're very flexible with scheduling. The weekly commitment to volunteer is the most important aspect of the job, said Rickard, who has managed CAP Kootenai County for the past three and a half years.
"If people want to give back to the community and have a good time, come try it out," he said. "We're like a family here."
CAP is a nationwide network with locations throughout the state. They fight against poverty by providing food, energy assistance, coaching, classes and in some areas, rental assistance.
Volunteers for the driving position need to have a clean driving history, but no CDL license is required. Drivers must also be eligible to be added to company insurance policies.
In-house help is needed. Interested citizens may contact CAP's Human Resources Department at (208) 746-3351 or (800) 326-4843.
People needing assistance can get started by calling the office at (208) 326-4843.
Recent Headlines
---