COVID taking bigger toll on older residents in PHD
by
BILL BULEY
Staff Writer
|
October 29, 2021 1:07 AM
A chart released by the Panhandle Health District on Thursday showed the majority of recent COVID hospitalizations in the PHD were older people.
Of 680 hospitalizations from July to September, 511, or 75%, were people over the age of 50, PHD reported. Fifty hospital patients, 7.5%, were under the age of 30, while 119 patients, 18%, were between the ages of 30 to 49.
The PHD reported hospitalizations were up in every age group compared to the same time frame last year, with the highest increases in people over at the age of 50.
The PHD also recently issued a chart that showed there were 181 COVID-related deaths from July through September. Most of those deaths, 162, or 90%, were people over the age of 60. There were two COVID deaths of people under the age of 40 in that time period.
There were 61 COVID deaths in the PHD from July through September of 2020, with 55 of those, 90%, over the age of 70.
PHD's coronavirus positivity rate dropped to 19.2% based on 3,707 PCR tests for the week ending Oct. 23, while Kootenai County's fell for the third straight week to 18.3%. The state's positivity rate fell for the sixth straight week to 11.5% based on 34,281 PCR tests.
PHD also issued a press release Thursday that stated it supports authorization by the Food and Drug Administration and the recommendation by the Centers for Disease Control and Prevention to administer booster doses of the Moderna and Johnson & Johnson COVID-19 vaccines.
Booster doses of those vaccines are available for specific individuals, in addition to booster doses of the Pfizer COVID-19 vaccine the agencies approved last month, the release said.
A single booster dose of the Moderna mRNA COVID-19 vaccine is approved for use in those who completed their primary Moderna series at least six months earlier and who fall into one of these categories: 
• 65 years or older 
• Age 18+ who live in long-term care settings 
• Age 18+ who have underlying medical conditions 
• Age 18+ who work or live in high-risk settings 
A booster dose also is recommended for those who received the Johnson & Johnson COVID-19 vaccine, are 18 or older and who were vaccinated two or more months ago, according to the press release.
Information on where and how to schedule an appointment with PHD is available at bit.ly/3BntgpZ.
Info on vaccine locations: vaccines.gov/search/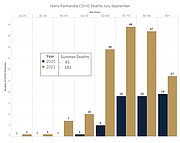 Recent Headlines
---