STATE HIGH SCHOOL CROSS COUNTRY MEETS: Vikings young, but good enough to make noise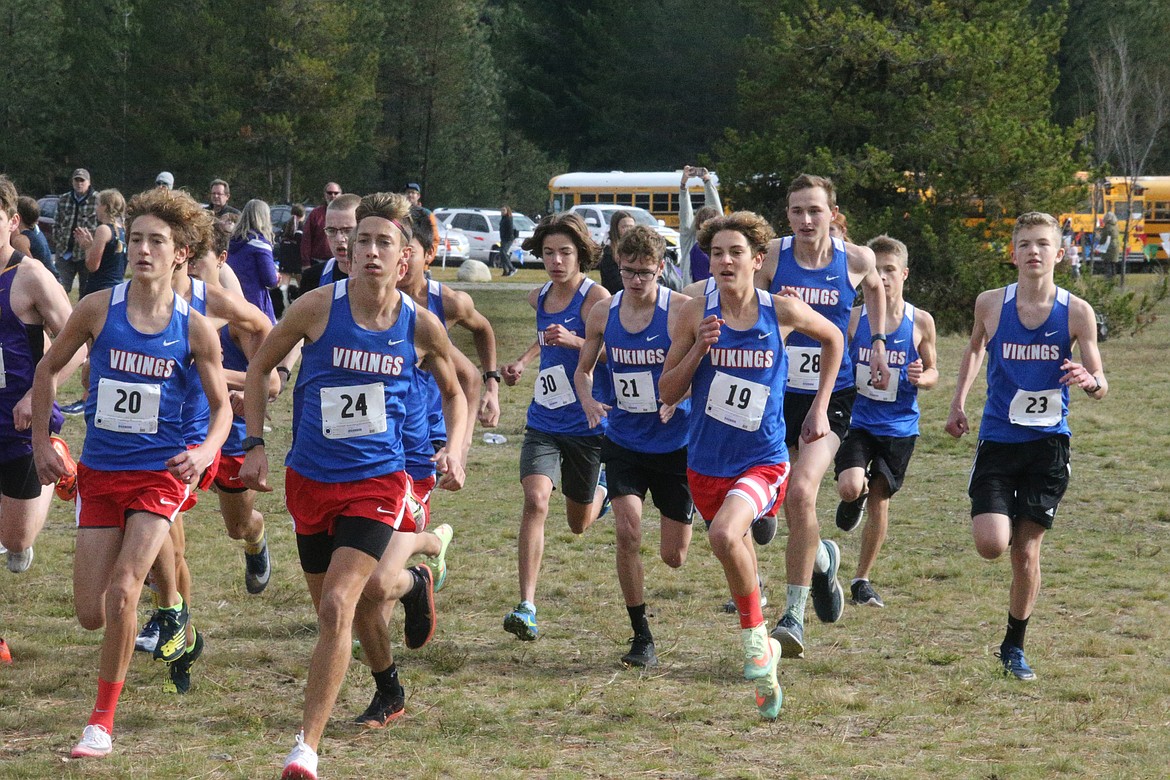 JASON ELLIOTT/Press Member of the Coeur d'Alene High boys cross country team, led by Max Cervi-Skinner (20), Jacob King (24), Zach Cervi-Skinner (19) have their sights set on a strong finish to the season at the state 5A meet on Friday at Eagle Island State Park.
|
October 28, 2021 1:20 AM
By JASON ELLIOTT
Sports writer
Sure, they're young, inexperienced and haven't run at a state cross country meet.
And with the cancellation of the annual Bob Firman Invitational at Eagle Island State Park in September, those athletes from the north won't have much — if any — experience on the course they'll see at state.
But the youth of the Coeur d'Alene Vikings could be their best asset come Friday afternoon.
Many of the boys were members of the successful North Idaho Cross Country club team, led by Max Cervi-Skinner, who has won a national championship. Cervi-Skinner, a freshman, was runner-up in last week's 5A Region 1 meet at Farragut State Park, leading the Viking boys to their first regional title since 2015.
"For as young as they are, they've got a lot of experience in big races," Coeur d'Alene coach Cathy Compton said. "I don't think that not competing at Eagle Island is going to throw them off at all. It would have been nice to have Bob Firman, but we are young. Most of these guys that are going to be running (at state) are going to be there again. I think they'll be fine."
Post Falls' girls finished runner-up at state to Boise in 2020, when the meet was at the Portneuf Wellness Complex in Pocatello.
"Most of our kids have run at Eagle Island before," Post Falls coach Brian Trefry said. "It would have been nice to have it, not so much to see the course, but to see the competition down south. That's what we'd have liked to see."
Coeur d'Alene's last state title for the boys came in 2011, also at Eagle Island State Park. On that day, the Vikings' top five all earned medals for placing in the top 20.
Compton has coached the Vikings to five state titles, including girls championships in 2004, 2012, 2013 and 2014.
Due to COVID-19 restrictions, this year's meet has been separated into a two-day event, with the 5A and 4A races on Friday and 3A, 2A and 1A races to be held Saturday at Eagle Island.
Coeur d'Alene's boys were one point from qualifying for state last year. This year, Coeur d'Alene won the regional title by 30 points.
"It's amazing," Coeur d'Alene sophomore Jacob King said. "I'm just so proud of these boys this year. We're looking awesome and it makes me happy to see that. It's been great to bounce back like this."
As for this week's race?
"That race is probably one of the biggest races I'll run," Max Cervi-Skinner said. "I'm really looking forward to it. All of our guys are going to have to work their hardest, but I think we'll be fine. I've been on club teams before, but nothing like this. We have really good coaches and training. We're all excited about how things are going, so it should be a fun time."
Idaho Falls won the 5A boys title last year.
Post Falls senior Sammie Wood, who missed the regional meet due to illness, is expected to be able to compete Friday. Wood was sixth at state as a junior, with teammate Annastasia Peters, a junior, winning the regional title last week.
"We'll go down and compete and see what happens," Trefry said. "Those teams down south, they're pretty darn good. We'll try to surprise them again."
"We'll see what happens," Peters said. "Whatever happens, happens. We're definitely pushing to bring back a trophy though."
Boise sophomore Samantha Smith won the girls race last year.
4A: Preston (boys) and Skyline (girls) are defending team champions.
Sophomore Nelah Roberts of Skyline returns to defend her girls title.
3A: Sugar-Salem swept the team titles in 2020.
Coeur d'Alene Charter senior Logan Davis was runner-up in last year's boys race.
2A: Salmon (boys) and Bear Lake (girls) are defending team champions.
No locals qualified for the race.
1A: Victory Charter (boys) and Raft River (girls) are defending team champions.
No locals qualified for the race.
Recent Headlines
---