Main Street clean-up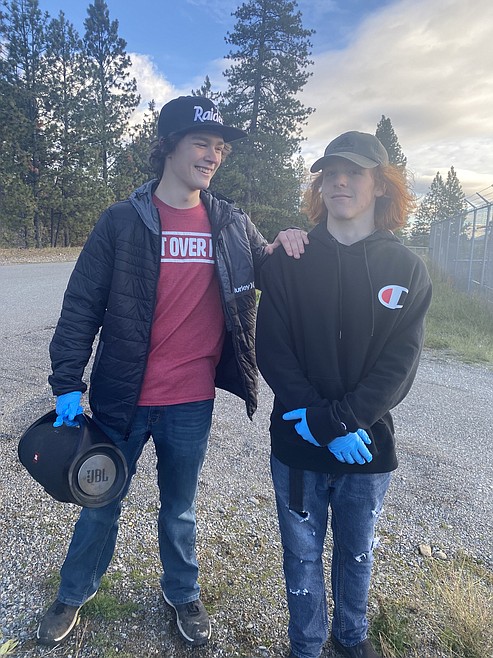 From left: Eleventh grade Mountain View High School student Michael Whitt and classmate Gauge Faulkner led the student body in a Main Street clean-up effort conceived by Whitt for a "Moose Connections" civic engagement project.
ELLI GOLDMAN HILBERT/Press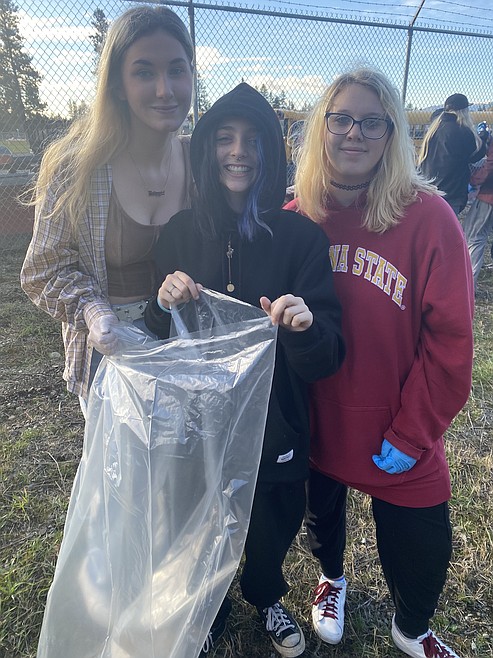 From left: Mountain View High School students Hannah Nunneley, Mackenzie Holder and Caitlyn Eliason collected rubbish along Main Street Wednesday.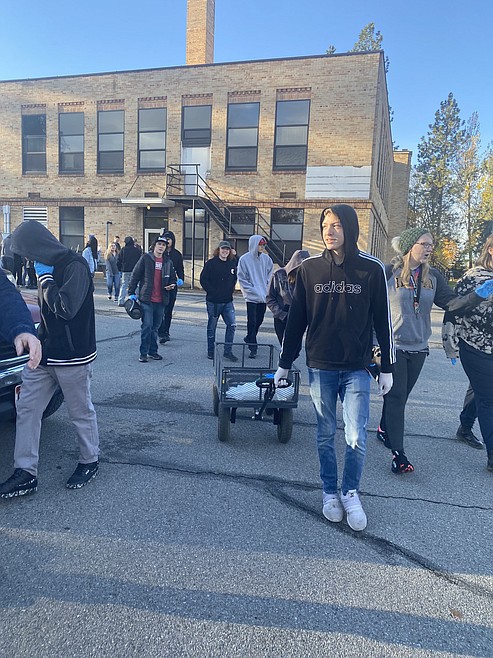 The entire Mountain View High School student body set off Wednesday to help with a Main Street clean-up project initiated by eleventh grader, Michael Whitt.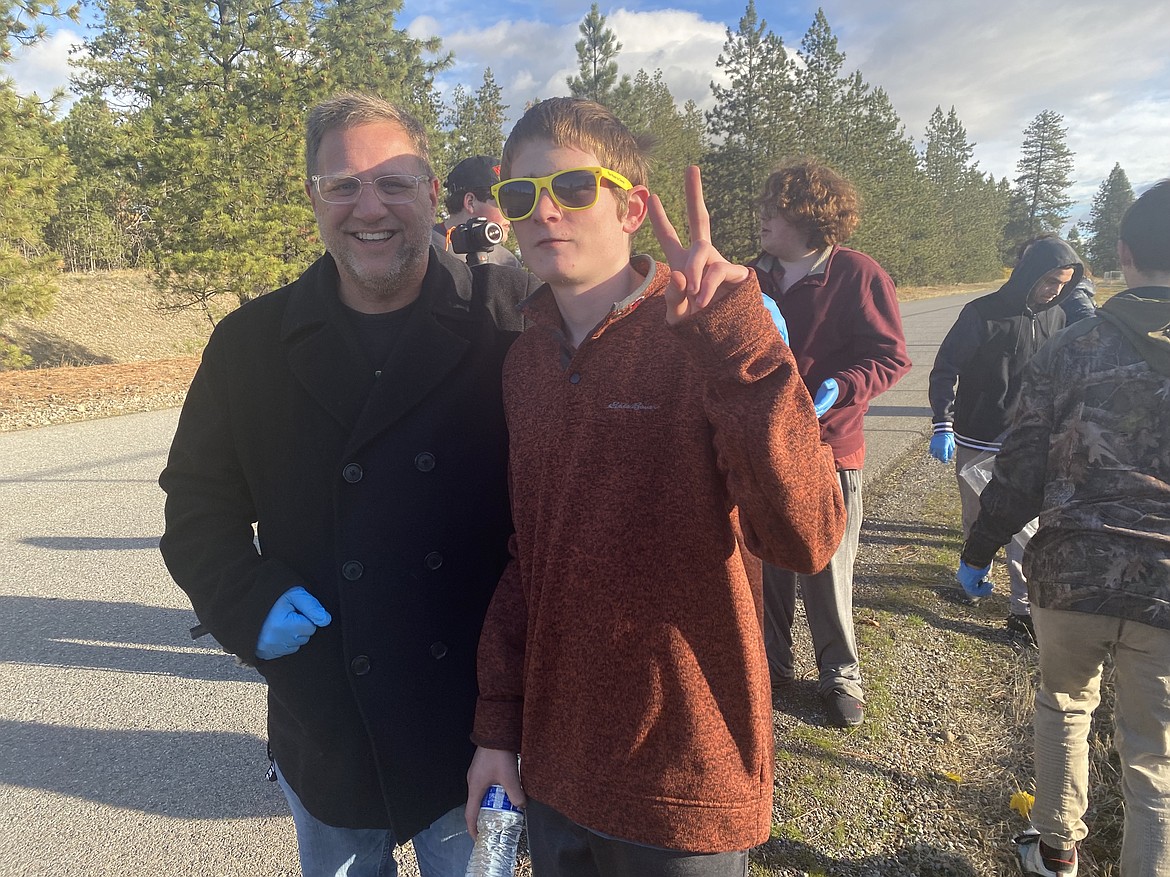 From left: Teacher Mark Gorton and student Adam Bosanko take a moment to clown around during a school wide effort to clean-up Main Street Wednesday.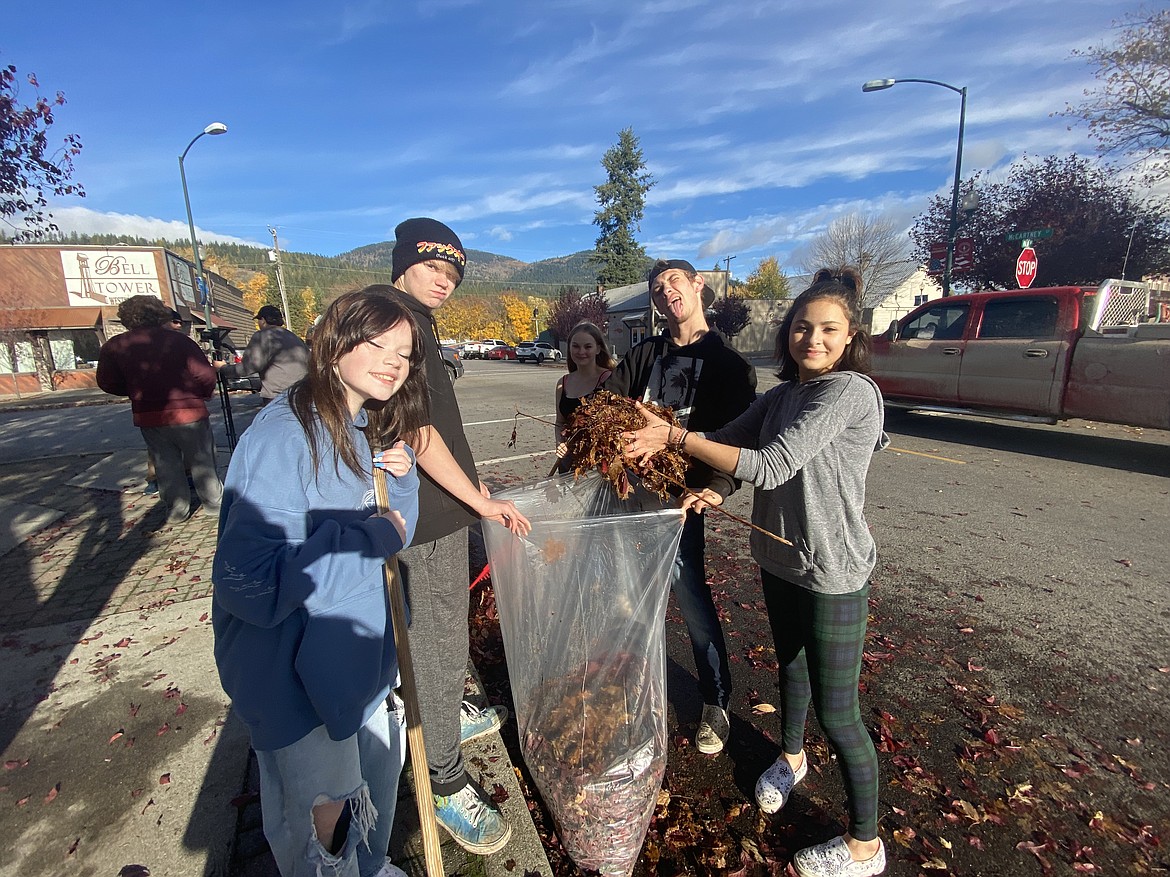 Mountain View students pitched in Wednesday to beautify Main Street. From left: Kellie Tanner, Ryan Miller, Carlie Lucker, Wade Hunter and Eva Saldana Peguoros.
Previous
Next
by
ELLI GOLDMAN HILBERT
Staff Writer
|
October 28, 2021 1:00 AM
RATHDRUM — It's not every high school student body that mounts an enthusiastic cleanup. But these students, like their high school, are anything but ordinary.
Bursting with 'Moose pride,' the entire student body from Mountain View Alternative High School descended on Main Street Wednesday to collect garbage and leaves.
Starting off with a rousing pep talk, Principal Paul Uzzi spoke to around 75 students before they hit the street as part of the "Moose Connections" project initiated by 11th-grader, Michael Whitt.
"You're golden," Uzzi said. "And we need every one of you and your positive attitude!"
The students did not disappoint. With a collective cheer for their principal, students grabbed trash bags and headed out to beautify Main Street.
Whitt conceived the Main Street clean-up project as a part of his 'Connections' class — which is similar to an advisory period, but with a twist.
As the guiding force behind Whitt's project, teacher Mark Gorton said this was one of the most ambitious so far, though the street clean-up project was not without its delays and challenges. And working through those challenges is part of the big lesson, he said.
The Main Street clean-up idea just came to Whitt and he recruited friend Gauge Faulkner to help coordinate, he said.
"Why not get a good grade and help the community at the same time?" Faulkner said.
Being conscientious project leaders, the pair led the school crew with boombox in hand to make sure that work was accompanied by some good tunes.
Originally Whitt thought the project would only include kids in the enterprising 11th-grader's Connections class, but Principal Uzzi liked the idea so much he pulled in the entire student body to participate, Whitt said.
"Michael's outstanding idea goes beyond the school environment," Gorton said. "It is giving back to our larger community and doing something nice for our neighbors."
Gorton has been teaching at Mountain View for about 25 years and instructs courses ranging from government, history, speech, computers and acting. Years of working with teenagers has shown Gorton that students tend to freeze up when they don't know what to do next, or what first step to take.
These projects give them a chance to work through the hurdles of bringing something to fruition, he said.
A big part is "teaching the kids how to think through the conundrum, working into being successful in something they've never done before," said Gorton.
Instead of having a different Connections teacher with each new school year, students work with the same one throughout their years at Mountain View.
"The idea is to closely connect kids with their teacher," said school councilor Kelli Aiken. "Then the teacher loops with them, ninth grade, then next year 10th, 11th and 12th. They function as an academic advisor and that's also where we work on passion projects like the Main Street clean up."
This provides an opportunity to build strong relationships and meet student needs as they change, said teacher Mark Gorton. "It's a chance to check in with them every day," Gorton said.
Aiken inspired the Connections program about four years ago after visiting West Valley City School in Spokane with a group of Mountain View staff and students. The visit culminated in some new tools for students, and 'Moose Connection' projects are just the beginning.
Students were enthusiastic about Wednesday's project.
"It's so nice that we get to give something back to the community," said 11th-grader Hannah Nunneley.
One participant, Aurora Dougherty, graduated from Mountain View last year, but still returns every Wednesday to volunteer.
"Mountain View felt like a safe place, a home," Dougherty said. "I love coming to Mountain View to help the community and the teachers."
A single mom, Dougherty said that school staff supported her when she became a teen parent. "It's my turn to pay it back," she said.

The process of student civic engagement is netting some unintended results, Gorton said. Students and staff alike are getting really creative, and the work
enhances students' academic performance, Gorton said.
School spirit is incredibly high on campus and it's easy to see why. "Mountainview is rated the number one school in the state for student engagement," Gorton said.
Recent Headlines
---