Call for counsel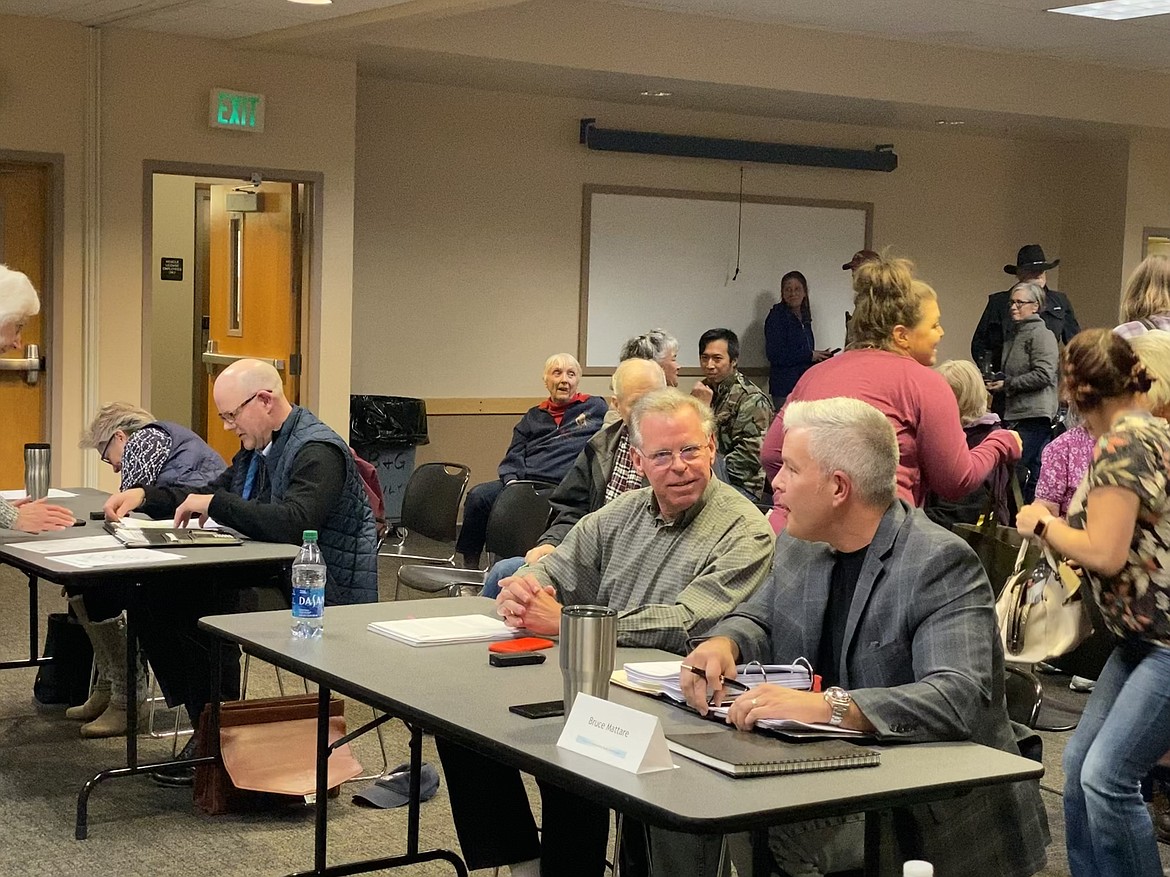 Optional Forms of Government Study Commissioners Bruce Mattare, right, and Bryant Bushling talk shop after adjourning a Wednesday night meeting. (MADISON HARDY/Press)
by
MADISON HARDY
Staff Writer
|
October 28, 2021 1:06 AM
Deliberations that could change the Kootenai County form of government ended abruptly Wednesday night following a proposal to remove three study commission participants.
Since beginning its investigation in May, the Optional Forms of Government Study Commission has conducted research to evaluate the efficiency of Kootenai County operations. The data will guide OFGSC members in forming a recommendation to keep — or change — the governing structure. Any change would require voter approval.
Wednesday night started with Commission Chair Dave Botting proposing a bylaw change to remove the three alternate members — Bruce Mattare, Joan Genter and Cheri Zao — from participating in deliberations.
Per Idaho Code 31-5101, Botting said the study commission should not have more than nine members, making the alternates a statutory liability.
"The statute says minimum five, maximum nine. We are 12," Botting said. "We exceed the statutory maximum, and I believe that we should not just ignore the statute."
The proposition was met with mixed opinions. Several OFGSC members expressed the need for a legal opinion from county counsel before removing the alternates.
"I think all of us have points we would like to discuss with the commission as a whole," Genter said. "Even though we are not allowed to vote, we might have an insight someone else might not have thought about."
Bryant Bushling and Brian Cleary echoed Genter's comments, advocating for alternates' contributions to collective understanding.
"I'd like to hear more opinions, not less," Cleary said. "Even if the county attorney returns with a decision that says we're bound technically to the statute, I think there's room for us to allow alternates to serve in an advisory board and still have their voices heard."
Statutory concerns should have been corrected "a long time ago," Tamara Bateson said. Doing it "midstream" would remove two of the three women on the commission and "essentially cut out half of the female voice," she added.
"These are equal members, maybe not voting, but in their opinion and who they are," Bateson said. "They have been there every step of the way along with the rest of us. To diminish them and diminish their voice is wrong."
Phil Ward pointed out the commission had discussed limiting the alternates' participation in May and allowed their involvement, but "the rules change."
"The rules change, that's the key. The rules change as we play the game," Mattare said, as the crowd of 70 residents responded with opposition.
"It makes me wonder if this isn't about controlling the narrative," he continued. "The other part that I find a little suspect is Mr. Botting, our chair, didn't skip a heartbeat between asking me to resign and then wanting to change the bylaws to preclude alternates."
In September, Botting suggested Mattare step down after the alternate announced his campaign for county commissioner because it could "politiciz(e) this commission even further."
"Anything you do to silence people or use a procedure to keep people from having a voice who had a voice all along, it is just gonna hurt your ability to make the case for your recommendation," Mattare said.
Contrary to her fellow alternates, Zao was comfortable stepping back from a participatory role.
"I don't feel like I'm being cheated or I'm not being allowed to participate, because I have been allowed to participate," Zao said. "I don't want any legal challenges coming up because we did something out of order."
In a 6-3 vote, the OFGSC members tabled the discussion until receiving a legal opinion. Botting, Ward and Kristen Wing opposed the motion.
"It's important to me that we act according to law," Ward said.
Recent Headlines
---