NIC hosts competition for entrepreneurs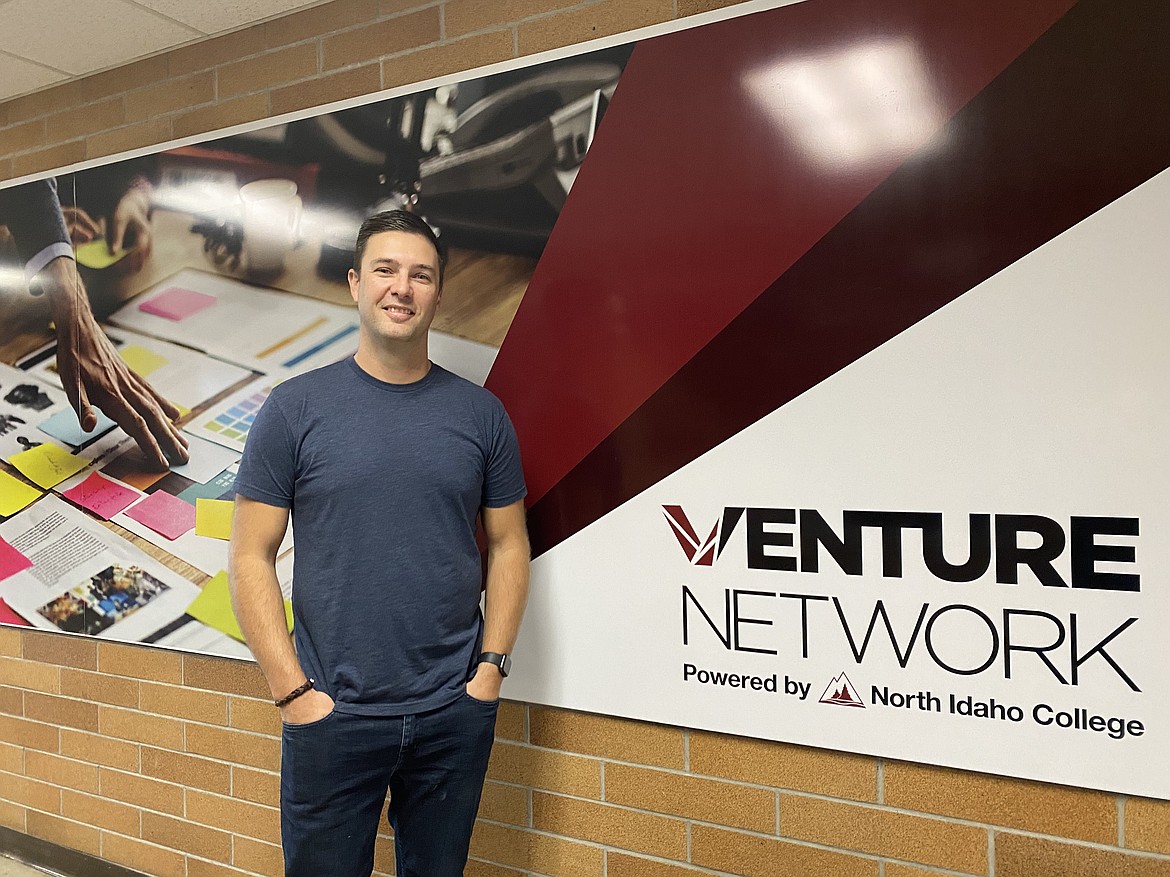 Ryan Arnold, regional director of entrepreneurship for North Idaho College has a passion for helping students take their business ideas to the next level.
ELLI GOLDMAN HILBERT/Press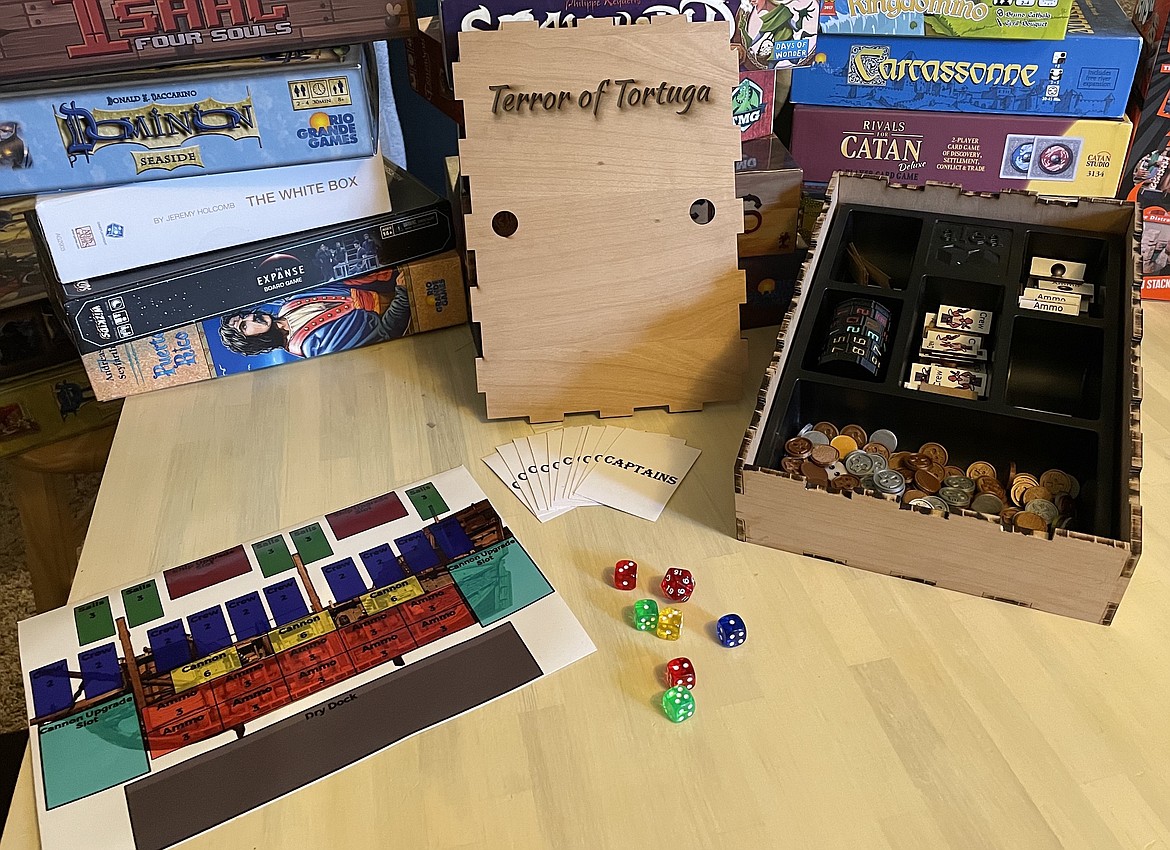 Mainframe Games' Terror of Tortuga prototype. "We made everything except the dice," said Isaac Cunnington who entered the Northwest Entrepreneurial Competition at the beginning of this year.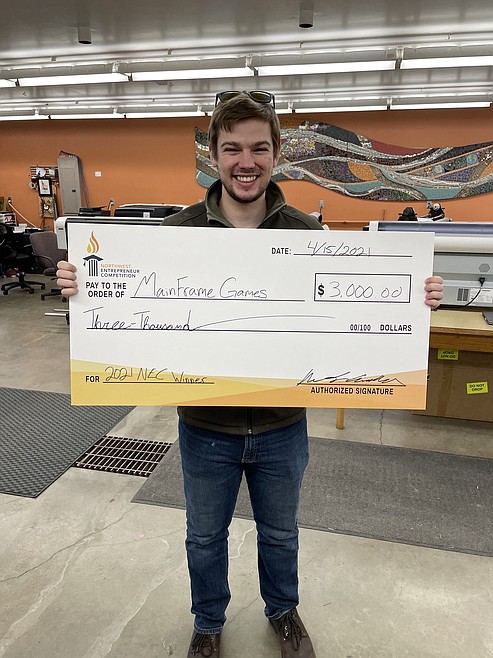 Issac Cunnington holds his "big check" from the Northwest Entrepreneurial Competition. Cunnington and friend Mikel Buffloe formed Mainframe Games and took second place in the open category early this year.
Previous
Next
by
ELLI GOLDMAN HILBERT
Staff Writer
|
October 27, 2021 1:00 AM
COEUR d'ALENE — Sometimes it takes a helping hand to get a new business idea off the ground.
Mostly, though, it takes money.
The Northwest Entrepreneur Competition, hosted by North Idaho College, is offering both tohigh school and college students.
Teams can compete in one of three categories to win some of the $44,000 in prize money that can help bring those business ideas to life.
The traditional business category is open to ideas for a small business, product or service. The technology category may bring a new technology, tech product or related idea that relies on intellectual property. The open business category invites mixed teams of students and community members to present any idea type.
"So we hope that they take the $10,000 or whatever award money they win, and invest it in their business and take it to the next step," said Ryan Arnold, North Idaho College's regional director of entrepreneurial strategy. "We want them to think about this as only one step in their journey."
The largest student entrepreneur competition in the area, the NEC typically has 60 to 100 teams from across the Washington and Idaho region and is open to those in high school or college.
With three rounds total, teams will submit a 90-second "elevator pitch" video by Feb. 13. On February 22, the top 30 teams will be announced. For round two, teams can accompany presentations with written materials and will present the 90-second pitch online to a live audience and respond to judges questions. On March 4 teams will be whittled down to nine finalists. The final round in April includes submission of an executive summary and a live five-minute investor pitch given online before the judges.
Arnold said that competitions like this one help him build programming that benefits students.
"Ideas range from lifestyle businesses to ice cream shops and welding studios to really complex ideas," Arnold said.
This will be the third year that NIC has hosted the competition and Arnold said the inter-collegiate collaborations have been great.
"We host this for NIC students, but really for all students," Arnold said. "It allows our NIC students to see what else is going on at other colleges and universities and also understand they can compete and win awards."
Though NIC is a small community college, they have a plethora of tools and resources available for students to use in developing their ideas, Arnold said.
The Gizmo makerspace is available with a variety of materials and equipment for students to utilize: 3-D printers, textile arts equipment, robotics, electronics, a pottery studio, large printers for the creation of signs and banners, welding equipment, jewelry design space and more, on the NIC campus.
"It's pretty neat to watch that and see the different things that happen," Arnold said.
Last year's competition netted North Idaho College and University of Idaho student Isaac Cunnington and friend Mikel Buffloe, who formed Mainframe Games, each $3,000.
"It's been a wild little adventure," Cunnington said.
He and Mikel had been friends for ages and are admittedly "tabletop board game nerds," Cunnington said.
They designed a board game called the Terror of Tortuga set in the 1600's "golden age of piracy." They had wanted to create a "fun" game but realized that playing it required a lot of math. Rather than simplify the design, they decided to lean into the math and wrap an educational experience for players eight to 18-years-old into the play.
Making the prototype entirely by hand, the team utilized the Gizmo makerspace.
Making everything from the tiles, game board, coins, tokens and the box it is held in, Cunnington said it was a very in-depth process. The team even found an artist, a student named Ricardo Bucci from Italy who designed the artwork for the game.
At this point the project is at a stand-still, but Cunnington did just speak with a manufacturer about moving forwards. And he has other businesses in the works.
"I've got entrepreneurial blood," Cunnington said. "I've got ideas coming out of my ears."
For Cunnington, the NEC was a "fantastic" experience.
"Ryan runs an excellent competition and we had all the resources and mentorship that we needed," he said.
Interested entrepreneurs need to submit their idea and a 90-second "elevator pitch" video at nwentrep.com. NIC will be hosting free "Prep Your Pitch!" information sessions on Dec. 8 and Jan. 12.
Arnold encourages students to compete in multiple competitions to go even further. "We've seen students win multiple competitions and end up not with ten thousand dollars, but with thirty thousand," Arnold said. "There's not many spots where you can get cash like that without taking out a loan or having equity taken from your company."
The competition is still seeking business sponsors and judges. Interested parties can inquire at Sam.koester@NIC.edu.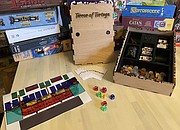 Recent Headlines
---