SCENIC IDAHO CONFERENCE FOOTBALL TIEBREAKER: Murdock sends Wallace past Lakeside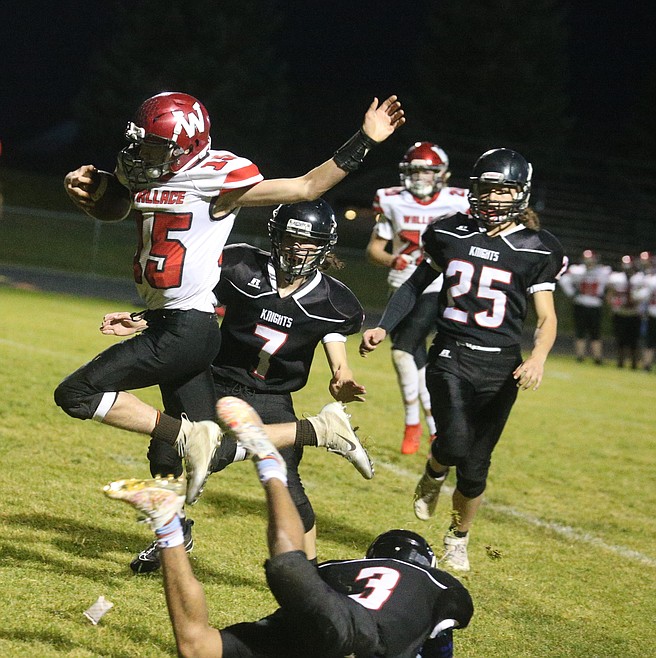 JASON ELLIOTT/Press Wallace sophomore quarterback Parker Goldade leaps over the tackle of Lakeside junior cornerback Vander Brown during the Scenic Idaho Conference tiebreaker at Post Falls High on Monday.
|
October 26, 2021 1:15 AM
By JASON ELLIOTT
Sports writer
POST FALLS — It could have gone either way, with Wallace and Lakeside separated by just two points total in two games.
On Monday, it was Wallace that just made one more play.
Senior running back Liam Murdock scored on a 6-yard touchdown run in the fourth overtime series to give the Miners a 20-14 lead. Four plays later, Wallace extended its season, forcing an incompletion on fourth down to hold off the Lakeside Knights in the Scenic Idaho Conference tiebreaker at Post Falls High.
"It felt great," Murdock said. "Working as a team and finally realizing we've got a chance at something great and put it to work."
Wallace (3-4) will face Oakley (7-1) in the opening round of the state 1A Division I playoffs. The game will be played on Friday at a site to be determined.
Lakeside finishes 3-5.
Lakeside junior wide receiver Vander Brown scored on a 25-yard run on the first play of the game.
"When that happened, I started yelling at the defensive line and defensive backs that we can't let this happen on each drive," Murdock said. "We did a better job of fixing after that first drive."
Murdock scored on a 1 yard run with both teams scoring on two-point conversions to send the game to another overtime. Brown scored again on a 25-yard touchdown pass from Tucker Sanchez, but the conversion failed. Wallace tied the game at 14-14 on a 2-yard run by Arik Wilkinson.
Brown accounted for 59 yards for Lakeside.
"Vander did a great job tonight," Dohrman said. "He's a super, dynamic athlete. He did everything we asked of him tonight. We just fell a few plays short."
Wallace forced the tiebreaker with a 42-36 win at Lakeside last Friday. Lakeside beat Wallace 56-52 in Silverton on Sept. 24.
"Both games with Lakeside were really back and forth," Wallace coach Jared Young said. "That No. 3 Vander Brown, he's a tough kid to stop. We only did it a few times tonight, but we did it when we needed to."
Wallace sophomore Parker Goldade, who normally plays at wide receiver, moved to quarterback with starting quarterback Landon Streeter out for the game.
"We had a little bit of nerves with a backup quarterback stepping in on offense," Young said. "We had to put in a few new plays so that he knew what he was doing. The kids stepped up when they needed to. He didn't let the nerves get to him and played great."
It was Wallace's first trip to the state playoffs since 2013.
"It's good for our program to get back there," Young said. Oakley's going to be a beast," Young said of Oakley. "They've been ranked either No. 1 or No. 2 all year, so we've got our work cut out for us."
Lakeside won the inaugural Scenic Idaho Conference League title last season, advancing to the playoffs for the first time since 2001.
"The boys played well," Lakeside coach Chris Dohrman said. "It really could have gone either way. It was just a matter of a play or two, and Wallace got it done today. I'm super proud of the boys. Unfortunately, it's a bitter end for our seniors, but the rest of the boys will gear up for next year. It was a good season."
Lakeside fell in a tiebreaker with Mullan/St. Regis in 2019.
"We're happy with how we've progressed in the last three years," Dohrman said. "We'll be going back down to the (Division II) North Star League, and to be honest, neither of us should be in the playoffs. Unfortunately, Wallace will have to go see a really, really tough Oakley team. They'll get an extra few days of football, but that's how it goes. It was an outstanding season."
SCORING PLAYS
LS — Vander Brown 25 run (Tucker Sanchez run)
Wall — Liam Murdock 1 run (Murdock pass from Parker Goldade)
LS — Brown 25 pass from Sanchez (run failed)
Wall — Arik Wilkinson 2 run (run failed)
Wall — Murdock 6 run (run failed)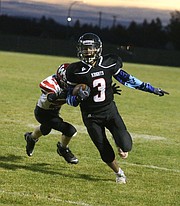 Recent Headlines
---