Get the skates out, Cd'A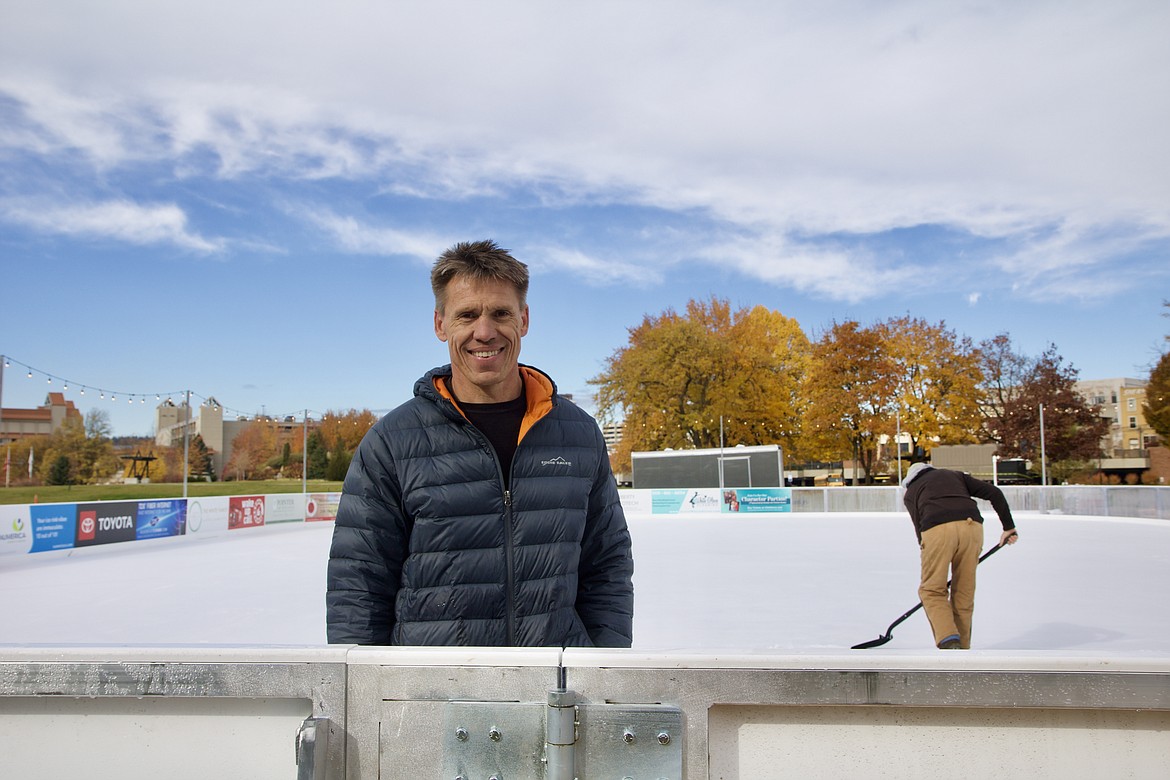 Jerome Murray, co-owner of Coeur d'Alene on Ice with his wife Andrea, works on final touches for the new ice rink in McEuen Park in downtown Coeur d'Alene on Monday. The rink opens Saturday at 10 a.m. HANNAH NEFF/Press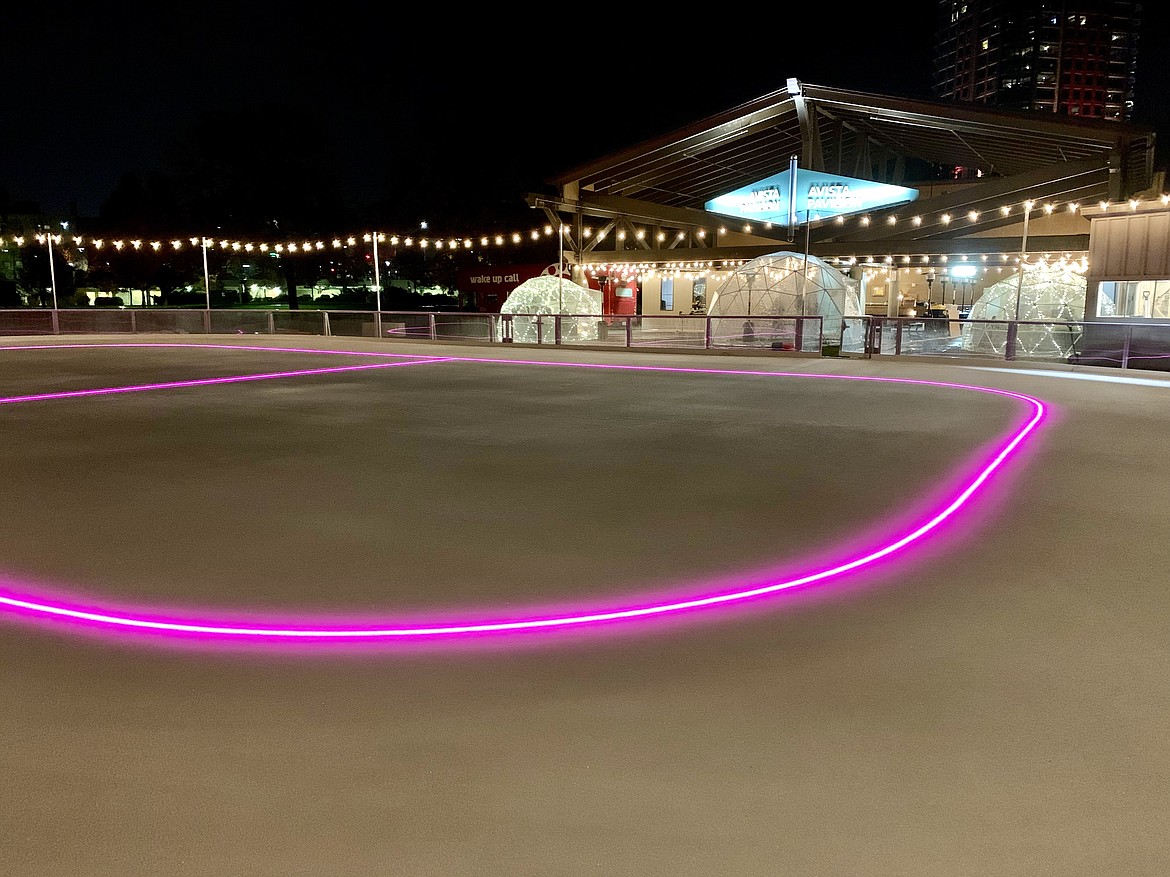 Opening at 10 a.m. Saturday, Coeur d'Alene on Ice in McEuen Park, downtown Coeur d'Alene, features under the ice lighting and heated private igloos. Photo courtesy of Jerome Murray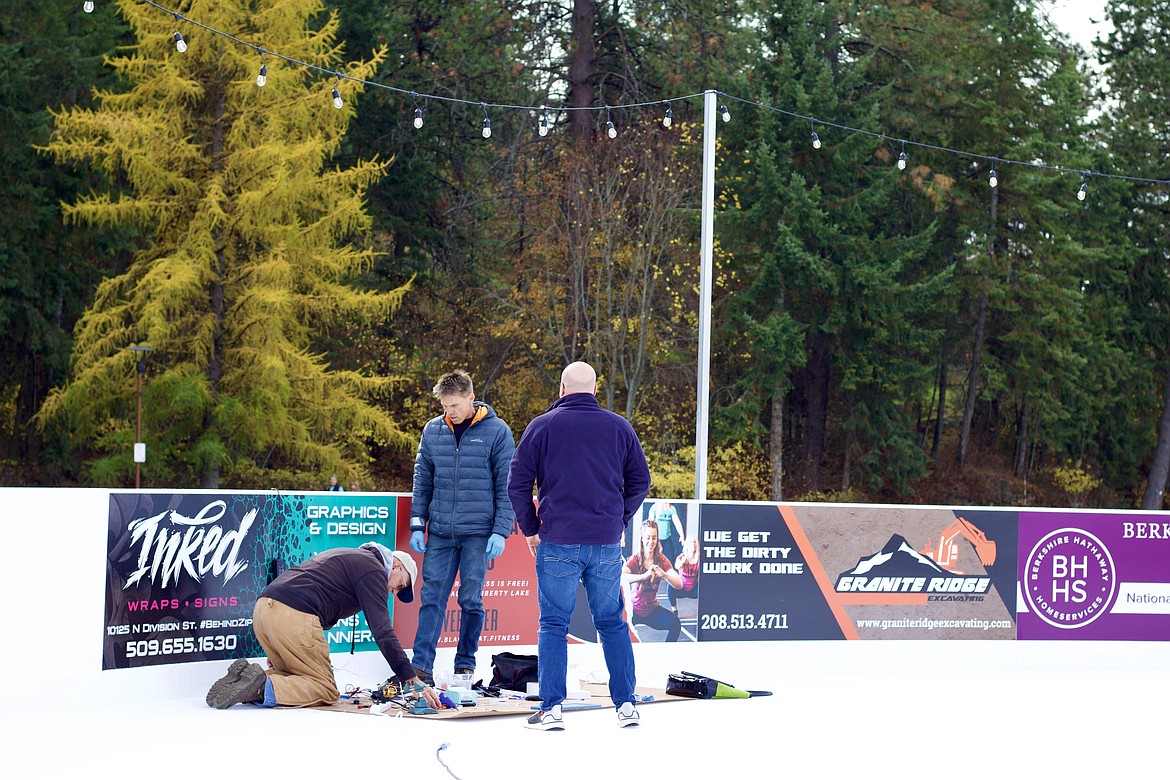 From left, Herb Thom, co-owner Jerome Murray, and Kent Layden work to install lights under the ice at the new ice skating rink, Coeur d'Alene on Ice, on Monday. The rink opens at 10 a.m. Saturday and will be open daily until Jan. 2, weather permitting. HANNAH NEFF/Press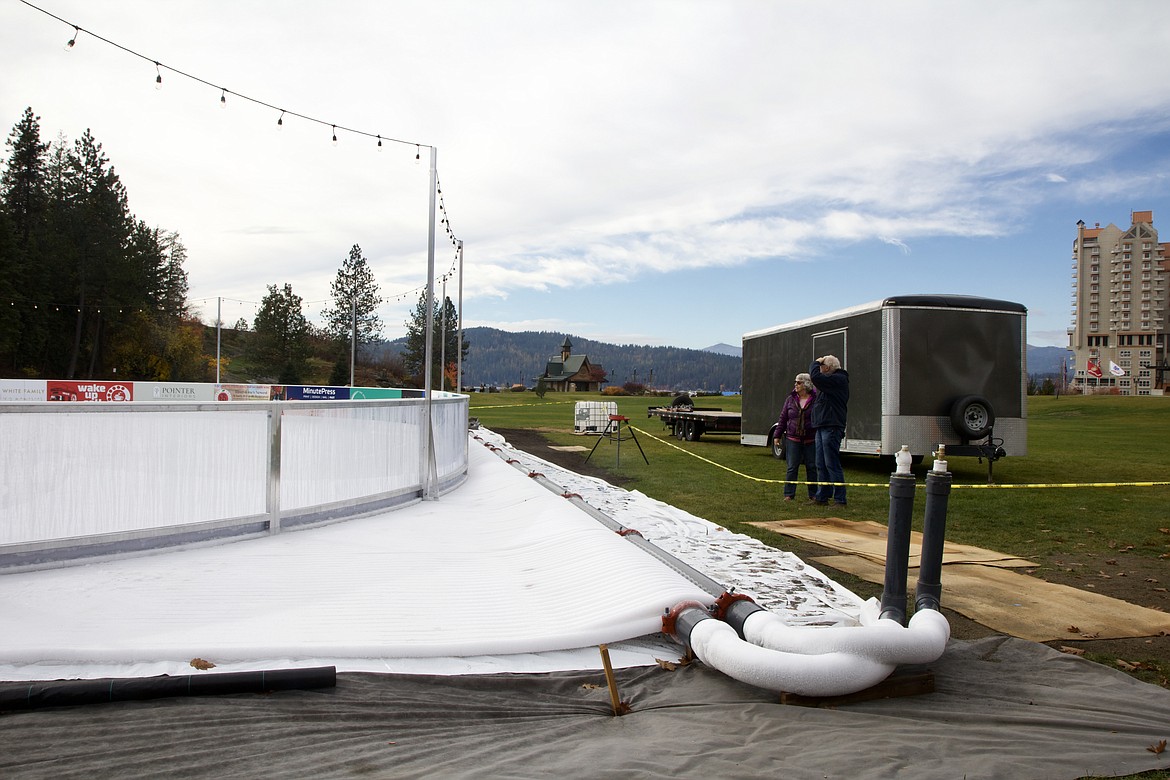 Coeur d'Alene residents including Russell and Doreen Kruger, volunteers at the Coeur d'Alene Chamber Visitors Center, stopped by McEuen Park Monday to check out the progress on the 80 by 120 foot ice skating rink, Coeur d'Alene on Ice, opening Saturday. HANNAH NEFF/Press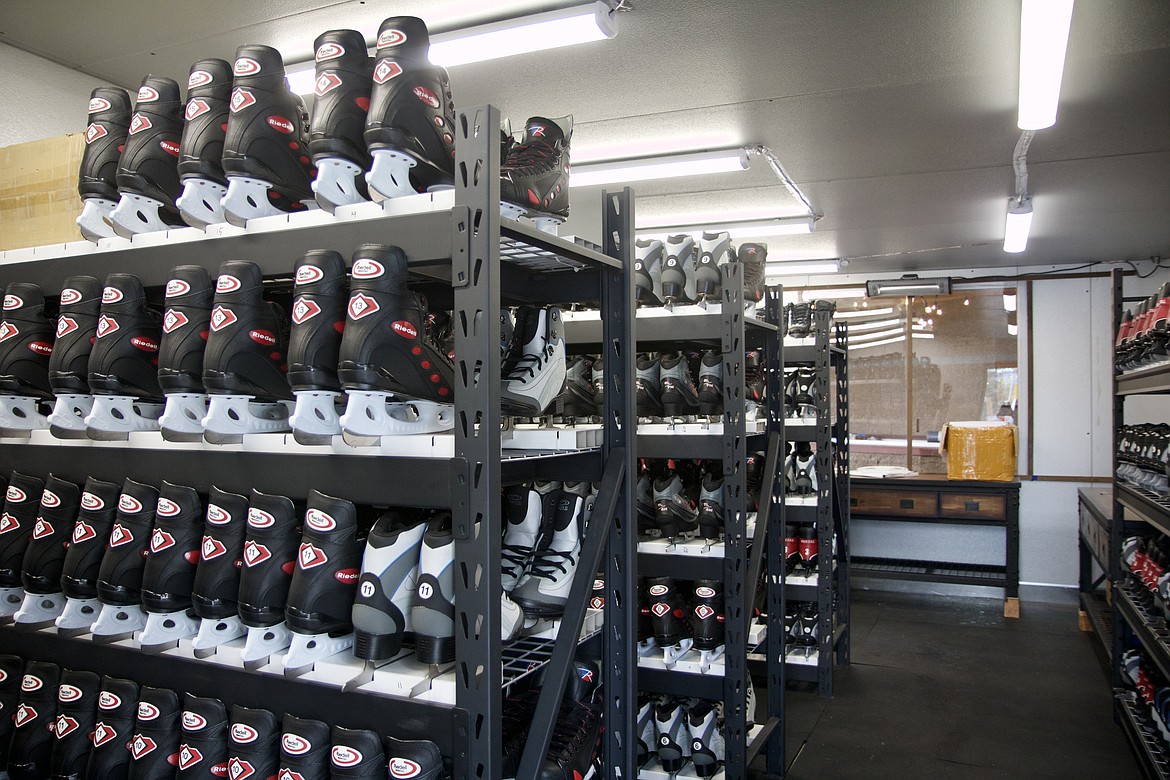 Coeur d'Alene on Ice opens on Saturday in McEuen Park with 90 minute ice skating sessions at $12 for ages 3 to 12, and $16 for ages 13 and up with rentals and lockers included. HANNAH NEFF/Press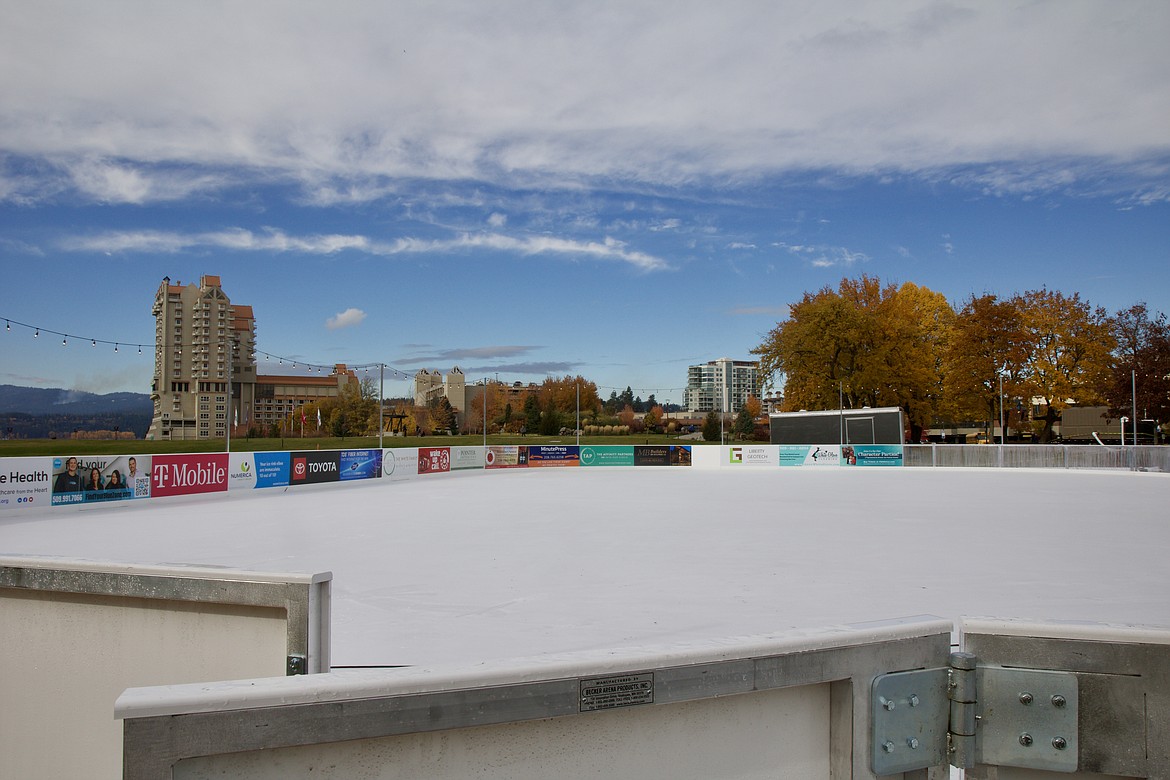 Coeur d'Alene on Ice, an 80 by 120 foot ice rink in McEuen Park, is opening at 10 a.m. on Saturday, presented by Numerica Credit Union. HANNAH NEFF/Press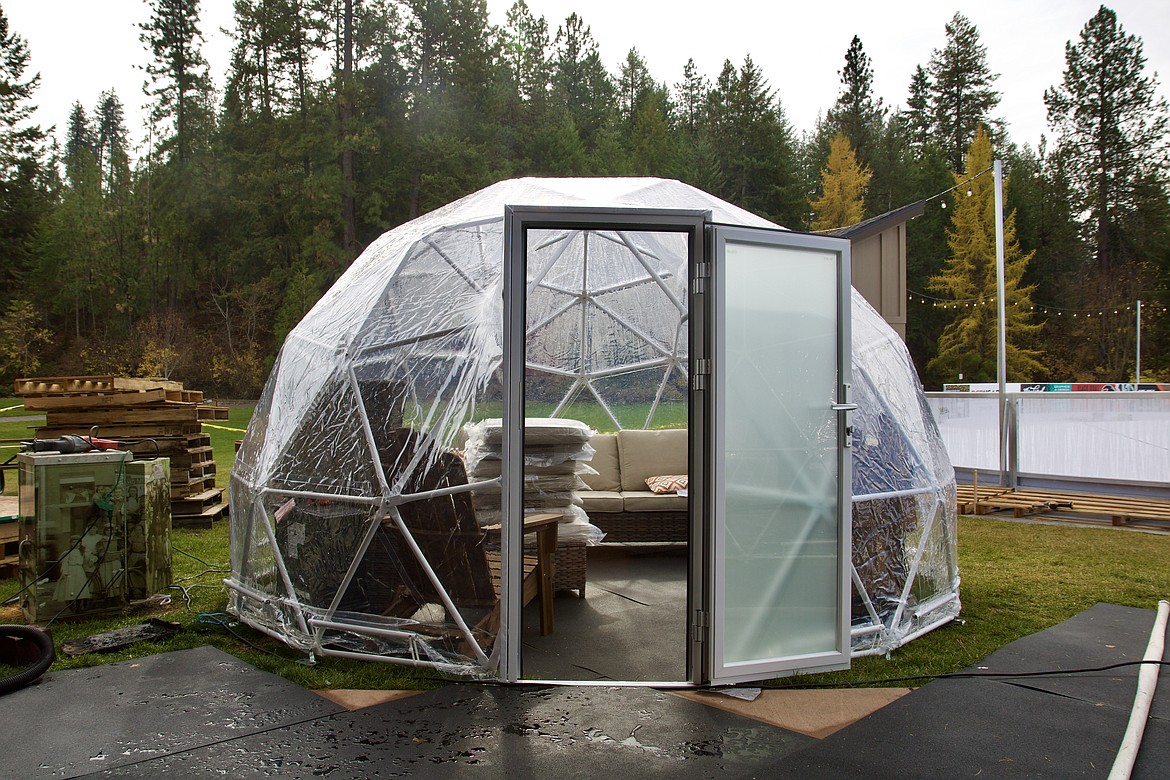 Coeur d'Alene on Ice, a new ice rink in McEuen Park opening Saturday at 10 a.m., will have Hallmark movie vibes including heated private igloos, string lights and fire pits. HANNAH NEFF/Press
Previous
Next
by
HANNAH NEFF/Staff Writer
|
October 26, 2021 1:08 AM
COEUR d'ALENE — Walk, run and bike through McEuen Park.
Oh, and add ice skating to the equation, even when it's warm and sunny out.
A new winter attraction, the 80- by 120-foot outdoor, open-air rink presented by sponsor Numerica Credit Union, opens Saturday.
"The last two weekends we've been setting up the weather's been nice and the park has been packed with people just super excited," said Jerome Murray, co-owner of the rink with wife Andrea. "We feel like it will be a hit."
Originally from Montana, Murray said he got into the ice rink business when he moved his family down to California.
"It's just a fun family business," Murray said Monday. "It's very rewarding in many ways for the community just to see people at Christmastime, having lots of family, making memories and traditions."
And now, after three years in Coeur d'Alene, Murray said they decided the town needed an ice rink.
"McEuen is kind of a showcase park and in the wintertime this also will bring people outside," said Russell Kruger of Coeur d'Alene. "If they can't go skiing or snowmobiling or that stuff, this is another activity."
Russell and Doreen Kruger, volunteers at the Coeur d'Alene Chamber Visitors Center, said they came to check out the rink after getting a lot of questions on the new attraction.
"People are interested and curious," Doreen said. "It will be a cool addition to the area and so people are excited about it."
The Krugers said they'll probably be bringing the kids and grandkids.
"There's no doubt it's going to be a blast," Andrea Murray said. "Whether you're getting together for a work event, romantic date night or family fun day, the rink will be a social hub for everyone."
Coeur d'Alene on Ice will feature Hallmark movie vibes with string lights, fire pits, s'mores, wake-up call coffee, a concessions stand, Christmas music, a DJ booth, private heated igloos, party spaces and more.
Jerome Murray said something that makes them unique for the area are lights under the ice.
Leading up to the grand opening, Numerica will have special giveaways on social media as well as activities for opening night.
"Numerica saw this as an opportunity to bring joy to families in our community," said Carla Cicero, Numerica president and CEO. "The ice rink is bringing something new and fun that families can look forward to."
Skate sessions are 90 minutes at $12 for ages 3 to 12 and $16 for ages 13 and older, with rentals and lockers included. There are also opportunities for lessons, private parties and a frequent skater pass.
There will also be themed events such as the Halloween skate this weekend with costumes encouraged.
The rink will open from 10 a.m. to 10 p.m. on Saturday and Sunday for opening weekend. After that, the rink is open daily until Jan. 2 if weather permits, with varying hours.
For hours or tickets, visit cdaonice.com. Tickets can also be purchased on site.
Recent Headlines
---