Green thumbs-up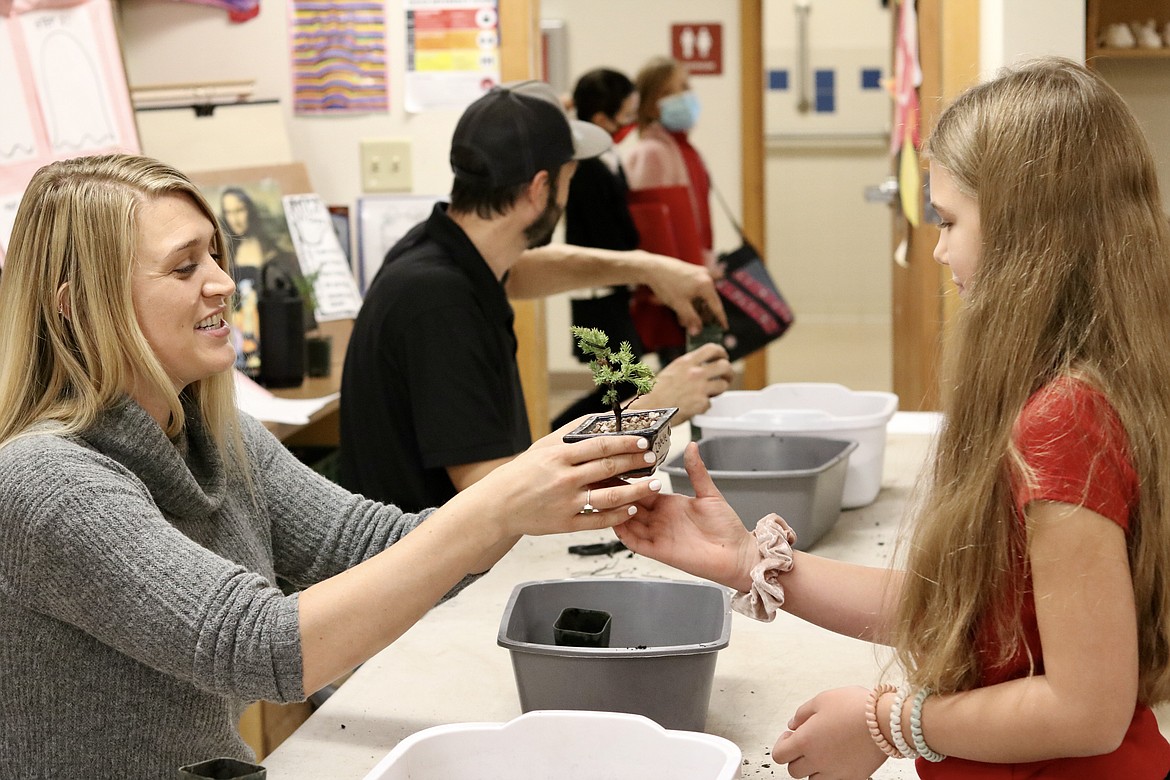 Gray to Green Nursery co-owner Jordan Gray hands fifth-grader Isabelle Schlotthauer her potted bonsai tree at Sorensen Magnet School of the Arts and Humanities in Coeur d'Alene on Thursday. All 315 students at the elementary school brought home their own styled bonsai tree through the Artists-in-Residence program. HANNAH NEFF/Press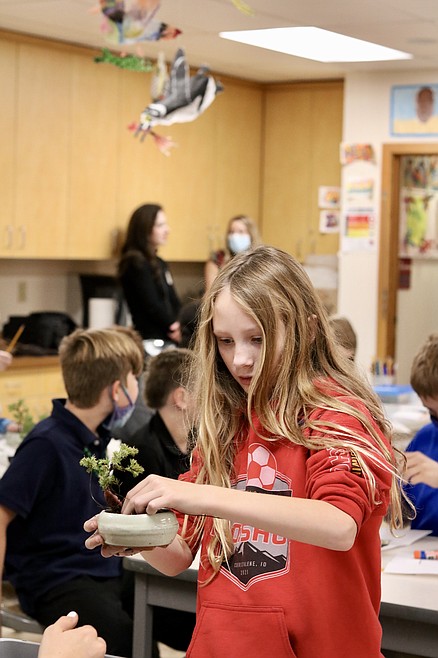 Zoey Lemmon, a fifth-grader at Sorensen Magnet School of the Arts and Humanities in Coeur d'Alene, eyes her freshly potted bonsai tree on Thursday after learning how to style and care for the plant from Robert and Jordan Gray of Gray to Green Nursery in Cougar Gulch. HANNAH NEFF/Press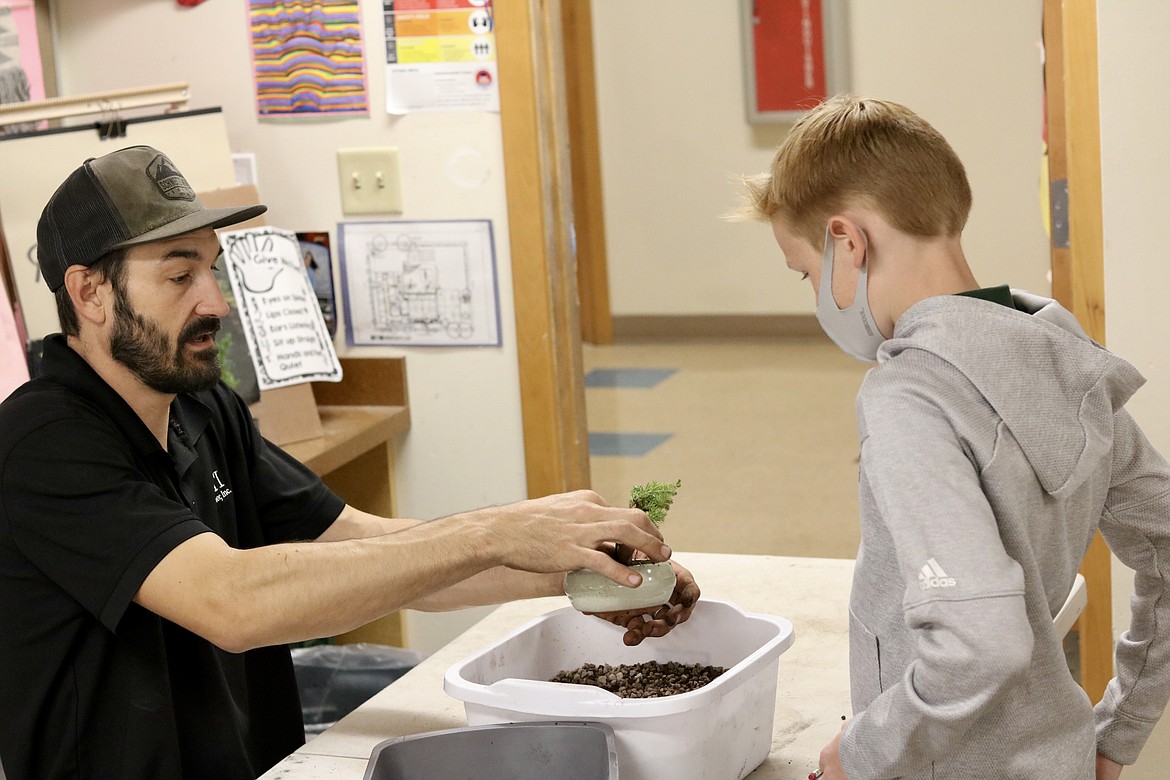 Gray to Green Nursery co-owner Robert Gray helps fifth-grader Jameson Meyer pot his bonsai tree at Sorensen Magnet School of the Arts and Humanities in Coeur d'Alene on Thursday. HANNAH NEFF/Press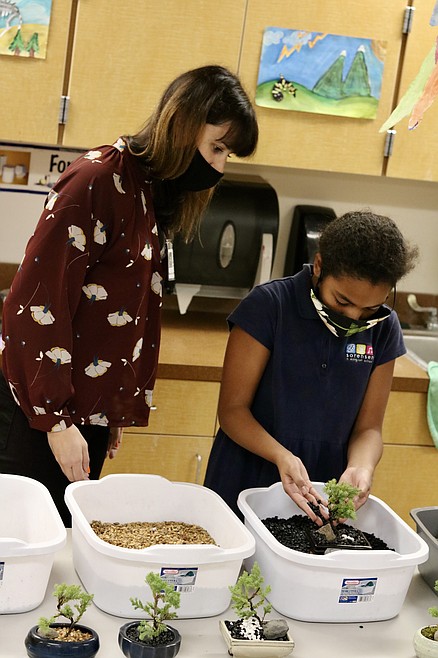 Fifth-grader Sade Hoston touches off her finished bonsai project with rock ground cover under the supervision of Megan O'Dowd, a parent volunteer, at Sorensen Magnet School of the Arts and Humanities in Coeur d'Alene on Thursday. HANNAH NEFF/Press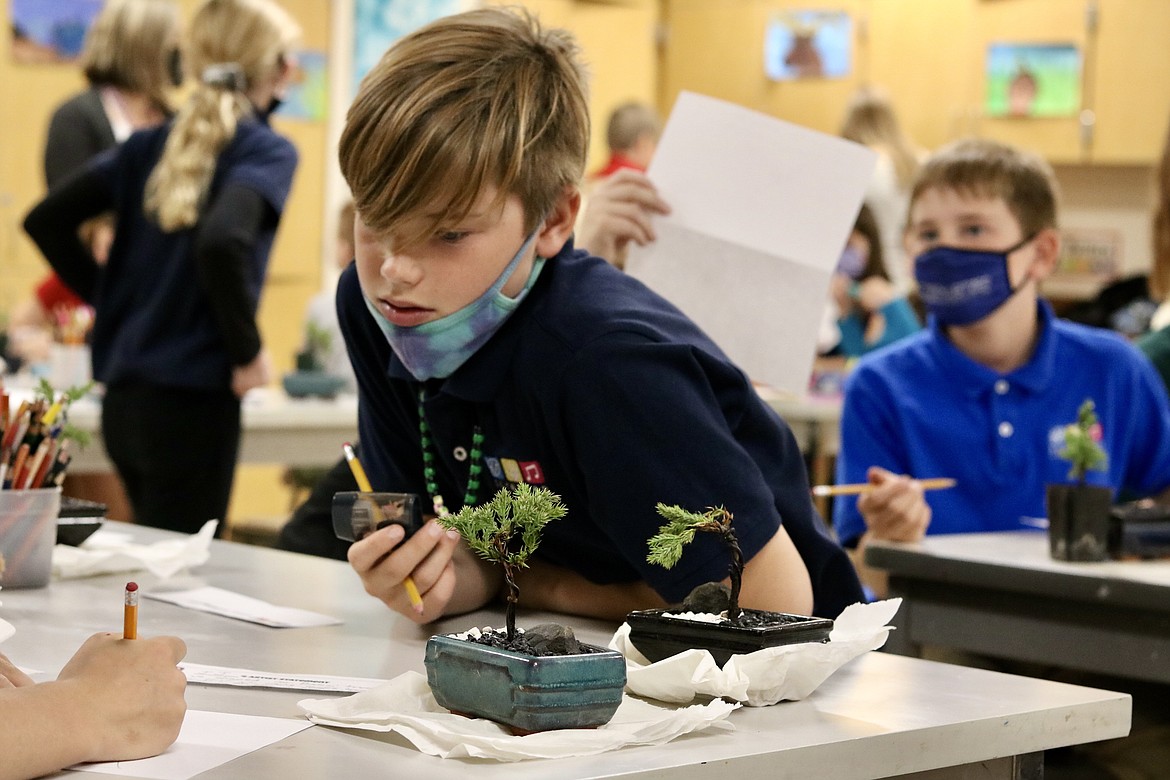 Landon Smith, a fifth-grader at Sorensen Magnet School of the Arts and Humanities in Coeur d'Alene, watches a classmate finish writing his artist's statement after they styled their bonsai trees on Thursday. HANNAH NEFF/Press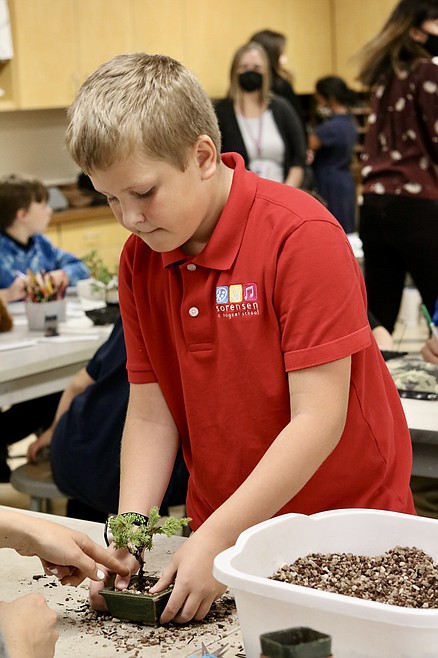 Fifth-grader Jaxon Haynie pots his bonsai tree under the supervision of Gray to Green Nursery co-owner Jordan Gray at Sorensen Magnet School of the Arts and Humanities in Coeur d'Alene on Thursday. HANNAH NEFF/Press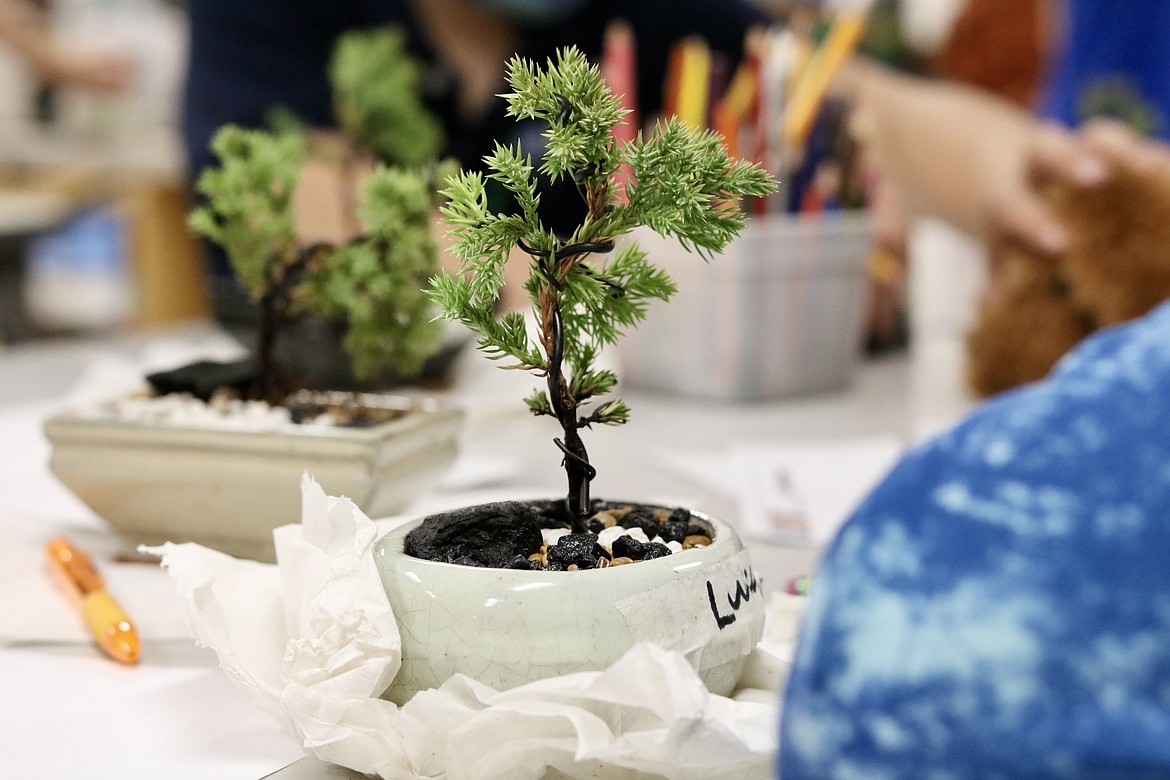 Gray to Green Nursery owners Robert and Jordan Gray taught 315 students at Sorensen Magnet School of the Arts and Humanities in Coeur d'Alene how to style and care for bonsai trees through the school's Artists-in-Residence program. HANNAH NEFF/Press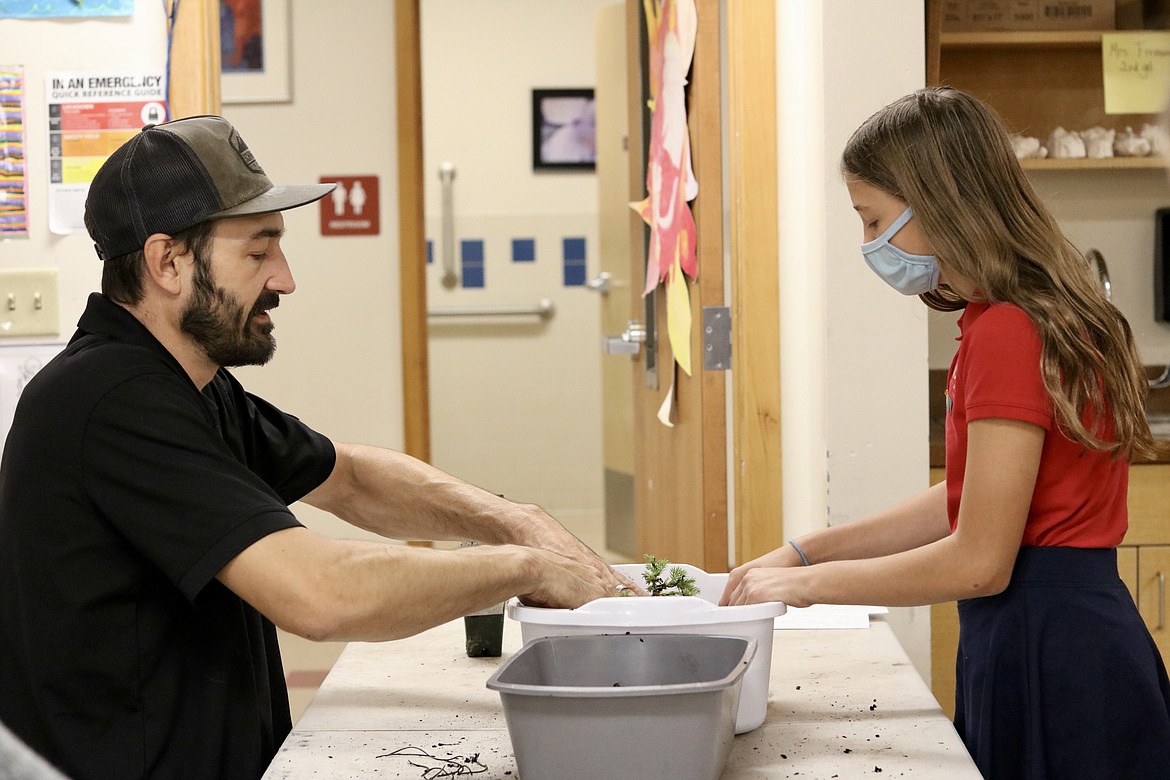 Gray to Green Nursery co-owner Robert Gray helps fifth-grade student Millie Meyer pot her bonsai tree at Sorensen Magnet School of the Arts and Humanities in Coeur d'Alene on Thursday. HANNAH NEFF/Press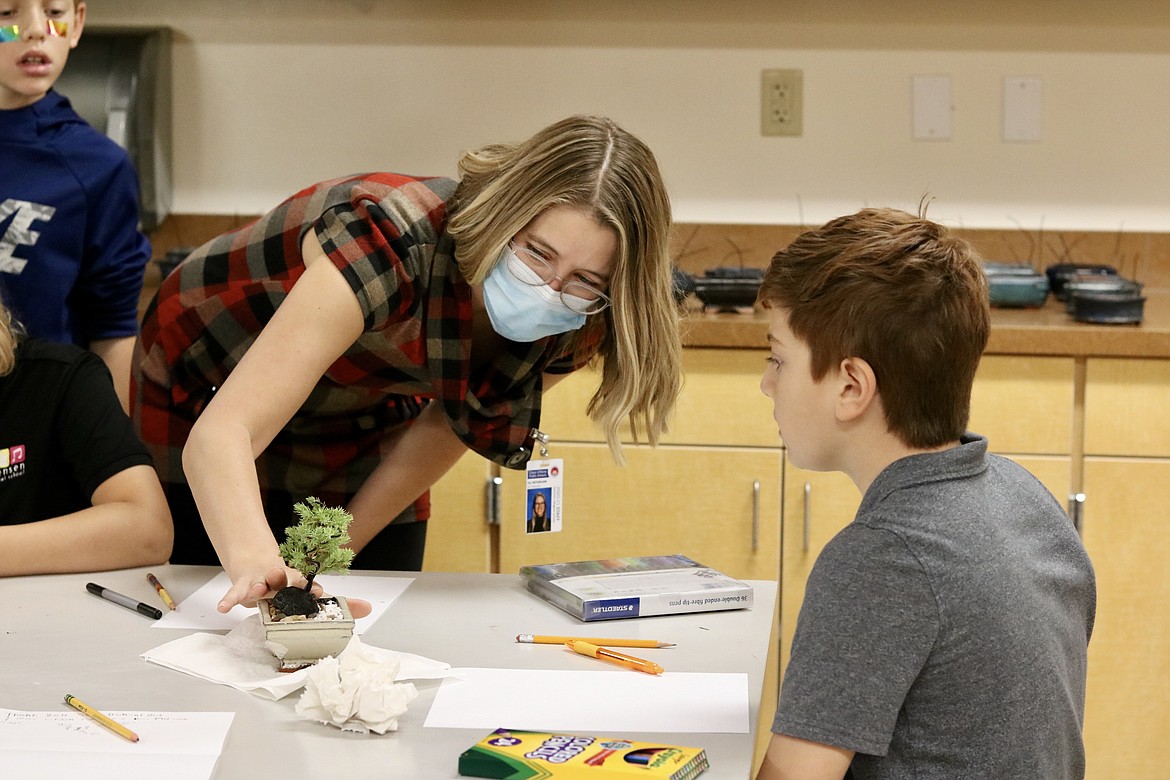 Sorensen Magnet School of the Arts and Humanities art director Jill McFarlane admires fifth-grader Sawyer Deck's bonsai tree styled during class on Thursday. HANNAH NEFF/Press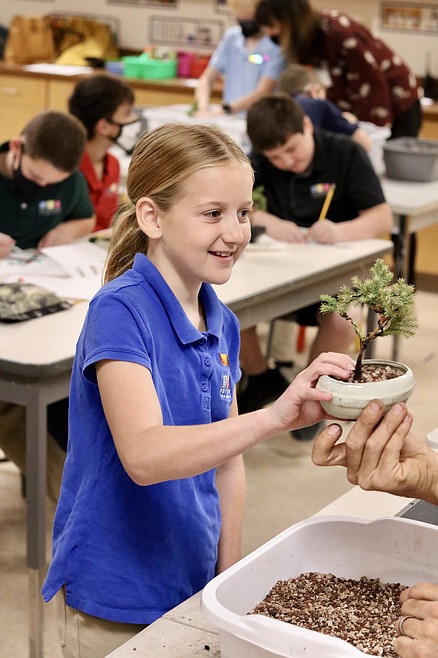 Fifth-grader Miriam Pratt smiles as she takes her newly potted bonsai tree to the next station to apply the rock ground cover on Thursday at Sorensen Magnet School of the Arts and Humanities in Coeur d'Alene. HANNAH NEFF/Press
Previous
Next
by
HANNAH NEFF/Press
|
October 25, 2021 1:08 AM
COEUR d'ALENE — Sorensen students gave a green thumbs-up to their latest project: learning the art of shaping bonsai.
"It was really fun and I really liked it," said fifth-grader Payton Brennan. "I hope I get to do it again soon."
All 315 students at Sorensen Magnet School of the Arts and Humanities in Coeur d'Alene styled a bonsai tree through the school's Artists-in-Residence program.
"It's just beautiful to see the different work that they're doing and how they're putting their own passion into their tree," artist Jordan Gray said. "They're really passionate about taking care of their trees and to us, that means everything."
Gray to Green Nursery owners Robert and Jordan Gray from Cougar Gulch spent two weeks working with children of each grade level to pot and shape their personal, miniature Juniper trees.
"This was an amazing experience, really just seeing all the smiles on the kids' faces and getting to teach them about my passion," Robert Gray said. "We're just honored to have been offered the opportunity to do it."
The school's art director, Jill McFarlane, said that through the program, the school has three local artists come in each year to work with the kids.
"I love how the Artists-in-Residence program really gives them exposure to a lot of different art forms and everything so that later they have these experiences to kind of fall back on," McFarlane said. "These artists have been amazing and they are really engaged in the community."
McFarlane said the bonsai project was unique. She noted the kids could potentially have their trees for the rest of their lives.
"It's really amazing to see how the kids just have this connection with it, because it's living and it's their art," McFarlane said. "They've never done anything like this."
Fifth-grader Millie Meyer said she enjoyed styling her tree and learning about how to care for it.
"It was definitely really fun," Millie said. "I really liked that, because I like nature and hiking."
The kids went through an assembly line, using wire to hold the tree's shape, then potting the tree and arranging the rock ground cover.
"It's been amazing," Jordan Gray said. "These kids are really, really creative and I love seeing the different styles they've done."
The Grays started their business four years ago, traveling all around the Pacific Northwest to collect saplings and then raising them at their home nursery and shaping them.
"I just always loved them," Robert said. "I think I saw it in 'The Karate Kid' movie originally."
For the past 15 years, he's been trimming bonsai trees, catching the bug in college when his stepbrother got a tree.
"He took me to the nursery where he got it and I just went crazy," Robert said. "Every week I was getting a new tree and before I knew it I had 40 trees."
Robert said he enjoyed coming home from school or work and trimming the trees, and found it was a good way to relieve stress.
As the business has grown, the Grays said they've been active in the community, setting up a booth at about five farmers markets this summer. Those included the Downtown Farmers Market in Coeur d'Alene on Wednesday evenings and Kootenai County Farmers Market on Saturday mornings in Hayden.
"Just like people, every tree is unique and different in its own way and I'm a collector at heart, so that's really what kind of got me into wanting to collect all the different styles and different types of trees," Robert said. "Showing them off to friends and family is just a really great way to share with people, to connect with people, and also for me, to get away from all the craziness around the world."
Recent Headlines
---