THE CHEAP SEATS with STEVE CAMERON: A couple of unhappy endings, but at least some hope for our area teams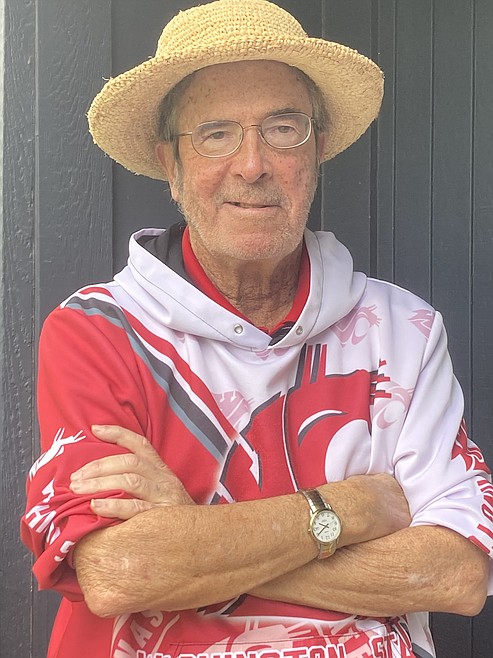 |
October 25, 2021 1:10 AM
My partner Melissa is a fan of happy endings.
She rarely watches a movie or reads a book unless she's guaranteed an HEA (happily ever after).
So …
Our sports weekend wasn't for her.
Washington State and its makeshift coaching staff lost to BYU 21-19 because of a bumbled PAT.
Then, the Kraken opened their spectacular Climate Pledge Arena on Saturday night by giving up a 2-1 lead with just over seven minutes left, losing 4-2 to Vancouver.
No happy endings, although …
Both Wazzu and the Kraken did do plenty of things you'd have to call encouraging.
The Cougars didn't show any signs of confusion with the departure of Nick Rolovich and subsequent elevation of defensive coordinator Jake Dickert to interim head coach.
Two new offensive assistants – Dan Morrison (quarterbacks) and Dennis McKnight (offensive line) – arrived too late in the week to work with individual players, but they were on the sidelines to help keep things smooth.
THE COUGS probably should have gotten to overtime, with a chance to win their fourth straight game.
True, they had a rough time trying to tackle BYU's Tyler Allgeier (32 carries for 191 yards), college football's answer to NFL steamroller Derrick Henry.
But it still came down to one critical mistake, and maybe a poor call as a result of it.
Holder Nick Haberer fumbled the snap after the second of Max Borghi's three touchdowns, then proved he's no passer when trying to heave the ball to kicker Dean Janikowski.
That eventually led to WSU needing a two-point conversion after a fourth-quarter drive that cut the deficit to 21-19.
And here, perhaps, came the one coaching goof …
The Cougs tried a reverse to tight end Lincoln Victor, who theoretically could have run the ball in if he found the space – or passed it if he were shut down.
It was a weird call near the end zone, where you find defenders bunched up everywhere, and Victor had zero chance of doing anything good.
Faced with trouble everywhere, eventually he threw a harmless pass to no one, which left WSU needing to stop BYU for one more chance.
It was hopeless, as Allgeier plowed through a tired defense to close out the game.
The verdict…
"We lost to a good team," said Wazzu offensive tackle Abe Lucas.
"People thought we'd roll over and die, but we didn't roll over."
Nope.
It was just a good game that ended the wrong way.
AS FOR the Kraken, well…
Everything was spectacular, except the final score.
The crowd of 17,151 at gorgeous Climate Pledge Arena absolutely rocked the house, and the Kraken spent large portions of the game on top of Vancouver.
In fact, the Canucks went 16 minutes without a shot on goal during a stretch that extended into the third period.
Seattle grabbed a 2-1 lead on captain Mark Giordano's wrister off a slick pass from Jared McCann, and seemed certain to increase the advantage.
Yanni Gourde beat everyone to Canuck goalie Thatcher Demko's doorstep, forced a great save and then hit the crossbar with his own rebound.
As it happened, Gourde was wired for ESPN's game production — and when he reached the bench, the Kraken's top-line center seemed baffled.
"How did that not go in?" he asked.
However it happened, that near-miss turned out to flip the result.
BO HORVAT scored his second goal for Vancouver on a power play tap-in, Conor Garland got a lucky bounce that allowed him to skate in alone and blast a slap shot past Philipp Grubauer, and the Canucks wrapped it up with an empty net goal at the finish.
The mildly frustrating thing is that the Kraken, now 1-4-1, have had a chance to win all but one game (a blowout at Philly), but have struggled to get over the hump.
"It's disappointing," said defenseman Vince Dunn, who scored the first goal in the sparkling new arena.
"It's a tough league to not keep the gas on for 60 minutes. A lot of these games, we've given ourselves a really good chance to win. But it's not good enough. We have to find a way to close things out."
Yep.
And yet, the fans are screaming and buying a zillion dollars worth of merchandise, no matter what.
The NHL has officially come to the Northwest.
Email: scameron@cdapress.com
Steve Cameron's "Cheap Seats" columns appear in The Press on Mondays, Wednesdays and Fridays.
He also writes Zags Tracker, a commentary on Gonzaga basketball which is published monthly during the regular season.
Recent Headlines
---