State 4A boys soccer championship: Bulldogs runners-up in first title game since 2012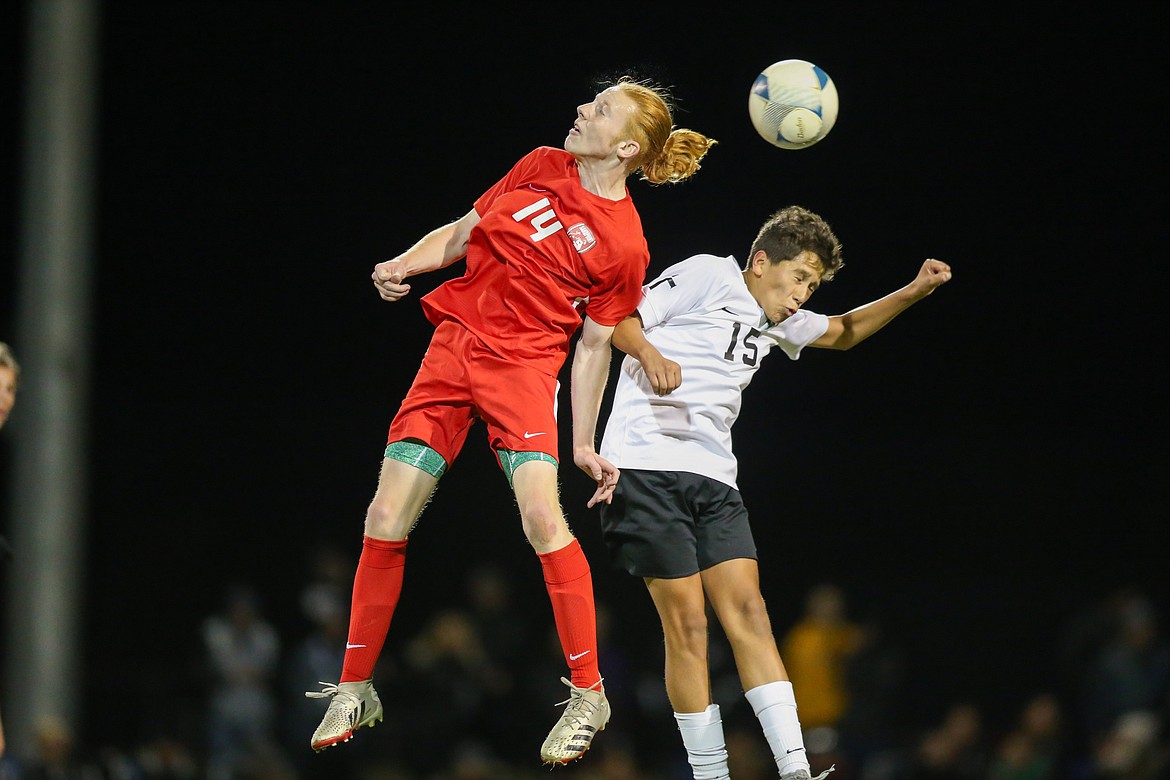 Photo by JASON DUCHOW PHOTOGRAPHY Sandpoint's Canyon Nash, left, rises up for a header over Bishop Kelly's Allan Hurta during Saturday's 4A state title game at Middleton High.
|
October 24, 2021 1:04 AM
MIDDLETON — The Bulldogs won't be getting a police escort over the Long Bridge on their journey home, but they put the rest of the state on notice that Sandpoint boys soccer has regained its state title contending form.
The Bulldogs fell to Bishop Kelly 3-1 in the 4A state championship game on Saturday night at Middleton High and even in defeat, they made a statement.
"This year definitely put Sandpoint back in the conversation," third-year Bulldogs coach Tanner French said.
Sandpoint was seeking its ninth state title since the Idaho High School Activities Association began sanctioning the tournament in 2000. French said this loss stings and it will for some time, but his players shouldn't hang their heads because they helped return the program to state relevancy.
"Obviously, it's a disappointing result no matter how you look at it," he said, "but I think the boys need to understand what they accomplished this season and it's hard to do that right now … Two weeks from now they'll remember the positives."
It wasn't the trophy they were aiming for, but the Bulldogs added a runner-up trophy to its extensive collection of state hardware. It's Sandpoint's first trophy at state since 2012 when the Bulldogs won their last state title.
Last fall, Sandpoint went 0-2 at state.
"It's not so much about the trophy because at this point we made it in my mind," French said. "A year ago to now, I mean it's pretty remarkable. A couple of these guys really overcame barriers in their lives to get to this stage."
Bishop Kelly was on the attack early and all that pressure paid off in the 18th minute when the Knights headed in a corner kick to take a 1-0 lead. Bishop Kelly was the aggressor nearly the entire first half, and rang a pair of shots off the post and one off the crossbar.
Senior Keyan Strock had a solid strike on net in the opening half turned away by the Knights' keeper.
Bishop Kelly's lead swelled to 3-0 early in the second half. In the 46th minute, a shot by Shawn Cabus from Bishop Kelly deflected off a Sandpoint defender and into the back of the net for an own goal. And just a few moments later, Cabus created some space and sent a strike past junior goalkeeper Roman Jiles to make it 3-0.
However, the Bulldogs didn't give in and after several dangerous chances, they finally converted in the 66th minute. Senior Nolan Angell sent a cross into the box and senior Evan Darling buried a header to the back of the net to get Sandpoint on the board.
The Bulldogs kept pushing forward until the final whistle, but it wasn't enough to dig out of the deficit.

"We fought back and actually made it a game, so I'm proud of them," French said.
Bishop Kelly is a talented team, French said, and they have a lot of speed up-front.
"We played on a bigger field and I thought that would work to our advantage, but I think it was one of those games where the result of a tackle just seemed to fall their way. I thought they worked harder than us."
The Knights outshot Sandpoint 20-13 to claim their first state title in the IHSAA era. The Bulldogs played without two starters — sophomore Jett Longanecker and junior Randy Lane — who both got injured in the state opener against Canyon Ridge of Twin Falls. Strock, who didn't play in the semifinal victory over Hillcrest, was limited to about 20 minutes in the state final.
This was Sandpoint's 11th appearance in the state championship game and first since 2012. French said his players may have been overwhelmed by the atmosphere of Saturday's match.
"It almost seemed like too big of a stage today, and rightfully so," he said. "It was a high-energy environment and when the boys have inexperience, this is how they gain it, they have to live it."
Sandpoint finishes 10-5-0. French, who won a pair of state titles at SHS as a player in 2006 and 2008, said this was an unfortunate ending to the season, but getting to play in a state title game is a special experience that these boys will remember for the rest of their lives. And he certainly won't forget this team.
"To fight as hard they did throughout the year, it's pretty incredible," he said.
First half — 1, BK, Landan Schweiger (Shawn Cabus), 18:00. Second half — 2, BK, own goal, 46:00. 3, BK, Cabus (unassisted), 48:00. 4, Spt, Evan Darling (Nolan Angell), 66:00.
Shots on goal — BK 20, Spt 13.
Saves — BK, Justin McGrew 10; Spt, Roman Jiles 12.
Recent Headlines
---