Cd'A schools hitting capacity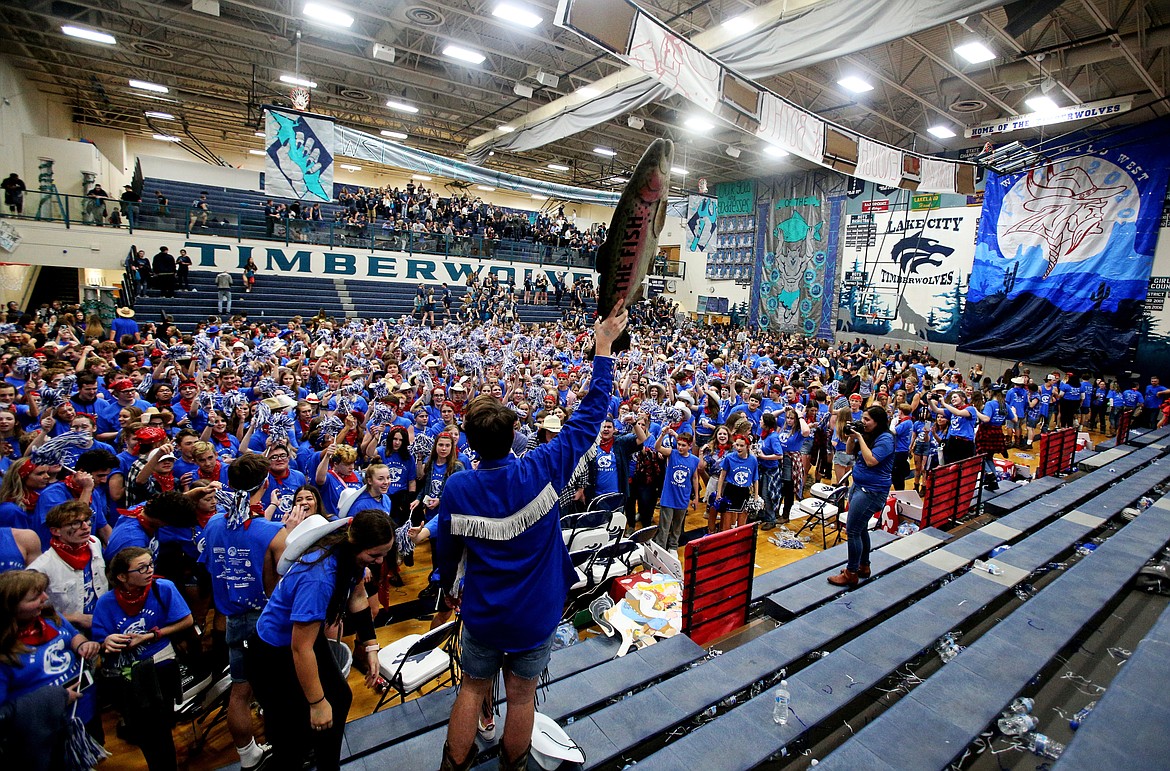 LOREN BENOIT/Press Trevor Drummond raises The Fish after the judges announced Coeur d'Alene High School as the winner for most spirit at Fight for the Fish at Lake City High School.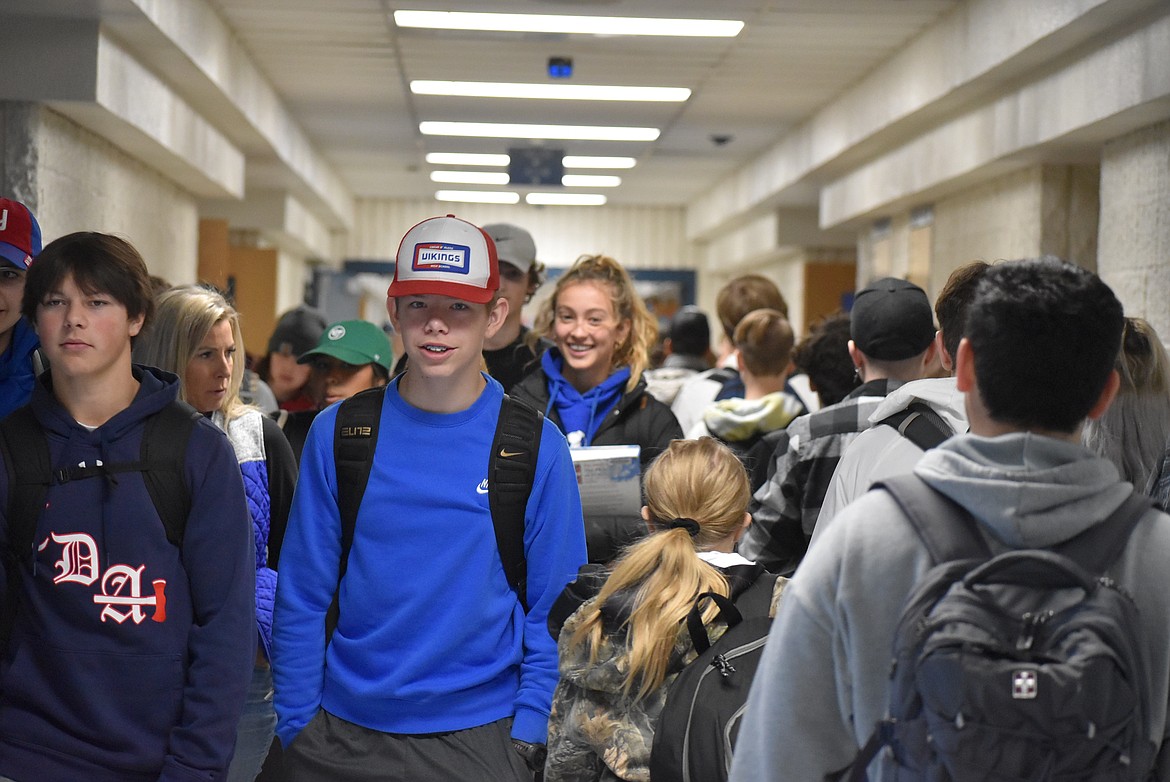 Coeur d'Alene High School students flood the hallway during a passing period on Friday. Photo courtesy Coeur d'Alene School District.
Previous
Next
by
MADISON HARDY
Staff Writer
|
October 24, 2021 1:06 AM
Coeur d'Alene public schools must plan for expansion as enrollment rates rebound and regional growth pushes several facilities over capacity.
The Coeur d'Alene School District had nearly 11,000 students enrolled in 2020. Now, 18 months and one ongoing pandemic later, Director of Communications Scott Maben said there are 10,145.
"We're still down somewhere between 700 or 800 students from where we were two years ago," Maben said. "That has provided maybe a little bit of relief if you're thinking about school capacity and crowding."
Maben said most of the decline occurred in elementary schools. But in the months that followed, district secondary school enrollment has rebounded considerably.
Two years ago, a committee developed the CDASD 2020-2030 Long Range Facilities Plan. The report found that 10 of the district's 18 schools were at or over 100% capacity.
Half the elementary schools ranged from 100% to 129% capacity in 2019, and the committee predicted one facility would hit 192.7% capacity by 2030.
Two of the three middle schools, Woodland and Lakes, were also over 100% capacity.
"When our schools are at or over capacity, it limits the ability for teachers to spend one-on-one time with kids and engage on a personal level," Director of Operations Jeff Voeller said. "When students feel known in the classroom, they are better able to engage and become better learners."
Consequently, the Long Range Planning Committee recommended the immediate construction of a new elementary school and middle school.
"We were quickly getting to the point where we might need to secure a bond to finance another elementary school," Maben said. "Especially in the faster growing western and northwestern edge of the district where all the housing construction is going on."
Maben said Woodland Middle School is over its 740 student capacity. Today, there are 894 children enrolled at Woodland.
Capacity concerns are also knocking at high school doors. In 2019, Coeur d'Alene High School reported its enrollment was at 92% capacity. Now CHS is at 103%, with a total of 1,609 students. CDASD expanded several campuses, including CHS and Lake City High School, through a $35.5 million bond in March 2017.
Despite the bond measure adding 10 classrooms to LCHS, that high school is also near 100% capacity. As of October, Maben said the school has 1,585 students enrolled, just five fewer than its 1,590 limit.
In the late 1980s and early 1990s, the district implemented "split-shift" school periods, where a group of students attended early morning classes while another had courses from afternoon into evening.
"I don't think anyone wants to entertain returning to that kind of model," Maben said. "It is tough on students, teachers, and families."
Maben said the most significant factor impacting school enrollment is a wave of new families moving into North Idaho during COVID-19.
"Two years ago, we seriously thought we needed another new elementary school, and now I think that is on the back burner," he said. "A new middle school is certainly needed, and possibly reconsidering what we can do at a high school level."
While expanding the CHS and LCHS campuses is one possibility, another could be constructing a small, specialized high school, Voeller said. CDASD already has land acquisitions that could hold a future elementary, middle or high school, Maben said.
"Maybe the school could have a focus on Science Technology Engineering and Math (STEM), or maybe its focus is something different," Voeller said. "We would go to the community and ask what they would like to see their kids have."
In Idaho, school districts have three main ways to finance the construction and upkeep of facilities: School Plant Facility Levies, bonds, and maintenance and operation levies. All measures require voter approval.
Maintenance and operation levies, better known as supplemental levies, are frequently used by the distric. This year CDASD passed a $20 million two-year levy to fund almost 25% of the district's budget. The money pays for extracurricular activities, technology, the purchase of new school buses, and staff salaries. It does not, however, assist in capital projects, Voeller said.
Bonds and SPFLs allow the district to levy a set amount of property taxes specifically designed to finance capital projects.
According to the facilities plan, the state provides less than 1% of the operating budget for maintenance costs and "nothing for construction costs."
"Therefore, the District relies solely on the support of local taxpayers for construction projects and maintenance of buildings," the plan states.
Building a new school is no small feat. According to the plan, the cost of an elementary facility is about $16.6 million, and a middle school is upward of $28 million.
Through the Regional Housing and Growth Issues Partnership schools subcommittee, Voeller and other officials are looking for ways to ease taxpayers' burden. One option, he said, is to collect impact fees from property developers.
Idaho law prohibits schools from collecting impact fees to offset the cost of new growth. However, Coeur d'Alene Rep. Jim Addis said lawmakers are discussing legislation to allow school impact fees.
"I think it's entirely reasonable to expect new growth in a community to pay for as much of that new growth as possible," Addis said. "I haven't spoken to anyone who doesn't think that's a logical pursuit."
If implemented, Addis said, impact fees need to be fair and based in fact so they don't "target or impede development."
Voeller said developers who have met with the subcommittee expressed support for reasonable impact fees.
"Developers understand that strong schools equal strong communities and that it is one of the reasons people want to move here," Voeller said. "I don't think impact fees would give us enough funding to cover the full construction of a school, but it would lessen the amount needed in a bond or levy."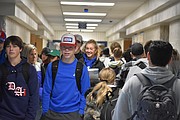 Recent Headlines
---