Prep volleyball: Lake City punches ticket to state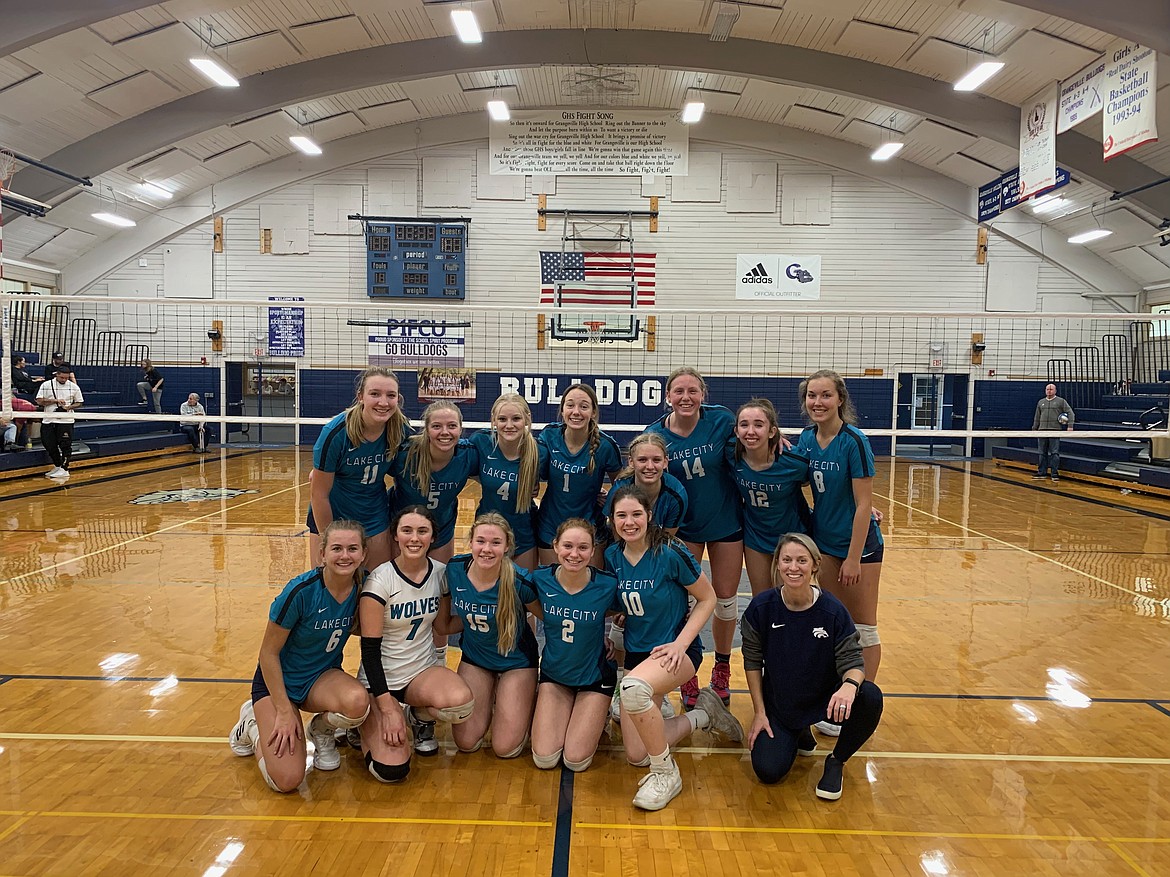 Courtesy photo The Lake City High volleyball team earned a trip to state by beating Centennial on Saturday in a state 5A play-in match at Grangeville High. In the front row from left are Ella Hosfeld, Allie Bowman, Avery Wright, Payton Peugh, Kameron Holzer and coach Michelle Kleinberg; and back row from left, Hanah Stoddard, Nellie Reese, Jessalyn Wilson, Kamryn Pickford, Olivia Liermann, Emberlyn Reynolds, Aubrey Stennett and Dorie Kiesbuy.
|
October 24, 2021 1:08 AM
GRANGEVILLE — The Lake City Timberwolves won their third win-or-go-home match in five days Saturday, beating the Centennial Patriots of Boise 25-16, 25-20, 21-25, 25-20 in a state 5A volleyball play-in match at Grangeville High.
Hanah Stoddard had 27 kills and nine digs for Lake City (17-6). Nellie Reese added 10 kills and 14 assists, Ella Hosfeld 20 assists and two aces, Allie Bowman 14 digs.
"We controlled the tempo the whole time," Lake City coach Michelle Kleinberg said. "Hanah was swinging hard, and when she saw that huge block, she used those hands really well."
Kleinberg said Centennial had a freshman right-side hitter who hit cross court over top of the block, and said Hosfeld and Reese played well at right back defense.
Emberlyn Reynolds "had two big blocks, momentum shifters in the first and second sets," Kleinberg said.
Thanks to the new MaxPreps rankings way of seeding most of the state tournaments in Idaho, Lake City is the No. 7 seed and will open against No. 2 Post Falls, the Region 1 champion, in the first round at state Friday at 11 a.m. at Coeur d'Alene High.
Genesee d.
Wallace
COEUR d'ALENE — The Miners (17-6) fell to the Bulldogs in a state 1A Division I play-in match at Lake City High.
Genesee advances to state Friday and Saturday at Lewis-Clark State College in Lewiston.
Deary d.
Clark Fork
COEUR d'ALENE — A fifth straight state appearance eluded the Wampus Cats on Saturday.
The Wampus Cats suffered a four-set defeat to District 2 runner-up Deary in a 1A Division II state play-in match at Lake City High, 25-22, 18-25, 25-18, 25-13.
Clark Fork, the District 1 champs, will not be going to state for the first time since 2016, when the Cats fell to Kendrick in five sets in a state play-in
Junior varsity coach Lyndsie Kiebert, a 2014 Clark Fork grad, filled in as head coach for Michelle Valliere.
Kiebert said it was a bittersweet ending to a wonderful season.
"All these girls that play Clark Fork volleyball, they love this game and today you could just tell they love each other," she said.
Valliere Facetimed the team throughout the match, Kiebert said.
"She definitely was there," she said.
Clark Fork finishes 13-7.
Paige Valliere tallied 22 assists and 11 digs, Taylor Staley 24 digs, four aces and four kills, Caiya Yanik 22 digs, 10 kills, four aces and three blocks, Eloise Shelton 14 digs and five kills, and Katelyn Matteson 10 digs, four kills and three aces. Lilly Reuter added 11 digs and Taylor Payne four kills.
Kiebert didn't know she would be serving as the head coach until the day of the match. Prior to coaching her first varsity match, Kiebert thought about her former coach and mentor, Cindy Derr. The legendary Clark Fork volleyball coach passed away earlier this year.
"What came to my mind was what would Cindy say to me today," she said, "and what would Cindy say to the girls and she would have said, 'Leave it all on the court,' and they did that."
Recent Headlines
---