Virginia "Ginni" Briscoe, 95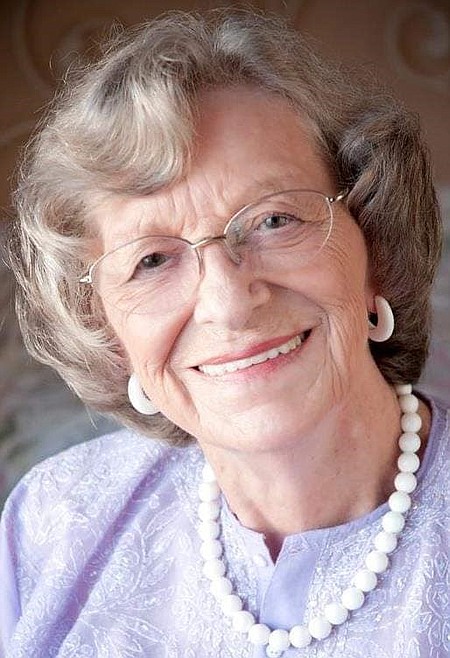 |
October 23, 2021 1:00 AM
Virginia "Ginni" Briscoe passed away Oct. 11, 2021, in Coeur d'Alene, Idaho, from COVID-19 and incidences age-related, just four days short of her 96th birthday.
Virginia Olinda Marie Ungefug was born Oct. 15, 1925, in Tacoma, Wash., the oldest child and only daughter of Volga German immigrants, John Ungefug and Sophie Wagner. She was a member of Shepherd of the Hills Lutheran Church in Rathdrum, and had a deep love for her Lord, Jesus Christ.
She grew up on a farm near Belfry, Mont., where she learned how to work hard alongside her parents and three brothers. She graduated from Belfry High School May 21, 1943. She was involved in many activities, including cheerleading, basketball, drama and playing saxophone in the band. There were five towns close together, and if there was a dance, Ginni was there!
After graduation she went into the Army Cadet Nurse Program at Carrol College in Helena, Mont., with some of her close friends, intending to serve during World War II, but the war ended before her graduation from St. Vincent Hospital in Billings, Mont.
One of her favorite stories to tell was how she and her future husband, Douglas Kenneth Briscoe, met. A cousin introduced the two of them at a "Western Days" dance. She was not very happy with her date, and Doug came over, introduced himself and asked her name. When she said Virginia Ungefug, he said "Ungefug! Is that a name or a disease?" In spite of Doug being such a silver-tongued devil, they soon started dating each other exclusively.
Doug and Virginia were married March 5, 1947, in the Trinity Lutheran Church in Billings, Mont. They were married nearly 60 years. Doug passed away in 2007. During their marriage, they lived in Montana, Wyoming, Washington, Colorado and Idaho.
They had two sons: Scott and Rod. While the boys were small, Ginny stayed home, only occasionally working in nursing. In her own words, "Those were the best years! The boys weren't angels, but they had a good sense of humor. We had a rule that they must be home by 5:30, and dinner was a jovial family time — we'd all get laughing! We went on skiing and fishing and camping trips."
While Ginni never had any daughters, she had two girls she claimed as her own: her niece, Mary Beth Carlson who fit in between Scott and Rod, and added to the adventures for a time when the family lived in Spokane, and Alanna Borgen Crouch, a close family friend who grew up with Rod and introduced herself as the boys' sister every chance she got (Ginni never set the record straight.)
When the family was living in Spokane, Ginni took a nursing refresher course at Sacred Heart Hospital. She recalled "Nursing had changed drastically in the years I was home with the boys. The new concept of nursing was like a different world." After a several years and moves, she and Doug ended up in Billings again where she worked at New Hope Rehabilitation at St. Vincent's Hospital, and it was "the most rewarding nursing of my career."
Doug and Ginni retired when they were 62, and moved to southeast Idaho to help their son, Rod, with his children. She said it was like having a second family, and she was the den mother.
When Rod remarried, Doug and Ginni bought a motor home and travelled the southwest seeing many wonderful sites and making friends along the way. After four years, they decided to put down roots again, and they settled in northern Idaho.
Virginia loved to travel, create ceramic figures for each holiday, put puzzles together and was always up for a lively political debate! (She was a Democrat, but we won't go there.) Her grandchildren and great-grandchildren were her greatest joy and she loved pictures and stories of how they, and later, her great-grandchildren, were growing and the activities they were involved in.
Preceding Virginia in death were her parents, husband Doug, two brothers, John William "Bill" Ungefug and Carl Edward "Ed" Ungefug, and a great-granddaughter, Stormy Cheyenne Jamie Briscoe Anderson.
Surviving are sons Scott Douglas Briscoe (Vicki) and William Rodney "Rod" Briscoe (Maureen), seven grandchildren, many great-grandchildren, two great-great-grandchildren, and several nieces and nephews. Her brother, Harry Hiram Ungefug, also survives.
A private memorial service will be held at a later date. Interment will be in Evergreen Cemetery in Post Falls. Neptune Society of Spokane is handling final arrangements.
The family would like to thank the nurses and staff at Orchard Ridge Assisted Living for their exceptional loving care given to Virginia these past years, and Hospice of Northern Idaho for making her comfortable the last few days of her life.
Recent Headlines
---