Safety Net widening into North Idaho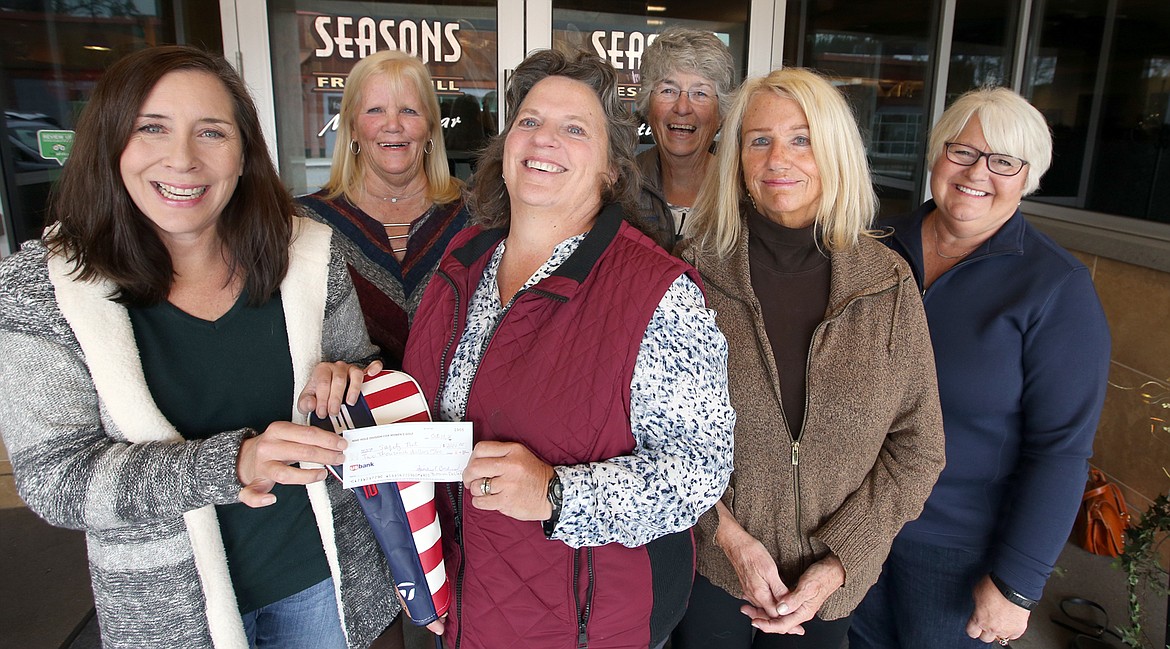 Ladies in the 9-hole Tuesday morning league at Coeur d'Alene Public Golf Course present a check for $2,000 to Safety Net InlandNW. From left, Molly Allen, co-founder of Safety Net, Lonna DeVol, league treasurer, Diane Turner, league president, Kathy McDowell, tournament chair, Kristen Neeser, Safety Net North Idaho advisory board, and Ann Melbourn, league vice president.
BILL BULEY/Press
by
BILL BULEY
Staff Writer
|
October 23, 2021 1:00 AM
COEUR d'ALENE — When someone in foster care turns 18, they "age out" of the system.
It means, ready or not, they have to leave their foster homes and strike out, sometimes alone, sometimes without a place to go.
Safety Net InlandNW wants to be there for them when that time comes.
"We want to get in there now and see if we can help them and give them some hope before they are out on their own," said Molly Allen, co-founder of the nonprofit, who recently accepted a $2,000 donation from Ladies in the 9-hole Tuesday morning league at Coeur d'Alene Public Golf Course.
That money could change a life, Allen said. It could provide hope. It could be enough to buy a car for a teen leaving foster care so they have transportation. It could get someone a laptop to expand their education, provide money for books, buy a bus pass or help them rent a place to live.
Because Safety Net InlandNW has low overhead, it means donations go right to work.
"It could be used in many ways," Allen said.
Safety Net InlandNW is based in Eastern Washington but is expanding into North Idaho.
Kristen Nesser is on the organization's North Idaho advisory board and helping get its boots on the ground here.
"We're excited about reaching out to the community, letting them know we're here and having the community help us track the foster kids that need our help," she said.
It doesn't need an office here, Allen said, because "kids don't need an office."
But it needs a presence, because it knows there are many in North Idaho leaving foster care.
"We're real exited to have boots on the ground here," Allen said.
The program annually helps about 100 young men and women, many in North Idaho, from age 18 to mid-20s, who are no longer in foster care and may not have a place to call home.
"We want to help them," Allen said.
There are an estimated 450,000 children nationwide in foster care, and about 2,000 in Idaho.
Each year, the Tuesday morning league selects a charity to support. Last year, even without a tournament, they contributed nearly $600 to Safety Net.
This year, with one, they have more than tripled that amount.
"We definitely want to help out these children who age out of foster career and have nowhere to go," said Kathy McDowell, tournament chair for the league.
She said it's important foster kids know people are rooting for them, and that a great program like Safety Net is behind them.
"Young adults need all the help they can get," McDowell said.
Recent Headlines
---