New leader for U of I CDA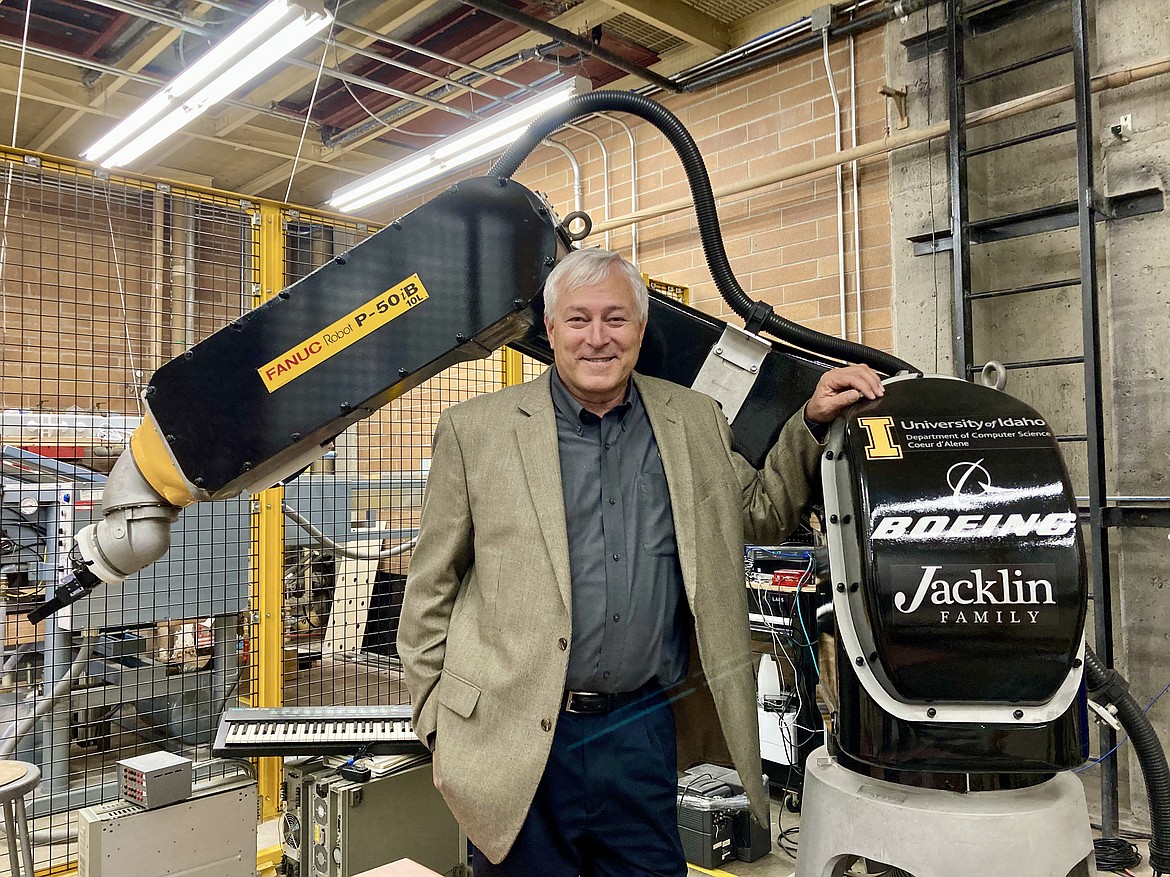 University of Idaho Coeur d'Alene's new acting CEO Larry Stauffer poses next to "Larry," a $450,000, 800-pound industrial robot named after him that was donated from Boeing in June 2020 where was priorly used to paint in manufacturing. U of I students in robotics class learn how to program the robot, including the latest project of teaching "Larry" to play "Chopsticks" on a keyboard. HANNAH NEFF/Press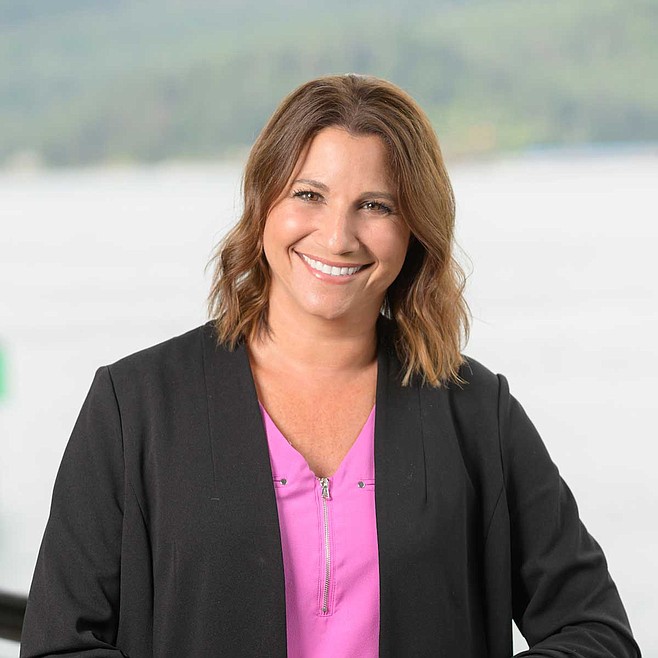 Previous
Next
by
HANNAH NEFF/Press
|
October 23, 2021 1:07 AM
University of Idaho Coeur d'Alene has a new leader.
Larry Stauffer, former dean of the U of I College of Engineering in Moscow and formerly director of the College of Engineering in Boise for 15 years, came to Coeur d'Alene as acting CEO in mid-September.
"Larry made it clear from day one he is committed to growing educational opportunities here in Coeur d'Alene," said Sheri Bullock, Community Development Specialist at U of I Coeur d'Alene. "His experience and leadership within the university, both on campus and at the satellite centers, will prove to be an asset to our center team and the entire North Idaho community."
Stauffer took over for the former chief administrator and spokesperson, Charles Buck, who retired at the end of August.
"I got a call on Wednesday and I was here on Monday," Stauffer said.
Prior to his new position, Stauffer helped grow U of I's presence in Boise through the 1990s and early 2000s. He played a key part in bringing the computer science and now cybersecurity degrees to Coeur d'Alene.
Stauffer said he had just stepped down from his position as dean of the U of I College of Engineering because he wanted to get back into teaching when the vacancy opened.
With over 30 years of experience at U of I, Stauffer said he knew a lot of people in the area and has already reconnected with former students he taught remotely. He also has met new alumni friends.
After starting the position, he moved to Coeur d'Alene from Moscow with his wife and daughter because he said it isn't a job he wanted to do remotely.
"I love it," Stauffer said. "It was a pretty easy switch."
Stauffer said he's settling in and learning everything about his new position. He'll direct the programs in line with the future of the university as well as prepare for the permanent CEO.
While running the U of I College of Engineering, Stauffer said, he was well-trained in the goals of college President Scott Green to expand their research mission and grow enrollment in the university.
"There's just a lot of opportunity here as far as people wanting to advance their careers," Stauffer said. "That's just the reality in today's workforce, that it's difficult if you stop at high school or even don't finish high school — it's difficult to be able to get good wages, good paying jobs and a satisfying career."
While it's not impossible, Stauffer said, it's more challenging so part of the university's mission is to increase the postsecondary education rate.
In 2019, only 46.5% of Idahoans held a college degree or postsecondary certificate, according to The Lumina Foundation. That's less than the national average of 51.9% and the sixth lowest in the nation.
Stauffer said UI has over 40 degree programs students can take advantage of at the Coeur d'Alene campus.
Market and communications manager for U of I Katie Marshall said Stauffer will lead the Coeur d'Alene center at least through the completion of the academic year in May.
Stauffer earned his doctorate from Oregon State University and is a licensed professional engineer in Idaho.
While he said the future's always unpredictable, Stauffer said his goal after completing his new position will be to go back to the original plan and teach in his specialty area of engineering management.
"So much of university classes are online these days," Stauffer said. "When I was in Boise I had students up here, I had students in Idaho Falls and Moscow and all over, so I'm assuming it'll be kind of the same thing. I'll be here and I'll have students all over the state again."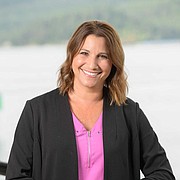 Recent Headlines
---