Governor visits Tribe, sees lots of progress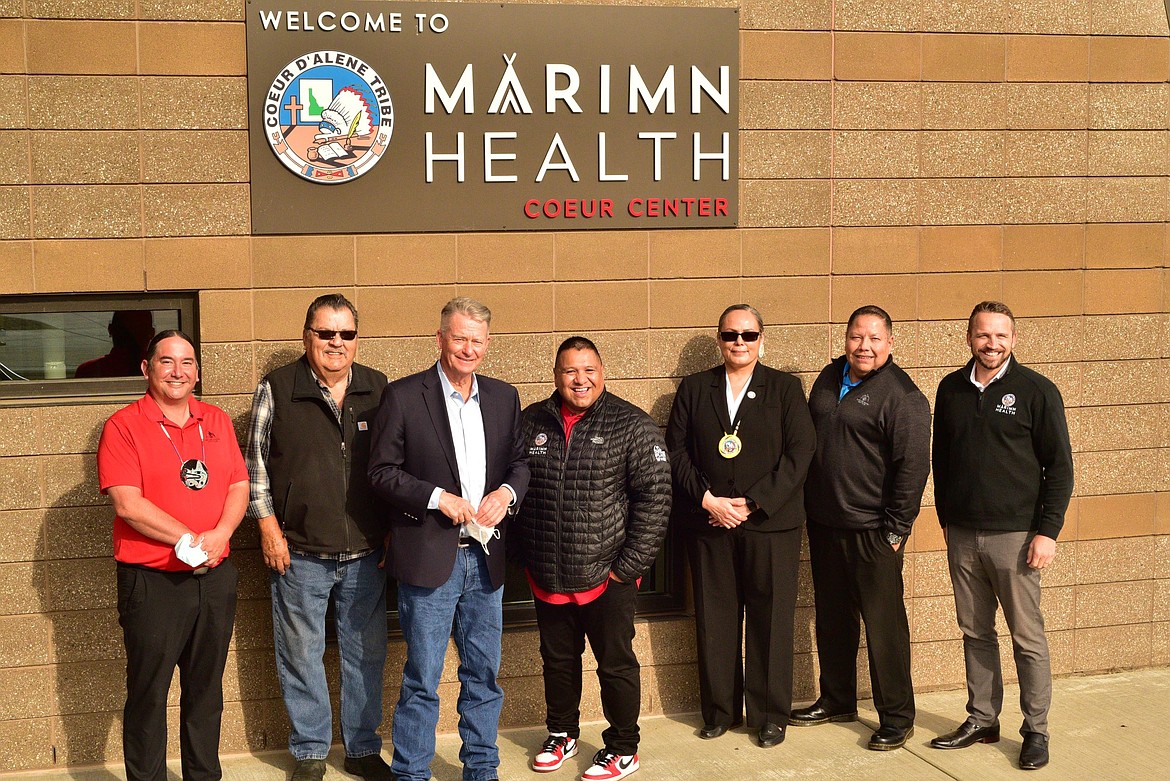 From Left: Hemene James, Secretary / Treasurer, Coeur d'Alene Tribal Council; Donnie Sczenski, Vice Chairman, Coeur d'Alene Tribal Council; Governor Brad Little; Chief Allan, Chairman, Coeur d'Alene Tribal Council; CarylDene Swan, Coeur d'Alene Tribal Council Member; Matthew Stensgar, Chairman, Coeur d'Alene Tribal Health Authority; Helo Hancock, CEO, Marimn Health
Photo courtesy of Heather Keen, Marinm Health
|
October 23, 2021 1:00 AM
PLUMMER — Gov. Brad Little joined members of the Coeur d'Alene Tribal Council and Marimn Health leadership for a tour of the Coeur Center in Worley on Thursday.
The goal: To learn about the Tribe's investment in youth programs and view progress on the outdoor athletic complex soon to be completed.
"The Coeur d'Alene Tribe has always taken a progressive approach to solving problems and the Coeur Center is just one more example of our dedication to finding community solutions," said Chairman of the Coeur d'Alene Tribe, Chief Allan. "We're proud to be taking an aggressive approach toward reducing health disparities and improving the chances that our youth will succeed in school and live long and healthy lives."
The Coeur Center is a 32,500 square-foot community center built on 20 acres and is open to all community members.
The state-of-the art facility opened last December. It's home to the Boys & Girls Club of the Coeur d'Alene Tribe.
"It's exciting to see this innovative approach from the Coeur d'Alene Tribe in tackling some difficult issues in the community," Little said. "The Tribe is offering a unique solution to problems we see across the state and the country."
Marimn Health and the Coeur d'Alene Tribe are working to add an artificial turf football/soccer field with lights and a PA system, bleachers, a three-lane track, and a concessions building which will be completed late this year.
The center is available to all community members and includes indoor and outdoor recreation spaces, game fields, an indoor waterpark, medical and behavioral health exam rooms, community meeting rooms, and a coffee bar.
Recent Headlines
---