Lakeland falls at Sandpoint in 4A IEL title game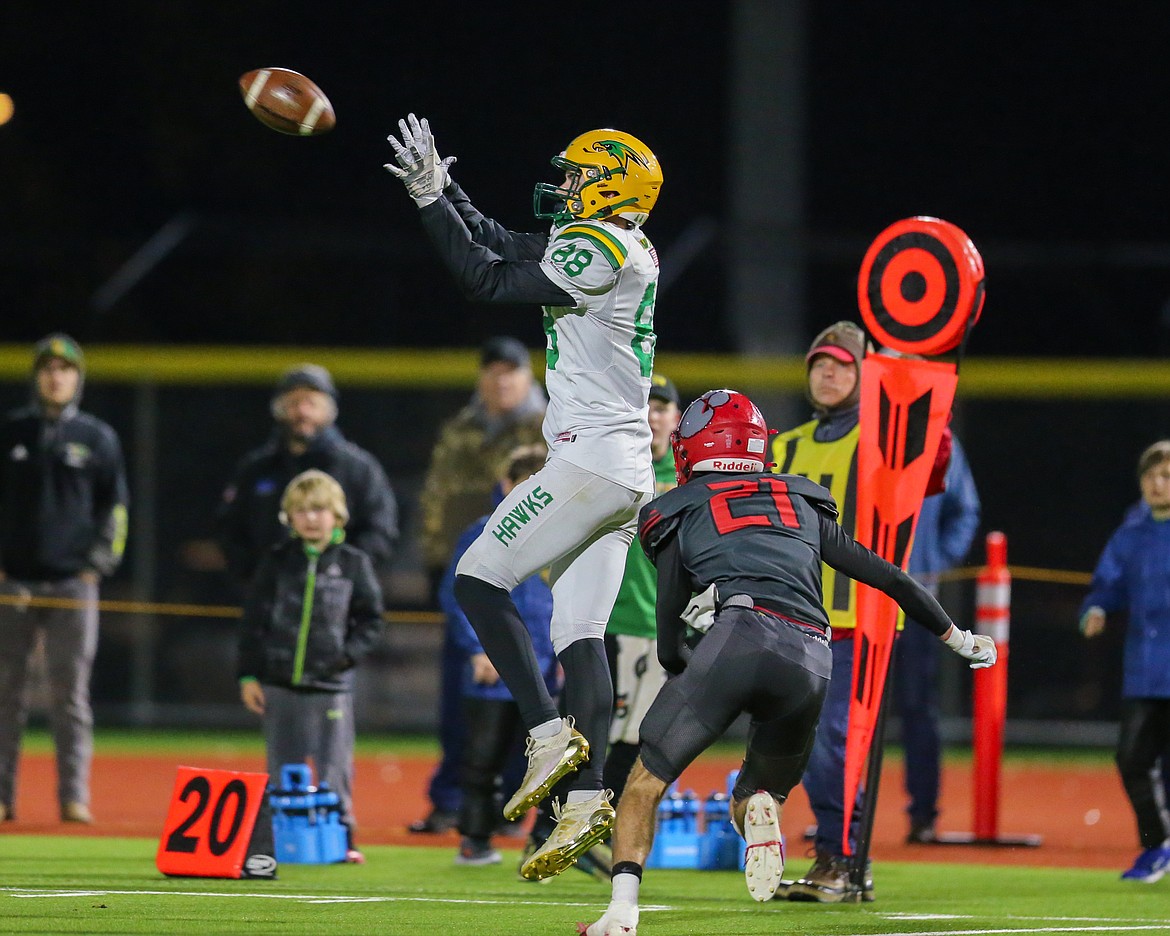 JASON DUCHOW PHOTOGRAPHY Alden Waddington of Lakeland makes a reception vs. Sandpoint on Friday night in Sandpoint.
|
October 23, 2021 1:15 AM
SANDPOINT — What a difference a year makes.
Sandpoint quarter Parker Pettit accounted for 275 total yards for the Bulldogs in a 37-10 win over the Lakeland Hawks in the 4A Inland Empire League championship game at War Memorial Field on Friday.
"I think from our perspective we were focusing on (running back) Gerrit Cox and think we knew Parker was a good player, but I don't think we knew how good of a player he was," Lakeland coach Tim Kiefer said. "When we saw him last year, there was 6 feet of snow on the ground, but the kid's progressed really well and he drove their offense tonight. We did a lot of other things, but we didn't have an answer for him tonight."
Lakeland (5-4, 1-1 4A IEL) will have to wait to see if it will receive an at-large bid to the state playoffs. Sandpoint (5-2, 2-0) clinched the league title and home playoff game in two weeks.
"I think we need to get tougher," Kiefer said. "I don't think we're as tough as we need to be to beat Sandpoint tonight. The effort was there. Our kids battled and never gave up and they're great character kids. We just need to get a little meaner. If we want to win a first round game, we're going to have to get tougher."
John Cornish ran for 110 yards for Lakeland, which was held scoreless in the second half.
"Sandpoint flies to the ball really well," Kiefer said. "They're aggressive and our kids needed to execute. We dropped balls when we shouldn't have dropped balls. Their defense was really sound and well coached."
Lakeland 0 10 0 0 — 10
Sandpoint 7 17 13 0 — 37
First quarter
Spt— Parker Pettit 7-yard run (Jacob Gove kick), 9:19.
Second quarter
Spt— Gove 29-yard field goal, 11:09.
Spt — Pettit 43-yard run (Gove kick), 6:25.
LL — John Cornish 80-yard run (Owen Forsman kick), 6:07.
Spt — Gerrit Cox 14-yard run (Gove kick), 1:08.
LL — Forsman 32-yard field goal, 0:00.
Third quarter
Spt — Cox 1-yard run (Gove kick), 6:51.
Spt — Cox 2-yard run (kick blocked), 3:19.
INDIVIDUAL STATISTICS
RUSHING — LL, Cornish 12-110, Suko 5-27, Calder 2-7, Burcham 2-22, Loutzenhiser 1-0. Spt, Cox 17-65, Pettit 18-172, Wimmer 1-2, Frank 1-2, Brewster 5-14, Sherrill 3-19, Garcia 1-17.
PASSING — LL, Suko 11-25-1-83, Loutzenhiser 0-2-0-0. Spt, Pettit 10-17-0-103.
RECEIVING — LL, Waddington 7-63, Thomas 2-12, Calder 1(-4), Cornish 1-12. Spt, VanDenBerg 3-26, Newhart 3-50, Frank 4-27.
Recent Headlines
---